Barcelona F1 testing, Day Two: Sebastian Vettel storms timesheet
Two in a row for Vettel as Ferrari and Red Bull fly on ultrasoft tyres; Mercedes fourth but beat Day One's "amazing" lap count
By James Galloway in Barcelona
Last Updated: 24/02/16 2:45pm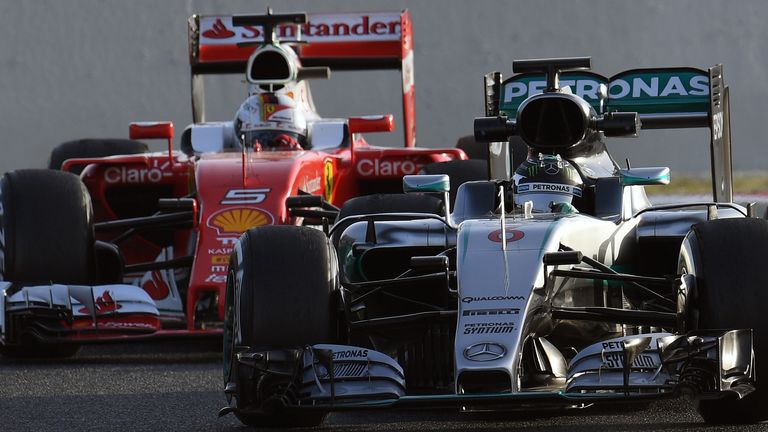 Ferrari have continued their eye-catching start to 2016 winter testing as Sebastian Vettel topped the timesheet for the second day in a row at Barcelona.
The Scuderia's new SF16-H, considered the most radical of this year's cars, set a blistering pace as Vettel sampled Pirelli's ultrasoft tyre for the first time.
"The car is a step forward, so that is positive, and the power unit has improved. We know there are areas we still need to improve but overall I am happy," said Vettel.
The German's 1:22.810 lap proved 0.7s quicker than second-placed Daniel Ricciardo, despite the Red Bull driver also trying out the purple-striped tyre - the new fastest compound in Pirelli's range.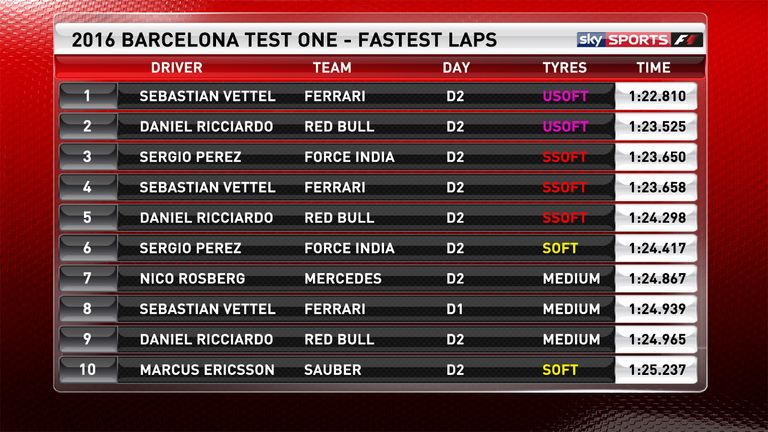 With Ferrari and Red Bull completing qualifying-style short runs before the lunchbreak, world champions Mercedes stuck to their own programme and instead focused on stints on the slower medium tyre.
Nico Rosberg may have ended his first day in the W07 two seconds off Ferrari's pace as a result, but Mercedes again dominated the mileage charts with the German adding 172 laps to the 156 Lewis Hamilton completed on Day One.
Mercedes innovation delights Rosberg
The world champions were quicker than Ferrari when both teams were running on the medium rubber mid-way through the morning, but the W07's advantage was less than a tenth of a second.
Mercedes were not alone in running long on Tuesday as six other teams also topped 100 laps - including McLaren.
On the day it was announced Honda F1 chief Yasuhisa Arai was being replaced, Fernando Alonso's first day in the MP4-31 saw him complete 119 laps - more than he managed in the whole of McLaren's wretched 2015 winter.
But while the opening two days of testing appear to have proved the team's reliability has improved, questions remain over its competitiveness after Alonso finished only ninth, three seconds off Ferrari.
"Our next step is to find the performance. I'm sure it will arrive because McLaren know how to produce a fast car and Honda, however long it takes, know how to provide a powerful engine. I don't know if it will be super-competitive but at least it will be competitive," the Spaniard told Sky Sports. 
The two-time champion later insisted that he would be staying on at McLaren.
Another driver making his first appearance of the year was Force India's Sergio Perez and the Mexican enjoyed a strong day, finishing third after a best lap of 1:23.650 on the supersoft tyres.
With Marcus Ericsson fifth in the 2015 Sauber, newcomers Haas were just behind in their first-ever F1 car. After flying in a fix for the front wing which failed when Romain Grosjean was in the car on Monday, Haas were able to run trouble-free and Esteban Gutierrez finished an impressive sixth.
As has become their trademark, Williams again gave little away over the performance of their new FW38 car. Valtteri Bottas was third fastest on Day One but slipped down to seventh on Tuesday, although he too comfortably cleared a century of laps.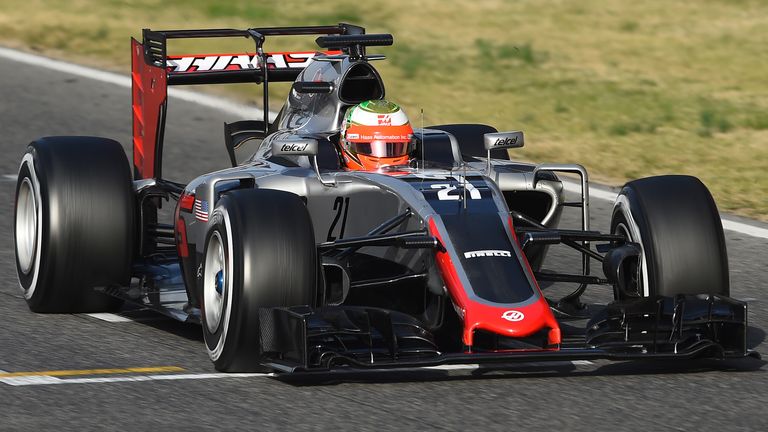 Manor enjoyed another productive day with their new Mercedes-engined car, finishing eight with Pacal Wehrlein, but it was another day to forget for the other 2016 rookie in action, Britain's Jolyon Palmer.
After reliability problems restricted the new Renault driver's running on Monday, his final day in the car this week was cut short after just 42 laps when his RS16's power unit seized up.
'Positive progress' in F1 meeting in Geneva on sport's future
Day Two Timesheet
1. Sebastian Vettel, Ferrari, ultrasoft tyres, 1:22.810, 126 laps;
2. Daniel Ricciardo, Red Bull, ultrasoft tyres, 1:23.525, 112 laps;
3. Sergio Perez, Force India, supersoft tyres, 1:23.650, 101 laps;
4. Nico Rosberg, Mercedes, medium tyres, 1:24.867, 172 laps;
5. Marcus Ericsson, Sauber, soft tyres, 1:25.237, 108 laps;
6. Esteban Gutierrez, Haas, soft tyres, 1:25.524, 79 laps; 
7. Valtteri Bottas, Williams, soft tyres, 1:25.648, 134 laps;
8. Pascal Wehrlein, Manor, soft tyres, 1:25.925, 71 laps;
9. Fernando Alonso, McLaren, soft tyres, 1:26.082, 119 laps;
10. Jolyon Palmer, Renault, soft tyres, 1:26.189, 42 laps;
11. Max Verstappen, Toro Rosso, soft tyres, 1:26.755, 121 laps.
Keep up to speed with all the latest news, pictures and video from all eight days of F1 testing via the daily live blog on the Sky Sports website and mobile apps. Sky Sports News HQ will also broadcast regular updates from trackside in Barcelona.