2016 F1 testing: How the teams rated in the first Barcelona test
Mercedes and Ferrari impress in different ways while Force India and Manor move up. But as for McLaren-Honda...
By James Galloway, William Esler and Pete Gill
Last Updated: 05/03/16 10:56am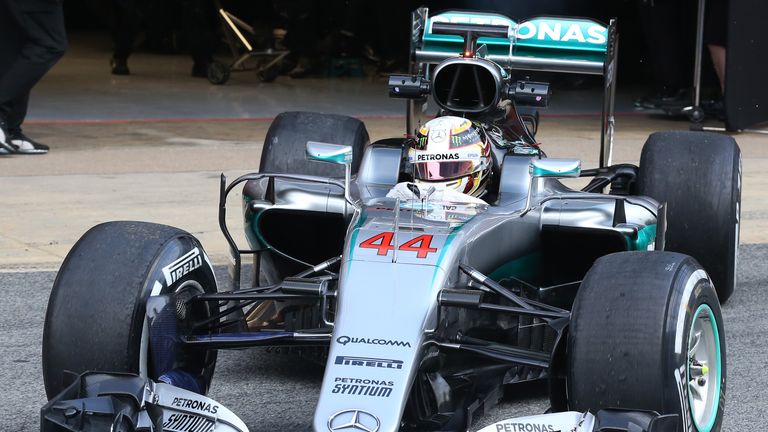 World champions Mercedes started 2016 in impressive style as they registered over 1950 miles across the four days of testing - the equivalent of ten grands prix. "I've never had a week like it" enthused a delighted Lewis Hamilton.
The reliability from a brand new car was incredible and resulted in Mercedes splitting the days between the drivers as machine beat man and the W07 outlasted a worn-out Hamilton and Nico Rosberg.
Pounding round for lap after lap on high fuel and medium compound tyres to test the stamina of their new car rather than its speed, Mercedes failed to set any impressive lap times. But don't be fooled. "We haven't showed our cards, we're holding back, but the car is quick," promised Rosberg. 
The best appear to have got even better.
Grade: A +
Recent history has shown F1's prancing horse tends to bolt early in winter testing and, just like last year, the new Ferrari set the pace on three out of its first four days of running.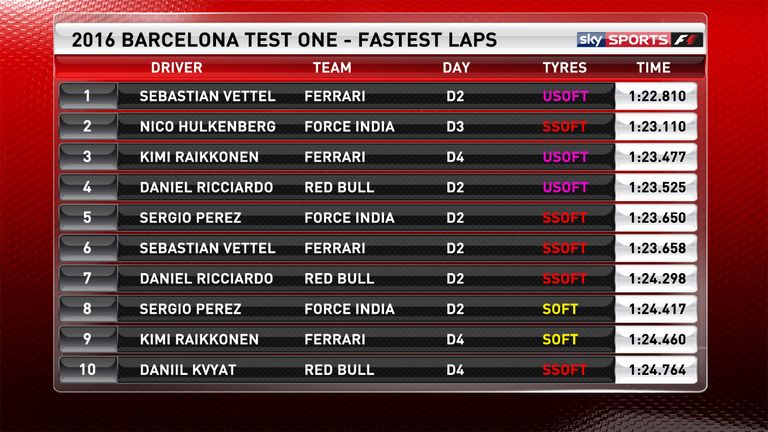 Neither Sebastian Vettel nor Kimi Raikkonen are prone to exaggeration in their assessments of anything, so the fact both readily agreed the SF16-H is a "step up" on its three-time race-winning predecessor should back up early perceptions Ferrari have closed the gap to Mercedes.
Vettel's 1:22.810 time on the ultrasoft tyres was the fastest of the week, but the caveat is Mercedes were a tenth quicker on the mediums when running a longer stint. Plus, despite Ferrari only suffering one lengthy reliability delay, the Mercedes W07 still nearly doubled the SF16-H's mileage.
So, even though may have closed the gap, do Ferrari remain second best for now?
Grade: A -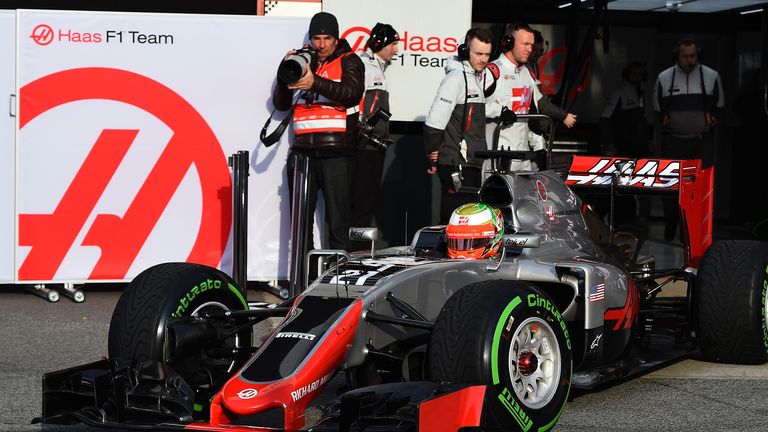 Has a new team ever made such an impression on its first outing, particularly since testing regulations were tightened? Newcomers Haas hit the ground running in Barcelona and even felt sufficiently confident to attempt a race simulation on only their fourth day of F1 testing.
"The last three new teams we saw enter F1 were a shambles compared to the way we have seen Haas come in," commented Sky F1's Ted Kravitz. "Not since Toyota came in in 2002 with a £200m budget have we seen a new team impress the way Haas have."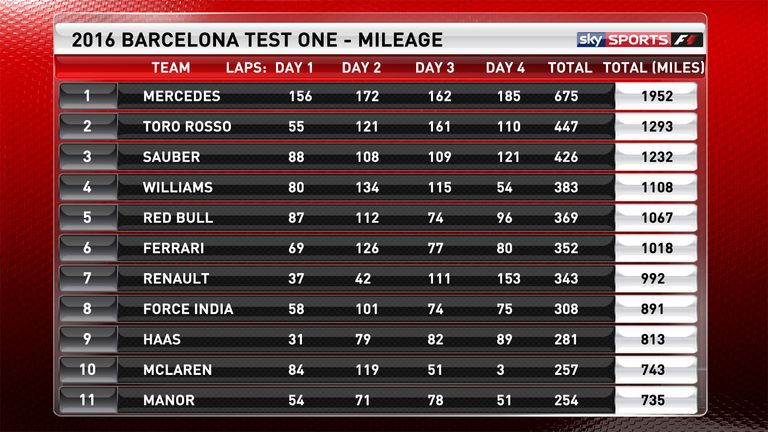 The only blemish on their record was a front-wing failure on the opening day, but that problem was quickly rectified and the test ended with nearly 300 laps under the belt of the VF16. Impressive. Very impressive. 
Grade: A -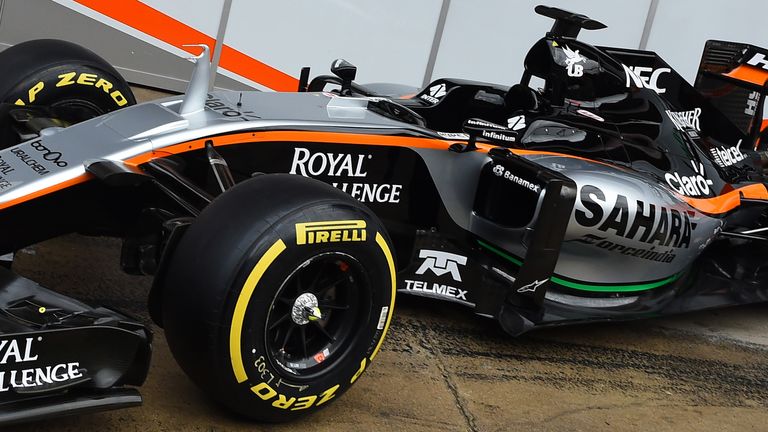 Given the definitive VJM08 was only introduced mid-way through 2015, it was little surprise to see an evolutionary VJM09 unveiled by Force India at Barcelona. Having outscored Red Bull in the second half of last year, the team are confident they have made further aero refinements over the winter and their optimism was backed up by an encouraging opening week.
Although only eighth in terms of lap count, Nico Hulkenberg set the week's quickest time on supersofts and Sergio Perez the fastest on softs. Hulkenberg was within 0.3s of Vettel's test best, set on the ultrasofts which appear to have a 0.8s performance advantage. Saying that, Hulkenberg hinted at some lower-fuel runs when he confessed "we've probably tested our package's capabilities a bit more than the opposition". Still, an encouraging week all round and there has been nothing to suggest yet that Force India, who are eyeing up Williams, have been jumped from the head of the midfield.
Grade: B +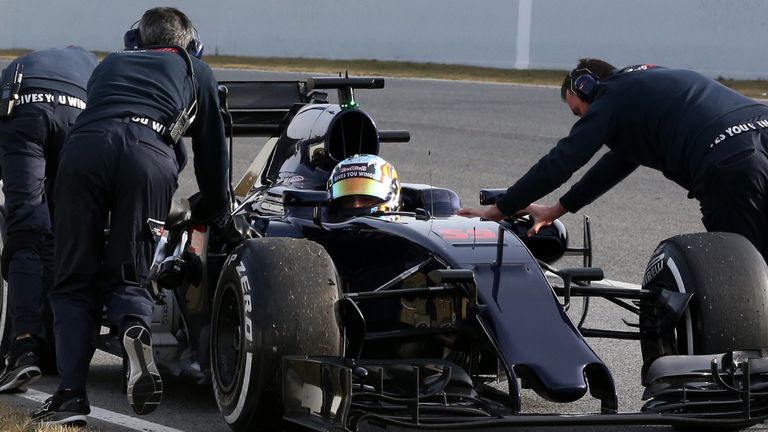 While never spectacular, the details around Toro Rosso's week were quietly impressive. Only Mercedes bettered their lap count of 447 as their new Ferrari engine apparently fitted in seamlessly to their new car. Both Max Verstappen and Carlos Sainz gave the STR11 their seal of approval, although the less said about its dark blue test livery the better.
The new car will be officially launched on Tuesday morning ahead of the second test. Expect new colours and, more intriguingly, plenty of new parts for what is, in the words of Sky F1's Kravitz, "a very, very tidy package" already. 
Grade: B 
A quiet test from Red Bull who ran somewhat under the radar, barring a brief scrap with Ferrari on the supersofts and ultrasofts around lunch on Day Two.
The former world champions have already billed 2016 as a transitional year and the team are potentially under threat from an improving Force India and sister squad Toro Rosso. Test Two will give a better indication as to where Red Bull will be this season. The Renault engine is thought to be significantly more powerful than a year ago, but as the works Renault outfit battle unreliability with their own car, it could still be a long campaign for their sole remaining customers.
Grade: B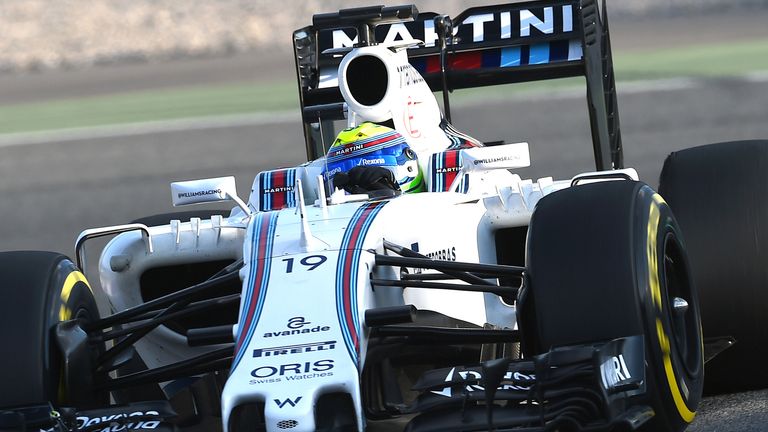 Of the ten teams testing their new 2016 car this week in Barcelona, Williams were the hardest of all to read. Frankly, when a team runs almost exclusively on reliability-honing long runs on medium tyres there really isn't much to say. "We have made improvements, but it's way too early to say anything more than that," concluded Valtteri Bottas both unhelpfully but accurately. The test concluded with Williams fourth in the total laps chart despite problems frustrating Felipe Massa on the final two days.
The initial assessment from both drivers on their new car was positive but not effusive - Massa, for instance, reported "more downforce and more grip" but also complained of struggling to heat up his tyres. Williams themselves reported Bottas' impressions as being "pretty positive" - hardly a ringing endorsement. Where do they stand? Williams believe they are still the third-fastest package on the grid but, with any anxious glances back at Red Bull and Force India understandable, next week's performance-driven test should reveal far more clarity. 
Grade: B
A test of two halves for revived Renault. When the RS16 completed just 79 laps on days one and two, it looked as though the low-key expectations for 2016 had already been justified. But the 260-plus laps Kevin Magnussen was then able to add to their tally thereafter served to brighten the mood heading towards week two.
From a low base - the first planning meetings for the RS16 only took place in September - the Renault is likely to undergo more visible transformations than most as the year progresses. Magnussen pointed to deficiencies in downforce and, inevitably, engine power, but on the plus side did describe it as a "driver-friendly car" - which should give the Dane and Jolyon Palmer something to work with. "We have a lot of work yet to do, but it's a solid start to the season," concluded team boss Vasseur. At best, Renault currently sit mid-low midfield, but should get better.
Grade: B -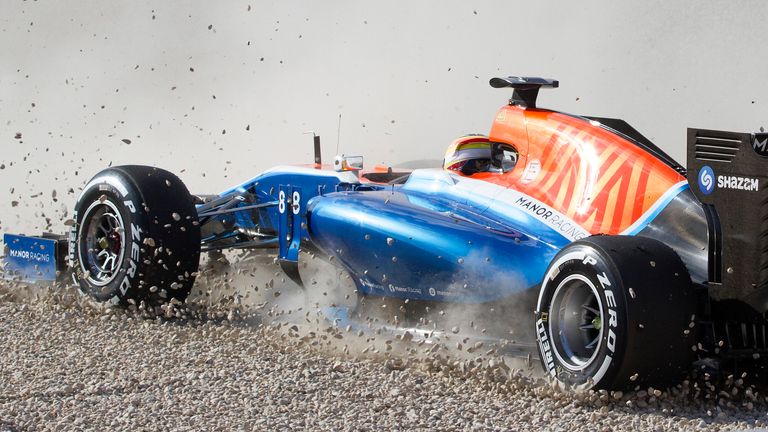 Manor's week in Barcelona can be summarised by one remarkable stat: the lap of 1:25.925 set by Pascal Wehrlein, albeit on soft tyres, on Day Two was fully five seconds faster than their best time in qualifying for the Spanish GP in May. Respectability ahoy?
But while Wehrlein and the Mercedes-powered MRT05 impressed, the first outing of fellow debutant Rio Haryanto was less compelling. The Indonesian youngster's best lap time was three seconds shy of his team-mate's and, more alarmingly, he spun off on both of his days in the car. Not exactly an auspicious start.
Grade: B -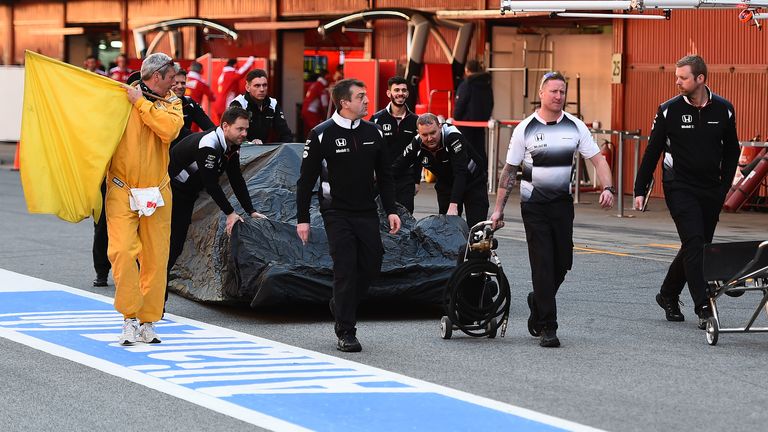 Different year, same old story at McLaren? A test which promised so much - remember the talk of a 220 horsepower boost from Honda? - ended in ignominious fashion with the MP4-31 only running for three laps over the final day and a half. To wince-inducing effect, the fallen superpowers thus ended the test four seconds off the lead pace with the second-lowest amount of mileage despite prioritising lap count over lap times.
Could the test have gone any worse?
Well, yes, it could. It could have been a repeat of Jerez 2015 and the week's significant bright spot was 'confirmation' of positive ERS deployment while both Jenson Button and Fernando Alonso approved of the car itself. Emphatically discounting taking a sabbatical, the Spaniard said he was "proud of the team".
But it's difficult to now overstate the importance of next week's test for the Honda-McLaren partnership. Not only do they have plenty of laps to catch up on - a mere 400 to Mercedes, for instance - but they have to find out if their package has competitive speed or not. "In the second test, we are aiming to gauge the full performance of the car," Honda, who will bring a fresh engine for the event, confirmed. It's crunch time - again. 
Grade: C
The Sauber team did not run their 2016 car at the first Barcelona test and thus haven't been included in this feature