Sebastian Vettel hits out at aggregate qualifying proposal
Ferrari driver says "it's time to go to the circus" with aggregate system set to be voted on; But Jenson Button says "driving round with one eye open" is better than panned elimination format
By James Galloway
Last Updated: 07/04/16 5:14pm
Sebastian Vettel has given short shrift to the new proposed aggregate qualifying system, labelling the idea "s***".
F1 team bosses met with Bernie Ecclestone and Jean Todt on Sunday in Bahrain to discuss what to do about the qualifying format after a fresh wave of criticism for the little-loved elimination rules, which were used for the second time on Saturday.
Although no agreement on what to do for the next race China was reached, a new idea was put forward for aggregate qualifying whereby a driver's two best times in each of the three knockout sessions are combined to set the order.
Teams will vote on the proposal on Thursday.
VOTE: What Qualy system for China?
However, Ferrari's Vettel is already not a fan, telling Sky Sports News HQ: "It's time to go to the circus.
"It's a good idea if you want random things to happen, but Formula 1 should be about racing. It's a s*** idea."
Although the controversial 90-second eliminations of the current regulations would be dropped, a system of aggregate times would mean that drivers with the outright fastest laps in each session might not be at the head of the timesheet.
Bahrain Grand Prix driver ratings
Nico Rosberg rather than Lewis Hamilton would have claimed pole position had the proposal been in place for Bahrain.
The German's two fastest laps in Q3 were quicker when combined than his team-mate's, who was only fourth fastest after the first runs after an error at the final corner. Ferrari's Sebastian Vettel would also have qualified ahead of Hamilton in second.
How aggregate qualy would have changed Bahrain GP grid
| Driver | Aggregate Q3 time | Actual position on grid |
| --- | --- | --- |
| 1. Nico Rosberg | 2:59.897 | 2nd |
| 2. Sebastian Vettel | 3:00.077 | 3rd |
| 3. Lewis Hamilton | 3:00.120 | 1st |
| 4. Kimi Raikkonen | 3:00.641 | 4th |
"Qualifying is about that one perfect lap," cautioned Red Bull's Daniel Ricciardo. "To have an aggregate, it starts to sound more like some form of endurance racing. I wouldn't be too keen on that."
Although teams had agreed unanimously in Australia to go back in full to the 2015 knockout format, such a plan wasn't made available to vote on by the FIA, with Red Bull and McLaren then not agreeing to a hybrid version whereby only Q3 reverted to last year's rules.
Although Rosberg insists "the best way is to go back to how it was because that was always pretty exciting", it seems such a prospect is completely off the table.
Some drivers are prepared to give the aggregate rules a try.
"We'll give it a go - that's all we can say really," Jenson Button told SSNHQ. "It's better than this one - I think everything's better than this one.
"Drivers driving round with one eye open is better than this one. I look forward to change and that's what's hopefully coming."
Hamilton, who has claimed both poles under the elimination system, said: "They come up with all sorts of ideas. When you come up with ideas most of them will not be good and one of them might be good at some stage, so whether or not that's the one we shall see."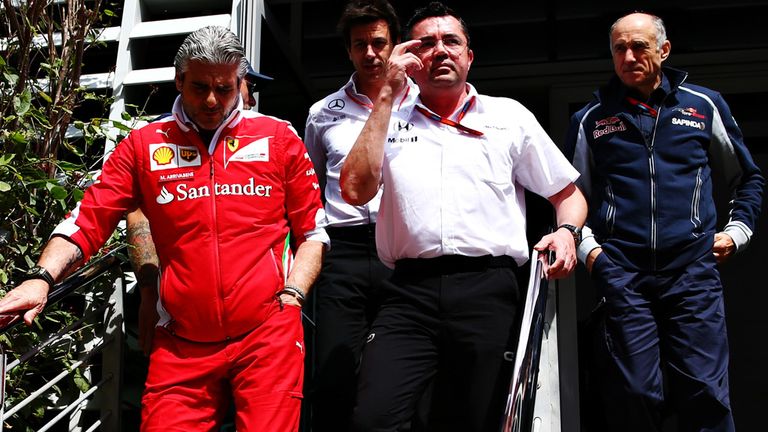 The furore over qualifying has overshadowed the start to the season and Mercedes boss Toto Wolff admitted "we have a political mess going on out there" with Ecclestone and Todt resisting teams' moves to revert to the 2015 format.
Asked why unanimity cannot be achieved, Wolff said: "Simple explanation? Madness."
F1's last 'aggregate' experiment
It was 11 years ago that F1 last aggregated two qualifying times to set the grid.
After Michael Schumacher and Ferrari's domination of the 2002 season, when the German won his third consecutive world title by July with a record six races to spare, F1's rulemakers introduced new measures to increase unpredictability in the sport - with changes to qualifying at the heart of them.
Between 2003 and 2005 various versions of single-lap qualifying were devised, with the latter year seeing an aggregate system adopted. Across two sessions - one on a Saturday afternoon followed by a second on Sunday morning - drivers would complete single flying laps, with their two times combined to determine their position on the grid.
However, the new idea proved unpopular with fans and, with TV companies not carrying the Sunday session live, aggregate qualifying was binned after five races to be replaced by one single-lap session on Saturday. The three-part Q1, Q2 and Q3 knockout system was then introduced to more successful effect in 2006.