F1 2016: How would aggregate qualifying work if it is introduced?
Teams will vote on aggregate qualifying on Thursday; How does it differ to elimination format? How will it work? Would fans like it?
By Matthew Morlidge and James Galloway
Last Updated: 07/04/16 5:21pm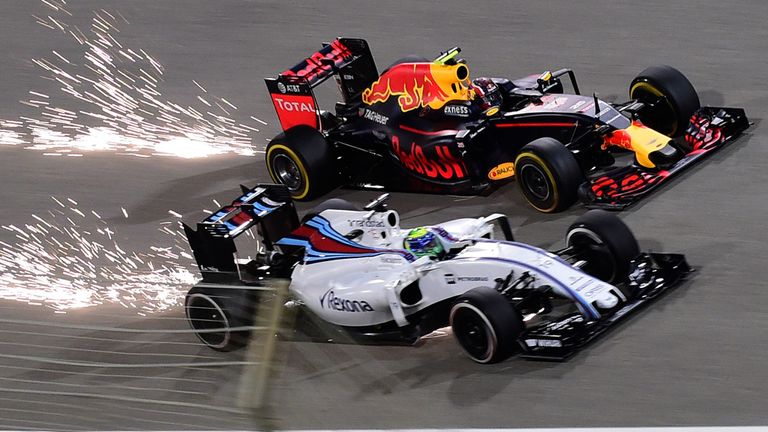 Formula 1 faces yet another vote on Thursday, with the sport's bosses reconvening to discuss whether aggregate qualifying should replace the little-loved current elimination format.
The system was heavily criticised again after its second outing in Bahrain and team bosses met with the sport's supremo Bernie Ecclestone and FIA president Jean Todt to address the situation.
However, no agreement on what to do for the next race in China was reached and a new idea was instead put forward...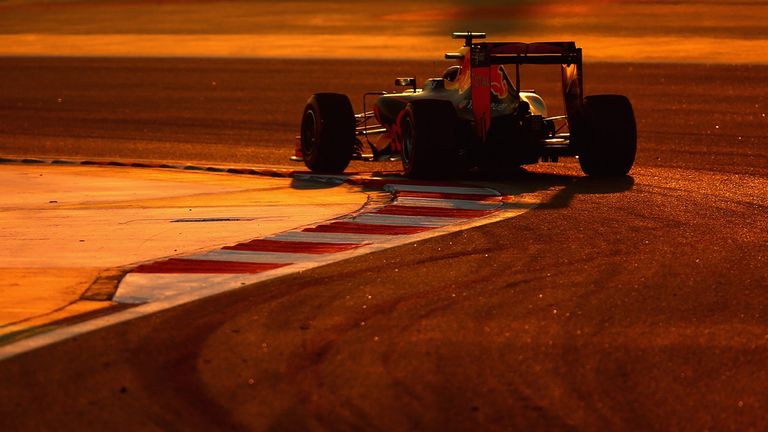 How would aggregate qualifying work?
A driver's two best times in each of the three knockout sessions are combined to find the 'aggregate' and set the order.
In a bid to keep cars on track for longer - an obvious flaw in the current format - Q1 would be lengthened to 18 minutes, with the slowest seven drivers eliminated at the end of the session.
Q2 will follow a similar method; the seven drivers with the lowest aggregate times knocked out after 15 minutes.
The top eight would then be decided by their fastest two laps in the 12-minute Q3 session.
What difference would it have made in Bahrain?
Striving for one-lap perfection at the weekend, Lewis Hamilton ran wide at the final corner on his first run in Q3. Though he went on to set the fastest ever time at the Bahrain International Circuit, with an aggregate format the Mercedes driver would have started third on the grid behind Nico Rosberg and Sebastian Vettel. To stress the obvious: the fastest lap would no longer necessarily result in pole position.
However, with a minimum two laps required from each driver per session, the criticism that there are not enough cars on track would at least have been a thing of the past.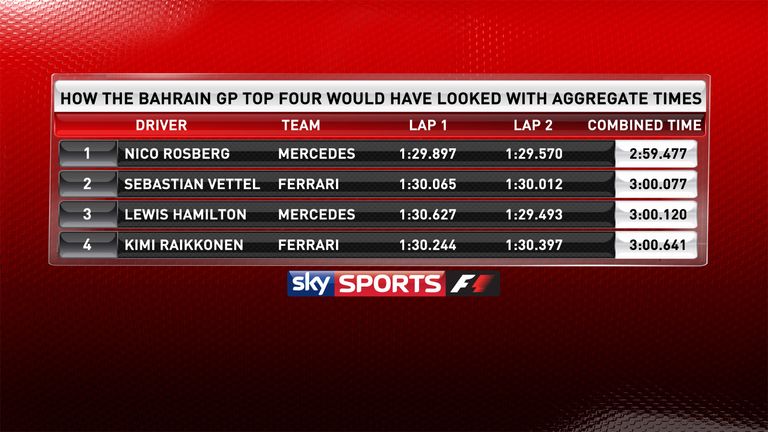 What would teams do to combat the system?
With the aggregate system, drivers would be punished for any errors - such as Hamilton in the case above - and could therefore opt for more 'bankers'. It's feasible teams would advise their drivers not to go for broke on a lap in case they made a mistake and slipped down the order.
Strategy would be key. Teams could put fuel in for one more lap and run two consecutive fliers only to be usurped by a rival who has used new sets of supersofts on two separate stints, at the beginning and end of the session.
Would it shake up the grid?
One change F1 is certainly striving for is extra unpredictability - even though fans will stress that last year's qualy format provided just that.
Elimination qualifying was seen as the best way of providing grid upsets. However, the only notable 'unpredictability' the format has thrown up so far is Daniil Kvyat and Sergio Perez not making it out of Q1.
But the new proposed format may result in even fewer surprises.
Take Pascal Wehrlein, one of the standout performers in Bahrain, who squeezed the life out of the Manor with a superb lap to jump into 16th. Force India weren't expecting the F1 rookie to trouble Perez and didn't have enough time to counter.
But using the aggregate system, the Mexican would have finished comfortably ahead of Wehrlein with two laps in the 1:32s.
Stoffel Vandoorne - another youngster who made a name for himself in the desert - also wouldn't have made it out of Q1 if this format was adopted in Bahrain, assuming Nico Rosberg, Felipe Massa and Valtteri Bottas set a second flying lap.
The final four shootout between Ferrari and Mercedes may run to a familiar beat with the leaders chasing quick-but-not-risky laps to set an impressive aggregate time.
But other drivers, particularly those in less-fancied cars, would now need to produce two special laps rather than one to either proceed to the next qualy stage or produce a stand-out result.
What about the fans?
Aggregate qualifying may be slightly ahead of the elimination format in our vote, but it's clear to see F1 fans would prefer a return to 2015's system. It was easy to follow, simple to understand and rewarded the fastest lap with pole.
While fans would no longer need to be almost permanently looking down at a clock to check who was going to be counted out next, the aggregate system also appears to have its flaws when it comes to complexity.
Moments like Hamilton's record-breaking lap in Bahrain to snatch pole could be eliminated, with fans instead needing to grab a calculator to check if his next fastest lap has given him a leading combined time.
Todt, however, is confident the aggregate format will be right for all parties.
"You need to be patient, by Thursday you will have all the information," he said. "I hope that fans will be happy."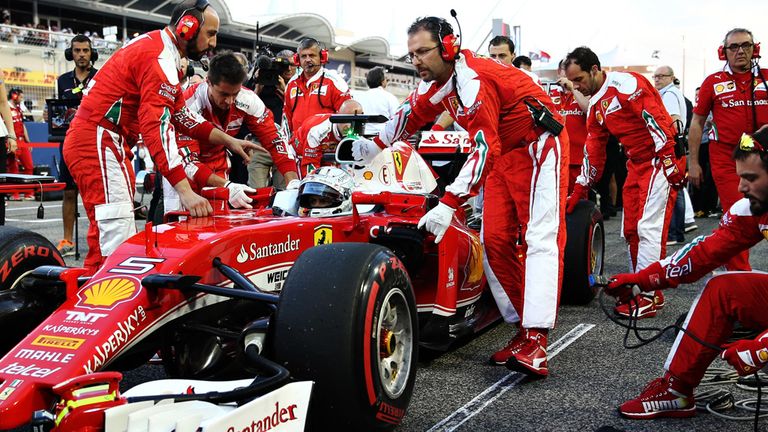 Will it make a difference for tyres?
Sky Sports understands that Pirelli will provide extra sets of tyres for the Chinese GP should aggregate qualifying be approved, though teams could still have to set qualifying laps on used tyres to save rubber for the race.
What do the drivers think of aggregate qualy?
It's fair to say the drivers sound less than enthused by the prospect.
"It's time to go to the circus," said Sebastian Vettel. "It's a good idea if you want random things to happen, but Formula 1 should be about racing. It's a s*** idea."
Daniel Ricciardo, meanwhile, stressed: "Qualifying is about that one perfect lap. To have an aggregate, it starts to sound more like some form of endurance racing."
Jenson Button, however, felt anything would be an improvement on the current format: "Drivers driving round with one eye open is better than this one."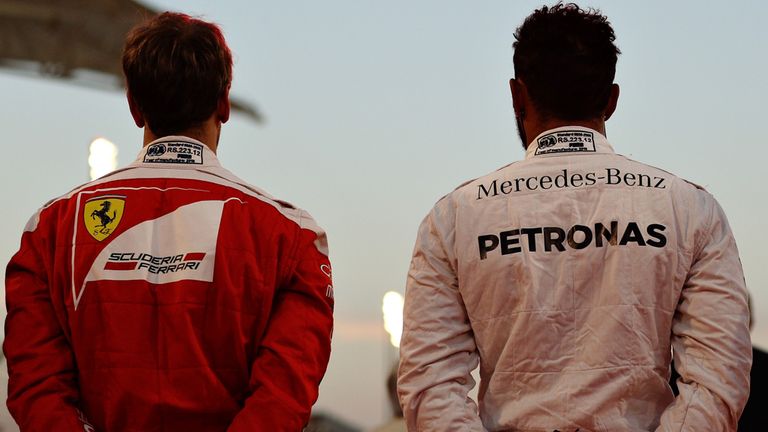 And to the teams support aggregate qualy?
Red Bull's Christian Horner, who rejected the proposition of a hybrid of the elimination system and 2015's, said: "No one likes the current system, so this idea is a step in the right direction. It at least has elements of the 2015 system, which is what the teams prefer."
Ferrari's Maurizio Arrivabene claimed "it doesn't sound that bad" while Claire Williams said: "It is quite a well thought through proposal that the FIA have come up with and hopefully it will be a solution that will work for everybody, and that will be be easy for our fans to understand".
However, asked if aggregate times are a kick in the stomach for F1 purists, Mercedes' Toto Wolff said: "I think the kick is even lower than that."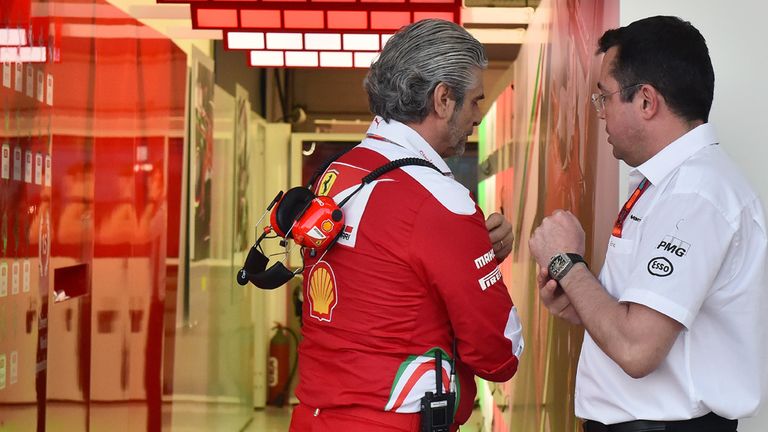 What happened with F1's last 'aggregate' experiment?
It was 11 years ago that F1 last aggregated two qualifying times to set the grid.
After Michael Schumacher and Ferrari's domination of the 2002 season, when the German won his third consecutive world title by July with a record six races to spare, F1's rulemakers introduced new measures to increase unpredictability in the sport - with changes to qualifying at the heart of them.
Between 2003 and 2005 various versions of single-lap qualifying were devised, with the latter year seeing an aggregate system adopted. Across two sessions - one on a Saturday afternoon followed by a second on Sunday morning - drivers would complete single flying laps, with their two times combined to determine their position on the grid.
However, the new idea proved unpopular with fans and, with TV companies not carrying the Sunday session live, aggregate qualifying was binned after five races to be replaced by one single-lap session on Saturday. The three-part Q1, Q2 and Q3 knockout system was then introduced to more successful effect in 2006.
Don't miss the F1 Report: Bahrain GP on Wednesday night at 8.30pm when The Times' Kevin Eason and Ben Hunt of The Sun will join Natalie Pinkham to review events in the desert