Nico Rosberg's title? F1 history suggests three is the magic number
History is on Rosberg's side as he aims for maiden world title; German has also surpassed Sir Stirling Moss' long-standing record
By Matthew Morlidge
Last Updated: 20/04/16 6:20am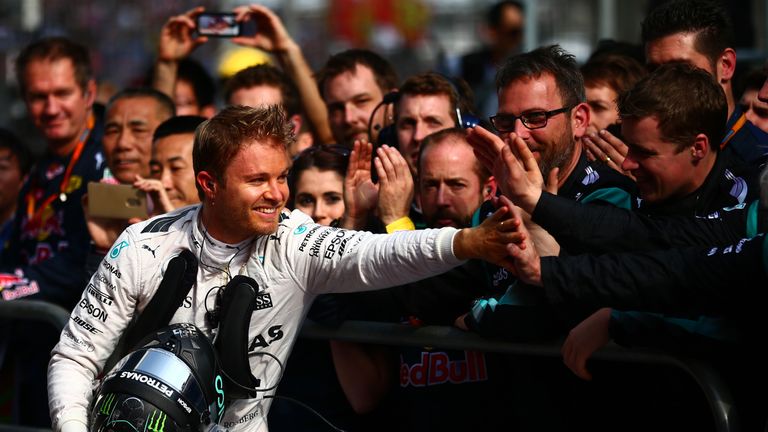 Nico Rosberg may have never won a Formula 1 world championship, but the ease in which he has dominated the first three races of the season suggests his dreams could yet become reality in 2016.
In claiming victory at the Chinese GP, Rosberg became the seventh driver to win the opening trio of grands prix since the sport's inception.
And, as if the pressure of securing a maiden championship wasn't enough for the German, the previous six who had started a campaign so strongly went on to lift the title that season.
Rosberg is also now the bookies' favourite in 2016 after three assured drives, and seems to be maturing after two years of hurt at the hands of Mercedes team-mate Lewis Hamilton.
He has already opened up an early 36-point lead in the Drivers' Championship, and although a year younger than Hamilton at the age of 30, Rosberg's consistency since winning his first race back in in 2012 must also be lauded.
Three or more consecutive wins at the start of the season
| Driver | Season | Consecutive GP wins |
| --- | --- | --- |
| Alberto Ascari* | 1953 | Argentina-Belgium |
| Juan Manuel Fangio* | 1954 | Argentina-France |
| Juan Manuel Fangio* | 1957 | Argentina-France |
| Ayrton Senna | 1991 | US-Monaco |
| Nigel Mansell | 1992 | South Africa-San Marino |
| Michael Schumacher | 1994 | Brazil-Monaco |
| Damon Hill | 1996 | Australia-Argentina |
| Michael Schumacher | 2000 | Australia-San Marino |
| Michael Schumacher | 2004 | Australia-Spain |
| Nico Rosberg** | 2016 | Australia-China |
| * excludes Indy 500 | | |
| **sequence ongoing | | |
Sunday's win took his total grand prix victories to 17, eclipsing the great Sir Stirling Moss' record of the most wins without a championship.
2016 has of course played into Rosberg's hands so far, with Shanghai a prime example. Already safe in the knowledge that Hamilton would be starting from the back of the grid, Sebastian Vettel, Kimi Raikkonen and Daniel Ricciardo's hopes of challenging were then ended through contact and punctures within minutes.
Rosberg comfortably brought the W07 home and joins esteemed company with his perfect start to the year.
Michael Schumacher began the 1994, 2000 and 2004 seasons in similar vein, all three of which ending in titles, while Ayrton Senna, Nigel Mansell and Damon Hill were victorious at the beginning and end of the year in 1991, 1992 and 1996 respectively.
Most GP wins by drivers that have not won a world championship
| Driver | Entries | Wins |
| --- | --- | --- |
| Nico Rosberg | 188 | 17 |
| Sir Stirling Moss | 67 | 16 |
| David Coulthard | 247 | 13 |
| Carlos Reutemann | 146 | 12 |
| Felipe Massa | 234 | 11 |
| Rubens Barichello | 326 | 11 |
Alberto Ascari (1953) and Juan Manuel Fangio (1954, 1957) can also claim to have won the opening three grands prix and title in same year. However, in an ever-thorny issue where F1's record books are concerned, neither driver strictly won the opening three rounds of the World Championship as the Indianapolis 500 was an official race on the calendar between 1950-60. Neither Ascari nor Fangio competed at the famous Brickyard in those respective title-winning seasons.
Hosting cars and drivers that were wholly different, the 33 American drivers who competed the Indy 1953 didn't enter a single race for the rest of the F1 season, for example. 
The statistics then, point to prolonged Rosberg dominance. However, when informed of the record on Sunday, Rosberg replied: "Yes, but they didn't have Lewis Hamilton as their team-mate.
"I don't see it that way at all. It is a handful of races. Yes, it is going well, but this is the longest season in F1 history with Hamilton as my team-mate, a triple world champion, who has been hard to beat in the past three years.
"It is going to be a great battle. I have a little bit of an advantage now which is good, better that way than the other way, but that is it really. I am just enjoying it and making the most of it race by race."
With 18 grands prix left in the season, race by race is probably the best way to go as Rosberg aims for glory.
Don't miss the F1 Report on Wednesday at 8:30pm on Sky Sports F1 for full analysis of an action-packed Chinese Grand Prix at the Shanghai International Circuit. Natalie Pinkham is joined in the studio by Marc Priestley and Alex Lynn.