Lewis Hamilton's luck goes from bad to worse after fresh engine failure
World champion unable to take part in Russian GP qualy shoot-out
By Pete Gill
Last Updated: 19/05/16 11:46am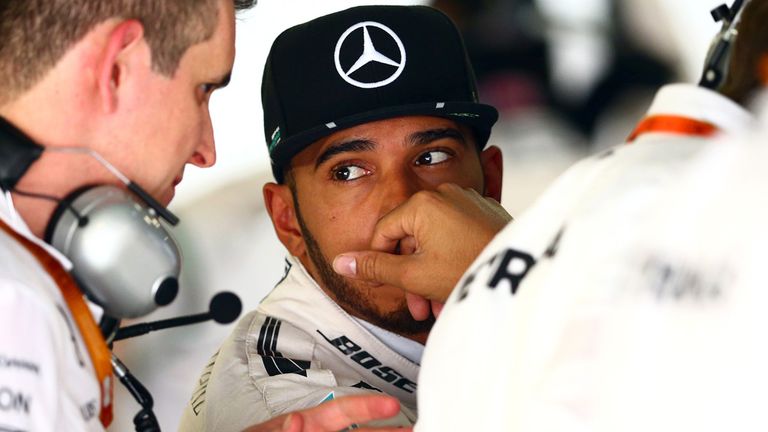 Lewis Hamilton's hopes of retaining his F1 title have suffered a fresh blow after the world champion's Mercedes was hit by another engine failure in qualifying for the Russian GP.
Hamilton is set to start Sunday's race in Sochi from 10th on the grid and in grave danger of falling further behind Nico Rosberg - who duly claimed pole position in Hamilton's absence - in the world championship standings.
Hamilton could yet suffer further pain with Mercedes unable to confirm they expect to fix the problem - a recurrence of the issue which befell the Englishman in China - without making other out-of-sequence changes to his car.
With the race set to be conducted on a one-stop strategy, Hamilton's scope for tactical manoeuvre is also set to be extremely restricted.
Hamilton had set the pace in both Practice Two and Practice Three but did not take part in Saturday's qualifying shoot-out after his W07 car suffered a new malfunction at the end of Q2.
"I went out at the end of Q2 to get a feel and I lost the same power as I lost in China," Hamilton told Sky F1. "There's nothing I can do. I never give up." 
Hamilton, who was hit off the line in both Australia and Bahrain, had to start last in China two weeks ago after his car broke down in qualifying. He went on to finish just seventh in Shanghai to fall 36 points behind Rosberg.
"If Lewis didn't have bad luck he'd have no luck at all at the moment," said Sky F1's Martin Brundle.
Rosberg, who has enjoyed a trouble-free start to 2016, was able to claim pole even after botching his second flying lap in Q3, with his prospects of securing a seventh consecutive victory further enhanced by a penalty demoting Ferrari's Sebastian Vettel from second to seventh.
"The others today have been extremely unfortunate, so that makes my race a little bit easier tomorrow, but a Formula 1 race is never easy. Even from where Sebastian is, and Valtteri [Bottas] behind, the opposition is still there," said Rosberg. 
Mercedes boss Toto Wolff described the failure on Hamilton's car as 'bizarre'.
"It's very unfortunate for Lewis," said Wolff. "He seems to have all the bad luck and the other side of the garage seems to have all the luck.
"Lewis has taken all the low punches with great spirit. I think now it's getting tough."
Meanwhile, Hamilton has been handed a reprimand by the stewards for not following the correct procedure when he rejoined the track after going off at Turn Two in the first segment of qualifying.