Sebastian Vettel says Red Bull driver swap decided before Russia
Vettel's Ferrari hit by Kvyat in his final act as a Red Bull driver
By James Galloway in Barcelona
Last Updated: 13/05/16 12:11pm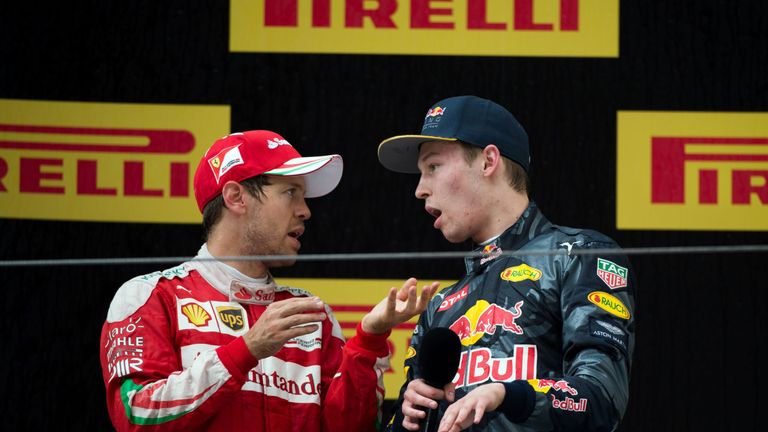 Sebastian Vettel says Red Bull's decision to swap Daniil Kvyat for Max Verstappen was before the Russian crashed into him at the Russian GP.
Red Bull's sudden demotion of Kvyat has proved the dominant talking point in F1 ahead of the Spanish GP, with Kvyat sent back to junior team Toro Rosso just days after twice hitting Vettel's Ferrari on the opening lap in Russia.
But Vettel told reporters in Spain: "I don't think it has anything to do with what happened in Sochi. As I learned, it has been decided already beforehand.
"I don't know what the reasons are for the swap, but I don't think it's related to Russia or in China."
After being shunted out on the opening lap in Sochi, Vettel went to see Red Bull chief Christian Horner on the pit wall to discuss the incident with Kvyat - an exchange picked up by TV cameras.
Kvyat 'shocked' by his Red Bull demotion
"I went to him, obviously it was clear what had happened, and I said 'at least have a word with him, it's racing, this happens, but…', that's it," Vettel said on Thursday when asked if his decision to talk to his old boss during the race served to ramp up pressure on Kvyat.
"It's not my fault there's a TV camera [watching]. I couldn't speak to Daniil at that point because he was in the car, but I think he [Horner] spoke to him."
Despite his recent run-ins with the 22-year-old, Vettel praised Kvyat for calling him after the race in Russia to apologise and pointed out that no driver was immune from making mistakes.
"The last race is not the best example for Daniil but, unlike some of his colleagues, he had the balls to give me a call in the afternoon and to tell me what happened from his point of view," Vettel added.
Who is under the most pressure in Spain?
"He realised he has done a mistake and that's the end of the story - there's nothing wrong with that. Of course, I was very upset and disappointed in the first place because it ruined my race, but these things happen. There is no guarantee that I will [not] have a misjudgement here on Sunday, in two weeks, in a year, in five years if I'm still around.
"Mistakes happen. Of course, with experience, they tend to happen less, but this is why we are here. We are all pushing to the limit. I don't think there is anything wrong with that."
Like Vettel in 2009, Kvyat was promoted to the senior Red Bull team after just one full season of F1 with Toro Rosso, and the Russian has now fallen behind the even-younger Verstappen in the company's driver pecking order.
However, Vettel believes the Russian has the neccessary qualities to remain at the top level.
"Generally I think very highly of Daniil," he said. "His raw speed is very, very high. Maybe the current formula doesn't suit him as well as others, but in terms of talent and raw speed he definitely deserves to be in Formula 1."
Watch the Spanish GP live on Sky Sports F1. The race starts at 1pm on Sunday, with build-up underway at 11.30am. Or watch the race without a contract for £6.99 on NOW TV.