Monaco GP 2016: Lewis Hamilton beats Daniel Ricciardo to win
Hamilton takes first win of the season ahead of frustrated Ricciardo after Red Bull pitstop error; Rosberg only seventh on troubled day; Perez takes fine third; Raikkonen and Verstappen crash out in wet
By James Galloway
Last Updated: 13/06/16 12:15pm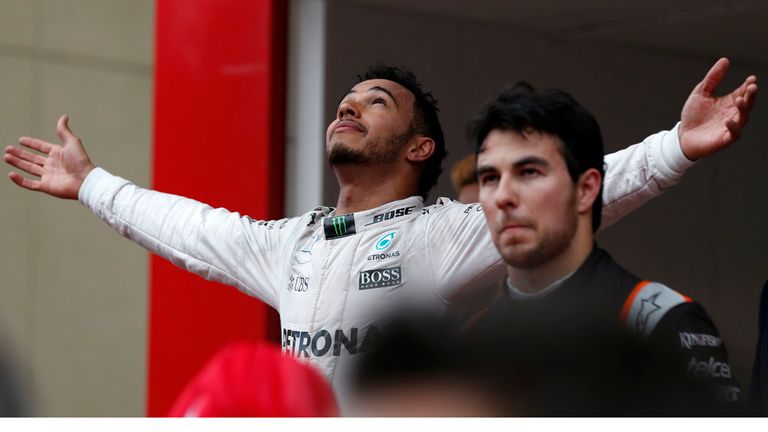 Lewis Hamilton's title defence is finally up and running after he ended his Monaco GP hoodoo to beat Red Bull's Daniel Ricciardo in a gripping, incident-filled race.
Eight years after claiming his previous Monaco win from third on the grid in changeable conditions, Hamilton repeated the feat to secure his first victory of the season and cut Nico Rosberg's championship lead to 24 points.
Rosberg was only seventh after a troubled race.
Ricciardo claimed a close second for Red Bull but would arguably have won but for a bungled final pit stop when tyres were not ready for his arrival. The Australian was crestfallen on the podium and said his victory chances had been "screwed" for the second successive race.
Victorious Hamilton: I earned it
Sergio Perez, F1's chief midfield opportunist, drove a stirring race to third place to give Force India their first podium finish of the season.
"Thank god that today went the way I that I hoped," said Hamilton, after winning for the first time since last October's US GP. "Honestly I'm kind of lost for words. I prayed for a day like this and it came true."
Following heavy pre-race downpours in the principality, the opening laps took place under the Safety Car.
Once underway for real, Ricciardo sprinted away from the Mercedes drivers, opening up a 14-second lead over Rosberg, who was struggling with brake temperatures on his W07 in the wet.
So pronounced were Rosberg's problems that Mercedes eventually instructed him to let Hamilton past. The world champion pulled away at over a second a lap and then inherited the lead on lap 23 when Ricciardo pitted for intermediate tyres as the track steadily dried out.
Ricciardo: 'I don't know where to go from here or what to do'
But rather than pitting straight away in response, Hamilton and Mercedes went a different route - running all the way to lap 31 and the point where the circuit was dry enough for slicks.
Although Ricciardo had caught him back up by then and Hamilton pitted for dry tyres first, the Mercedes stayed in the lead when the Australian lost around nine seconds at his stop when a miscommunication between the Red Bull pitwall and garage meant the Australian's supersoft tyres were not waiting for him.
"I've been screwed two weeks in a row," said a dejected Ricciardo. "I thought I was quickest all conditions, but second place doesn't really show it."
After losing the lead, Ricciardo initially harried Hamilton on his return to the track and waved his arm in anger from the cockpit when the Mercedes cut back in front of him after cutting the chicane. The stewards investigated the incident but ruled no action was warranted. 
"A big congratulations to Daniel, he drove phenomenally all weekend," said Hamilton. "He's one of the best drivers I've driven against. I'm looking forward to many more battles with him, he should be proud of the way he drove."
Mercedes have now won the last four Monaco GPs - but the driver who delivered the first three of those victories, Rosberg, endured a torrid afternoon.
After letting Hamilton through on lap 16, the German then dropped from third to sixth at the pitstops for dry tyres after Mercedes had to hold his car while others came down the service road.
Running behind Fernando Alonso's McLaren, Rosberg was then unable to find a way by for 45 laps. Heading for sixth, the title leader's weekend suffered a sting in the tail when Nico Hulkenberg overtook him on the run to the line as spots of rain started to fall again.
The German admitted he was "baffled" by his lack of pace.
Sebastian Vettel showed flashes of strong speed throughout for Ferrari, but was jumped by Perez through the stops and finished fourth. Team-mate Kimi Raikkonen had earlier crashed out at the hairpin on lap 10.
By finishing fifth, Alonso matched the best result of McLaren-Honda's reunion after staying clear of the chaos around him and holding off Rosberg's faster Mercedes.
Carlos Sainz, who lost ground at the stops, Jenson Button and Felipe Massa rounded out the points finishers at the end of a race in which only 15 of the 22 drivers took the flag.
Spanish GP victor Max Verstappen capped an accident-filled weekend by crashing at Massenet having been on course for a points finish from a pitlane start, while Renault duo Jolyon Palmer and Kevin Magnussen both hit the barriers.
Sauber also registered a double DNF when their drivers, Felipe Nasr and Marcus Ericsson, collided at Rascasse. Ericsson, who had been instructed over the radio to overtake his team-mate, was later handed a three-place grid penalty for Canada for causing the accident.
Monaco GP result
1. Lewis Hamilton, Mercedes, 78 laps
2. Daniel Ricciardo, Red Bull, +7.3s
3. Sergio Perez, Force India, +13.8s
4. Sebastian Vettel, Ferrari, +15.8s
5. Fernando Alonso, McLaren, +85.1s
6. Nico Hulkenberg, Force India, +93.0s
7. Nico Rosberg, Mercedes, +93.3s
8. Carlos Sainz, Toro Rosso, +1 lap
9. Jenson Button, McLaren, +1 lap
10. Felipe Massa, Williams, +1 lap
11. Esteban Gutierrez, Haas, +1 lap
12. Valtteri Bottas, Williams, +1 lap*
13. Romain Grosjean, Haas, +2 laps
14. Pascal Wehrlein, Manor, +2 laps*
15. Rio Haryanto, Manor, +2 laps
DNF Marcus Ericsson, Sauber
DNF Felipe Nasr, Sauber
DNF Max Verstappen, Red Bull
DNF Kevin Magnussen, Renault
DNF Daniil Kvyat, Toro Rosso
DNF Kimi Raikkonen, Ferrari
DNF Jolyon Palmer, Renault
*10-second time penalty