Lewis Hamilton thanks 'gentleman' Nico Rosberg after Monaco GP win
Rosberg honours team agreement to let Hamilton through when falling behind; Mercedes drivers now 24 points apart in standings
By Pete Gill in Monaco
Last Updated: 13/06/16 12:14pm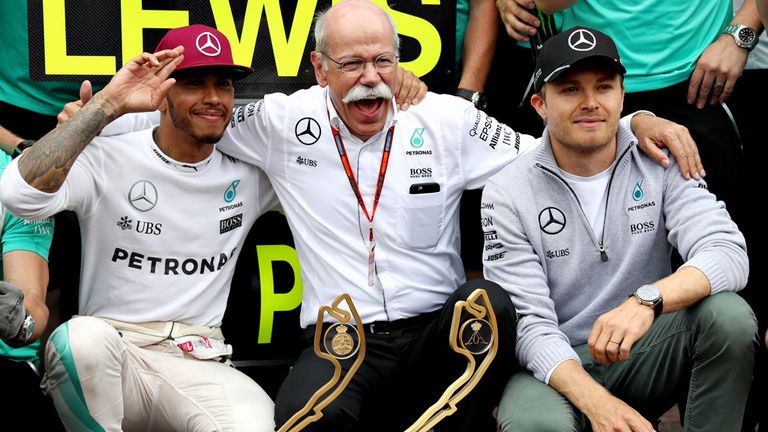 Lewis Hamilton has thanked 'gentleman' Nico Rosberg for honouring a team agreement and yielding position to his championship rival in the Monaco GP.
Having fallen 10 seconds behind race leader Daniel Ricciardo, Rosberg pulled over to let Hamilton through after holding up his team-mate throughout the opening stages of the race.
Two hours after crossing the line ahead of Ricciardo to cut Rosberg's title advantage to just 24 points, Hamilton stood silently in the Mercedes motorhome during his team-mate's press briefing while Rosberg admitted to losing all confidence in his car. When Rosberg finished, Hamilton approached the German, put an arm around him and exchanged a few quiet words.
"I said 'thanks for being a gentleman'," Hamilton confirmed.
"We have an agreement. When the team ask you to push and are not able to and it hinders the team's chances of winning the race we have that agreement."
Hamilton's victory, coupled with a disastrous performance for Rosberg who was demoted to seventh on the final lap, means he now stands within one full race victory of the championship leader in the standings.
Even more emphatic was his speed advantage over his team-mate. Despite numerous Virtual Safety Car deployments, Hamilton finished 90 seconds clear of the second Mercedes as he belied his Saturday night dejection to win from third on the grid.
"I came here thinking 'I've got to earn it'," said Hamilton. "I didn't know whether I could win, but the rain opened up the window of opportunity. I was on the limit the whole way."
Locked into a vicious circle of low tyre temperatures, slow laps and cool brakes, Rosberg struggles were plain from the opening laps when Hamilton - seeking out his team-mate's "weak point" and eyeing a potential overtake into Casino Square - clawed at the back of the sister Mercedes while Ricciardo eased clear.
"I had a complete lack of confidence in the car," Rosberg flatly admitted. "I had to stay off the limit or l would have been in the wall."
Asked how he felt when requested to let Hamilton through, Rosberg admitted "the feeling in the car - a complete lack of confidence - was more painful. The second thing [being instructed to let Hamilton through] was just a consequence of that. It was pretty obvious l didn't have the pace to win."