Max Verstappen: Lewis Hamilton not showing true feelings on safety
F1's youngest driver suggests world champion "maybe wants to be cool" by countering fellow drivers' safety concerns in public
By James Galloway
Last Updated: 04/07/16 1:06pm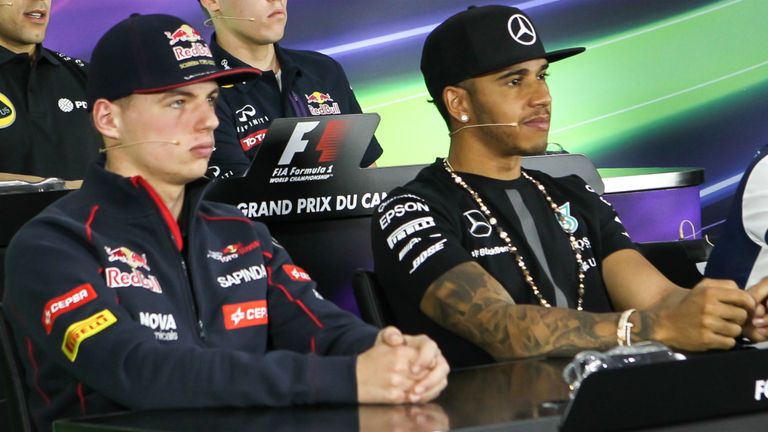 Max Verstappen has accused Lewis Hamilton of hypocrisy over his attitude to F1 safety.
Hamilton said at the last race in Baku "one thing for sure is that these drivers moan so much about so many things" in the wake of complaints from some experienced figures, including Jenson Button and Nico Rosberg, that the new street circuit lacked run-off areas.
"These guys wants it [the track] to be smoother than ever with no vibrations and no bumps and take all the character out of these tracks," Hamilton added.
But Red Bull's Verstappen, F1's youngest driver and race winner, has hit back at the world champion and accused Hamilton of not showing his true feelings in public.
The 18-year-old claims Rosberg, Hamilton's team-mate and title rival, revealed in the drivers' briefing in Baku that the Briton had actually expressed concern about the track's fast pit-lane entry during Mercedes' own team discussions.
When is the Austrian GP on Sky?
"In the media he's saying he doesn't care, but when he talks to his team it's different," Verstappen was widely quoted as saying in the British press ahead of this weekend's Austrian GP.
"I had an incident in the drivers' briefing in Baku saying the pit entry was quite tricky, and he's like 'oh, you shouldn't bother about it'.
"But then Nico [Rosberg] jumped in and said 'wait Lewis, you just said you were [scared] when you were entering the pit lane'. So what is this approach?'"
Verstappen added: "Maybe he wants to be cool. We are looking for safety, and we don't want to die on the track."
Although 13 years Hamilton's junior, Verstappen says he is not afraid to counter the triple world champion's views if he feels they are incorrect.
"I prefer to do it on track than talk about it in the briefing room, but I'm definitely not afraid [of Hamilton]," he declared.
Two weeks on from the inaugural Azerbaijan GP, and Verstappen expressed unhappiness with aspects of the Red Bull Ring after crashing in Friday's first practice session.
The Dutchman labelled the newly-installed 'baguette' kerbs "really dangerous" after they broke his car's front wing and suspension when he ran wide over them on two occasions.