Can Mercedes keep order between Nico Rosberg and Lewis Hamilton?
Another race, another collision between their 'warring' drivers. But are they really going to impose team orders on the two title rivals?
By Pete Gill
Last Updated: 04/07/16 1:16pm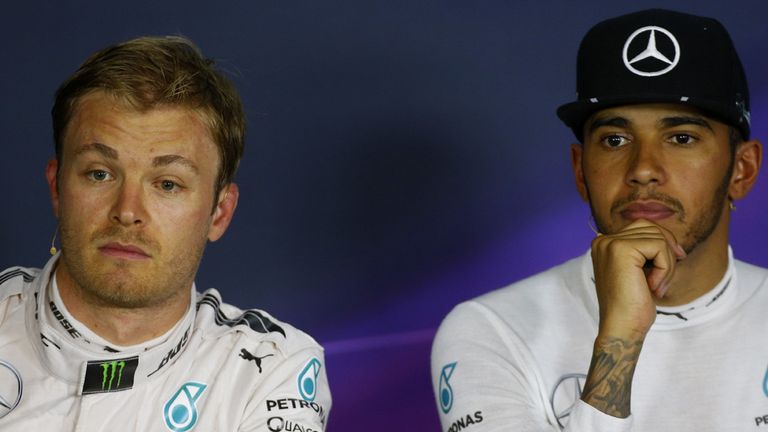 Mercedes have a problem and no easy answers.
Lewis Hamilton and Nico Rosberg have crashed into each other twice in the last five races and three times in the last 36. And that's not to mention their cars also made contact on the first corners in Australia and Canada this season.
No matter what team boss Toto Wolff tells them, neither Rosberg nor Hamilton seem particularly inclined to listen.
The pair were read the riot act two years ago after colliding at Spa, were warned they could be dropped at the end of last year when the atmosphere within the Mercedes garage turned sour, and were bundled into the last-chance saloon after taking each other out in Spain two months ago.
Little wonder that a furious Wolff described their latest clash in Sunday's Austrian GP epic as "brainless". 
Will Mercedes now impose team orders on their warring drivers?
Team orders are the final card Mercedes have up their sleeve. But there's also a reason why, despite identical circumstances in the past, they have been so loath to play it. 
"One option is to freeze the order at the certain stage of the race," Wolff said. "It's unpopular, and it makes me puke myself because I like to see them race, but if the racing is not possible without contact that's the consequence."
Nevertheless, it would still be very surprising if Mercedes were to impose team orders - or, to be more precise, a race order freeze - on their drivers.
Such a restriction would run in sharp reverse to the culture of open racing they have encouraged for the past three years and, most importantly of all, would be immensely unpopular with the fans.
Would Hamilton and Rosberg obey team orders?
Wolff is both acutely aware of how Mercedes would be perceived if they imposed team orders and the damage it would subsequently do to their brand - so much so that he even contemplated going in the opposite direction for the start of this season by freeing up Rosberg and Hamilton to choose their own strategy.
"Our dominance is bad for Formula 1," Wolff said in December. "'It makes the racing boring. The moment you become a dominant force, you suffer and your brand suffers. You become the dark side of the force.
"So I want the dominance to continue but if it were to continue like this, I need to think what to do so we do not become the enemy and how we can help the show. Maybe it's about unleashing the two of them [Hamilton and Rosberg] completely. Make them have their own strategy cars. That would be a solution."
To not only row back from that position but then also hit reverse would be a seismic shift in approach by the team - especially so immediately after a race which, lest we forget, Mercedes actually won. 
And in any case, would Rosberg and Hamilton, even as paid employees, either accept or listen to team orders? "I don't think Mercedes could stop Hamilton racing at the British GP even if they took his car away," noted Sky F1's Damon Hill. He's probably right.
Mercedes the successful makers of their own problem
Ultimately, it's the very thing which makes Rosberg and Hamilton such intense on-track rivals (off the track, their relationship has apparently improved over the last six months) that will probably persuade Wolff to reject the imposition of team orders: Mercedes' overwhelming performance advantage.
"I have to cool down and in the next couple of days figure it out," added Wolff. When he does, the Mercedes boss is sure to dwell on the fact that his team are already over 100 points clear in the Constructors' Championship and after Sebastian Vettel's tyre blowout, it's a racing certainty that a Mercedes driver will win the drivers' title as well.
The only snag is that it's that reassurance which means Hamilton, chasing his third successive title, and Rosberg, seeking his first and probably doing so in the knowledge that it's now or never, cannot afford to surrender an inch to his team-mate. Hence their absolute refusal to yield on the final lap in Spielberg.
"I needed those points. I can't afford to lose any points," said Hamilton afterwards. Rosberg, clearly, was thinking the same.
Rosberg disagrees with stewards' verdict
The mistake, perhaps, is to persist in categorising Hamilton and Rosberg as team-mates. While there's rarely been anything particularly matey about two drivers sharing a garage in F1, the friendly-sounding label of 'team-mates' has never been more inaccurately applied than when stuck to the only drivers with exclusive access to that year's title-winning car.
First, foremost and last, Hamilton and Rosberg are not team-mates but championship rivals.
As for Wolff, he also, unusually, made one mistake on Sunday. As emotion perhaps got the better of Toto in the red-hot immediate aftermath of a chaotic and emotive race, the Mercedes chief thundered: "We are looking like a bunch of idiots."
They weren't. Sunday's race may have ended messily, but Mercedes still looked like a team which has won eight of the nine races this year armed with two very talented and competitive drivers.
Perhaps it's not such a bad problem to have after all.
Don't miss the F1 Report: Austrian GP review on Sky Sports F1 at 8.30pm on Wednesday as Stoffel Vandoorne and Jaime Alguersuari join Marc Priestley in the studio.