Lewis Hamilton firing on all cylinders and riding wave of 'unstoppable' form
World champion now within a single point of title rival Nico Rosberg
Last Updated: 12/07/16 1:38pm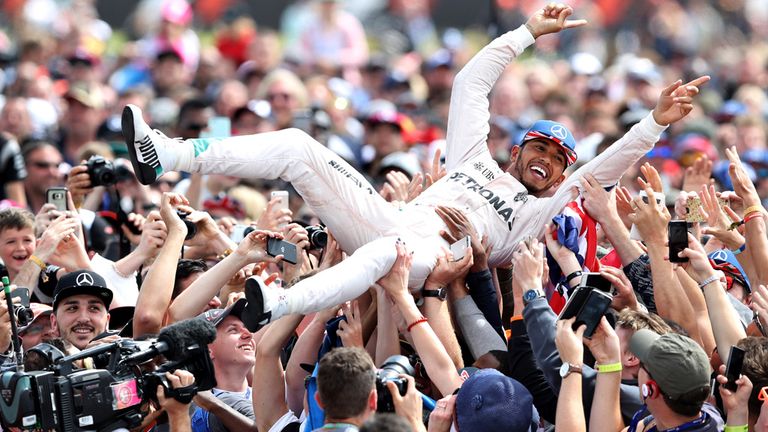 Silverstone crowd surfer Lewis Hamilton has warned he is riding on a wave of support and firing on all cylinders again as he continues to hunt down Nico Rosberg in the F1 title race.
After falling 43 points behind his Mercedes team-mate due to a spate of early-season malfunctions, Hamilton has won four of the last five races to close to within just one point of his title rival. 
Standing triumphant on the podium after his fourth British GP victory, Hamilton played to the roars of the Silverstone crowd by urging: "I'm catching him, so let's keep going."
Sky F1 pundits: Hamilton is in his prime
Rosberg won't need telling. Hamilton has come out all guns blazing since their crash in Spain and, after a six-month lull in which he failed to win a race after securing last year's championship in October's US GP, appears to be back to his very best.
"I was driving exceptionally well last year, although the end of the year was a bit more chilled," said the world champion. "But I definitely feel that the last race and this race I have been firing on all cylinders.
"I feel l am at my peak, I felt stronger than ever in the car."
Even Mercedes boss Toto Wolff, studiously neutral in his dealings with his two drivers, was moved to admit: "On days like this, Lewis is unstoppable".
The problem for Rosberg is that there are beginning to be too many days like this. Hamilton has out-qualified his team-mate in every Saturday session he has completed this year and, other than when he ran wide at Turn One with twenty laps remaining of Sunday's grand prix, he drove impeccably all week at Silverstone from the moment he first took to the track in Practice One on Friday morning.
"This has been the best week of the year without doubt," said the 31-year-old. "The car was a dream to drive. I had it in a great position this week balance-wise and setup-wise. I had a really beautiful balance. All my team did a great job to get this car over the line first. I felt in control in all conditions."
Hamilton was particularly supreme through the middle sector of the Silverstone circuit, still regarded as one of the ultimate challenges on the calendar of driver skill and bravery.
"That middle sector is the best sector of the whole season for me," said the Mercedes driver. "The combination of corners is phenomenal. It's not completely flat, but l was able to hit it almost every lap."
The one cloud still lurking on Hamilton's horizon is the imminent threat of grid penalties, a consequence of those early-season mechanical failures.
"I just have this one engine left and I will try to make it last as long as l can. But I will have to start one of the races from the back after the break."
On this kind of form, even that might not slow down Hamilton's charge for long.
As he remarked before departing Silverstone: "When I'm at my strongest I don't feel any problems".
Don't miss Wednesday's F1 Report at 8.30pm as Sky F1's Ted Kravitz and 1981 Silverstone winner John Watson join Marc Priestley to review the British GP and Lewis Hamilton's latest triumph.