Was Max Verstappen in the wrong for clash with Kimi Raikkonen?
Kimi says the teenager should have been penalised at Hungarian GP
By Simeon Gholam
Last Updated: 26/07/16 6:11pm
Max Verstappen has received stinging criticism for the driving that ended in a collision with Kimi Raikkonen during the Hungarian GP on Sunday. But was he in the wrong?
As the 18-year-old was attempting to defend fifth place from Raikkonen at turn two during the closing stages of the race, the Finn ended up clipping the Red Bull driver as he appeared to change direction more than once and damaged the front wing of his Ferrari.
Was Verstappen at fault? And should he have been penalised for breaking the rules? Here, we take a look...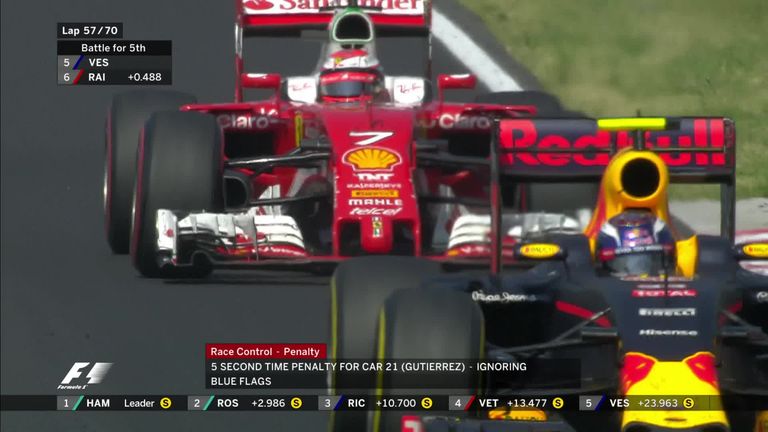 What do the regulations say?
The relevant article, 27.6, of the F1 sporting regulations states:
"More than one change of direction to defend a position is not permitted. Any driver moving back towards the racing line, having earlier defended his position off-line, should leave at least one car width between his own car and the edge of the track on the approach to the corner."
So was Verstappen in the wrong?
Not according to his team. Red Bull team principal Christian Horner declared the teenager's driving as "firm but fair" and even Raikkonen's Ferrari team-mate Sebastian Vettel only offered a mild rebuke while at the same time criticising the complicated rulings he believes are turning F1 into a laughing stock.
"Look, I think we're here to race," said Vettel. "One of Max's strengths is that he's very aggressive, obviously sometimes you overstep the line but I am against the whole policy of penalties and very complicated ruling. I think it's silly, I think people outside are laughing at us.
"For us it's tricky because there's not much we can do. I think he will calm down, give him a bit of time. But it's also one of his strong points - of course when you are behind him and he's moving here and there it's not great, and Kimi is one of the fairest guys in the field but that's how it is sometimes. 
"The race is long, the season is long so I'm sure they'll meet again."
What did Raikkonen think?
Raikkonen was deeply irritated by the incident and claimed Verstappen should have been penalised for his driving.
"It's pointless to have rules if they don't apply all the time, for all the people," he said, before adding: "For me, he moved once right, I decided to go left but once the other guy moves back, I did everything I could to avoid any contact.
"Once I decided to go somewhere, you cannot just come there. It is good that I managed to somehow half-miss him.
"It's not my decision whether it was correct or not. I've seen people penalised for much less.
"I'm disappointed because I couldn't get past him and get to the rest, but the car was behaving well and we had good speed."
And what about Verstappen?
Verstappen does not think he did anything wrong, and was adamant post-race that he should not have been punished for his actions.
"I think everything was fair. I only moved once," the Red Bull driver told Sky Sports. "It would be very strange if I would get penalised I think. I could see him coming, he was very optimistic to dive into the inside so I went to the inside and he had to break - he locked up and hit the rear of my car, or my tyre I don't know. That can happen.
"I was just doing my race."
What do the pundits say?
In his latest column for Sky Sports, Martin Brundle wrote:
"I have to admit, Max's technique is too junior-formula for my liking. When he's defending, he tends to loiter in the middle of the track and then move to the side of the track where his opponent is attacking and cut them off. It all looks a little too late - and it's asking for trouble. 
"There's absolutely no doubt in my mind that he will end up with some punctures and some spins with this technique.
"He was very lucky on Sunday that the contact with Raikkonen's Ferrari wasn't more grievous but this style will hurt him soon and it's clear the other drivers are becoming frustrated with it to the point that one of them will have him off to teach him a lesson. 
"It's what a Mansell or a Senna used to do whenever they thought a young driver wasn't showing due respect. Max moves late, he moves fast and he moves frequently - we could argue all day whether he moved once, twice or even three times when he was defending against Kimi. He is rubbing up against the rules, damaging his own car and on the verge of coming into major grief with his peers."
Don't miss the F1 Report: Hungarian GP review on Sky Sports F1 at 8.30pm on Wednesday as Marc Priestley and Ben Hunt join Natalie Pinkham in the studio to discuss the fallout from the Budapest race.