Nico Rosberg unhappy with German GP penalty for Verstappen clash
Merc driver now trails team-mate Hamilton by 19 points in title race; "He just doesn't turn in or give space on the exit - and that's not fair," says Verstappen
By Simeon Gholam
Last Updated: 01/08/16 5:55am
Nico Rosberg says he was 'surprised' to be handed a penalty for his clash with Max Verstappen midway through the German GP.
Rosberg had qualified on pole at Hockenheim, but fell to fourth place - behind Hamilton and the Red Bull pair of Daniel Ricciardo and Max Verstappen - into Turn One before later being penalised as he attempted to claw his way back into contention.
The German was handed a five-second penalty by the stewards after what was deemed an unfair overtake on Verstappen during lap 29.
"I thought it was a good battle [with Verstappen] and I was very surprised I got penalised," said Rosberg. 
"I didn't expect that at all."
Verstappen, however, was adamant that Rosberg forced him off the track at the hairpin.
"He braked really late. When he came next to me, he just didn't turn in - it was a bit like in Austria. He forced me off the track," he said. "I could still see his hands going straight so l don't know if that is full lock."
The Dutchman added to Sky Sports News HQ: "He did a good move into the corner but it was already very deep. But he just doesn't turn in or give space on the exit - and that's not fair. I race hard and on the limit but I always give space on the exit - that's the difference."
Red Bull team principal Christian Horner described Rosberg's move as "a bit naughty".
"The problem is [Rosberg] did a pretty bad job of it," he told Sky Sports F1. "The golden rule in a job like that is lock your fronts up and look as if you can't stop. The problem is he looked like he was driving to Cologne, and that's a bit naughty. 
"They're the rules, that's what the stewards deemed so I'm not going to complain today."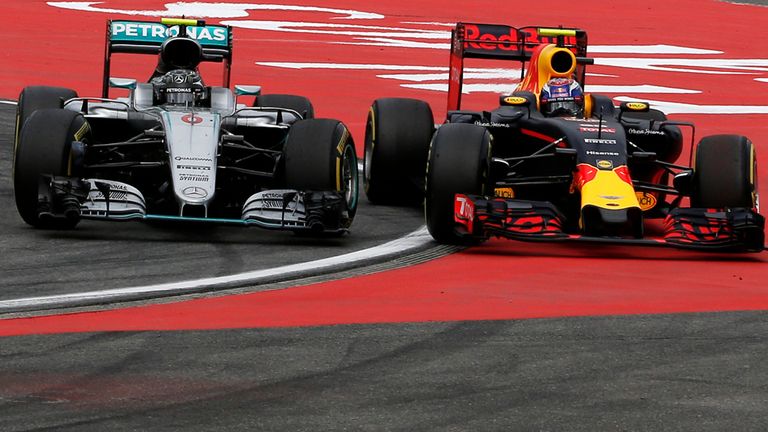 But Sky F1's Anthony Davidson reckoned that the penalty was tough on Rosberg.
"I personally felt, like many others, that the penalty was quite harsh," said the analyst. 
"There's an inconsistency in driver stewards, there's a different one in every race and they all have their own opinion like everybody else. I've spoken to multiple different former drivers and they all pretty much agree [that Rosberg was harshly treated]."
Things went from bad to worse for Rosberg as his five-second penalty ended up costing him eight seconds after a mix-up with his team in the pits, although he didn't believe he could have caught up with the Red Bulls again anyway.
"It's just one more of those things when a day goes completely wrong, and all those things come together," the German driver said. "I don't think it made a difference in the end because I don't think I could have challenged the Red Bulls after that penalty."
Rosberg now finds himself 19 points behind Hamilton in the standings heading into the summer break, having once been 43 in front this season. 
But the German claimed he is more upset with the way he lost the race in Hockenheim than his deficit in the championship.
"19 points is not tough at all," he said. "Tough is losing a race in the way I did today. That's very, very tough."
Don't miss the F1 Report: German GP review and half-term report on Wednesday at 8.30pm on Sky F1 with Natalie Pinkham, Marc Priestley and Mike Gascoyne