F1 2016: How will Lewis Hamilton turn the title race around?
This Sunday's Malaysia GP first of four races in five weeks; Rosberg leads Hamilton by 8 points in the title race
By Matt Morlidge
Last Updated: 03/10/16 9:05am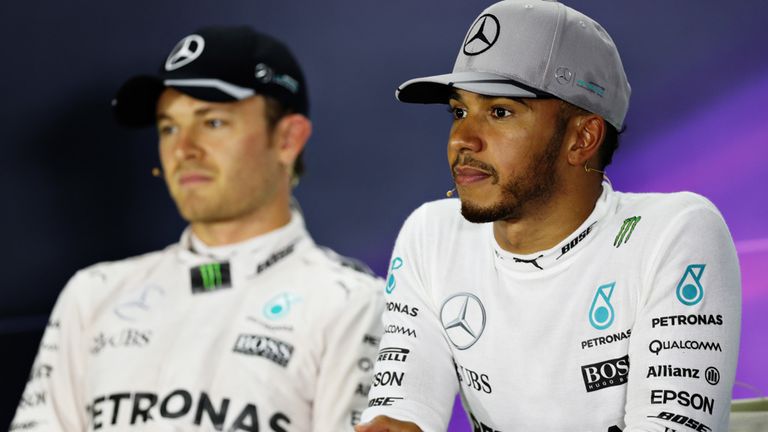 Lewis Hamilton has seen his 19-point lead emphatically wiped out in the three races following the summer break and now trails Nico Rosberg in a Drivers' Championship that looks likely to go the distance.
But with just six races left in a gripping 2016 campaign, and four in the next five weeks, we examine what Hamilton needs to wrestle the momentum back from his Mercedes team-mate.
Sorting the starts
The world champion's admission that his championship "could be lost through starts" was an eye-opener, but the explanation of his issues with the new-for-2016 start procedure was possibly even more worrying for Hamilton fans. According to 31-year-old, the clutch gave more torque in Italy, leaving him stranded on the grid and effectively losing him the race "because it wanted to".
It's clear the Brit has little faith in his getaways, and little idea in how to improve them. Considering this is a variable that has cost him places from pole on the first lap five times already this season, the indecision from such a skilled driver is troubling.
Hamilton's start-line struggles from pole
| Grand Prix on pole | Ended first lap |
| --- | --- |
| Australia | 6th |
| Bahrain | 7th |
| Spain | Retired |
| Canada | 2nd |
| Austria | 1st |
| Britain | 1st |
| Italy | 6th |
"It will happen again, sometime in the next seven races," a fearful Hamilton added before the last GP. Equipped with an identical machine to a team-mate and title rival in form, it's an area where he must somehow find answers.
Clean weekends
Hamilton knew an engine penalty was on its way in the second half of the season and he impressively converted his back-of-the-grid start in Belgium to a third-place finish. He would, however, have hoped that other reliability concerns, which have already badly blighted him in 2016, were a thing of the past as the title race entered its sprint to the finish. But in Singapore, Hamilton endured his scrappiest weekend, both on-track and in the garage, in months.
Usually so assured on a street circuit, Hamilton was throwing his W07 around the Marina Bay track limits during qualifying, paying the price for his lack of practice running due to separate suspension and hydraulics failures. "The time lost yesterday has proved more valuable than I thought," admitted Hamilton after being beaten by both Rosberg and Red Bull's Daniel Ricciardo on race day.
The momentum swing following the summer break
| Drivers' standings | Lewis Hamilton | Nico Rosberg |
| --- | --- | --- |
| Pre-Italy | 217 | 198 |
| Pre-Belgium | 232 | 223 |
| Pre-Singapore | 250 | 248 |
| Pre-Malaysia | 265 | 273 |
In truth, such was Rosberg's form, he may not have been caught regardless of his team-mate's mechanical woes. But confidence in his team and car set-up was always going to be crucial for a driver who relies heavily on the feel of his machine, as it will be for the final six grands prix.
Clean weekends for both drivers is the order of the day, and it could lead to something special...
Winning the straight fight
It's a question that has dominated their three-season-old partnership and one that, as yet, Rosberg hasn't answered. Can he really beat Hamilton in a straight fight?
Prior to 2016, there would have been a straightforward response. Hamilton could rely on previous mental victories over the German, bullying his way to wins in Japan and the USA last year. The Englishman had his favourite tracks and it seemed that should he hit top form on a weekend, no one could stop him.
But there has been quite the shift within the Rosberg camp this year. Not only does he appear to have matured as a person and improved as a driver, he has conquered battles where he has previously faltered. Five of the his eight victories this season, in Bahrain, Russia, Belgium, Italy and Singapore, have come at tracks where he had never won before.
"For the first time I feel that Nico has the speed, ingredients and confidence to take this title in a straight fight," said Sky F1's Martin Brundle. Has the momentum finally swung Rosberg's way? Is it his title to lose?
There are claims that the Nico-Lewis dynamic has changed, Sir Jackie Stewart has hinted that Hamilton is getting complacent while he has been forced to deny that his hectic summer holidays have had any impact on the title race. Hamilton has been under pressure before and come out on top, but he's never been in this position. How he approaches and finishes this battle from behind could dictate where he stands in the pantheon of F1 greats.
We're set up for a grandstand finish, one that should go down to the wire. This straight battle could be one to remember.