Media snap back at Lewis Hamilton after distracted press conference
Hamilton accused of "lack of respect" after Snapchat antics; Brit claims fans should be asking the questions at press conferences
Last Updated: 17/04/20 9:46am
Lewis Hamilton has come under fire after spending the majority of Thursday's pre-Japanese GP drivers' press conference on his phone.
The world champion appeared distracted and uninterested during the Suzuka press conference, taking pictures of himself as well as other drivers on mobile application Snapchat.
Asked what he was doing on his phone by the media, the Brit, under pressure after falling 23 points behind team-mate Nico Rosberg, replied: "Just some snaps of us drivers, it's quite funny.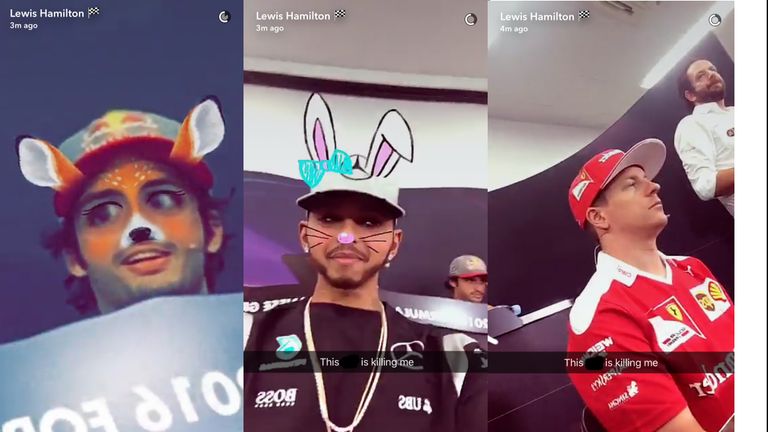 "Hey man, we've been doing this a long, long time and it's the same each time. We've got to keep adding new things to it."
But Hamilton's antics weren't well received by the British press, with the media accusing the 31-year-old of showing a "lack of respect" to Japanese fans.
"I agree, the FIA press conference format is static, but you can't defend this," posted The Sun's Ben Hunt.
"So apart from the lack of respect (which I don't expect people to get), when is it ok to swear on social media? Hardly good for the kids..."
The Times' Kevin Eason, meanwhile, added: "Think the world champion could have ditched the phone and concentrated a little harder for the benefit of the huge Japanese audience."
Hamilton, however, responded to such remarks, claiming: "Today was meant to be fun, not at all disrespectful. Some people take themselves too seriously. I had a blast, highlight of my day!
"Re press conference, it's been the same for 10 years. It's not the media or mediator, it's the format. Fans should be asking the questions!!"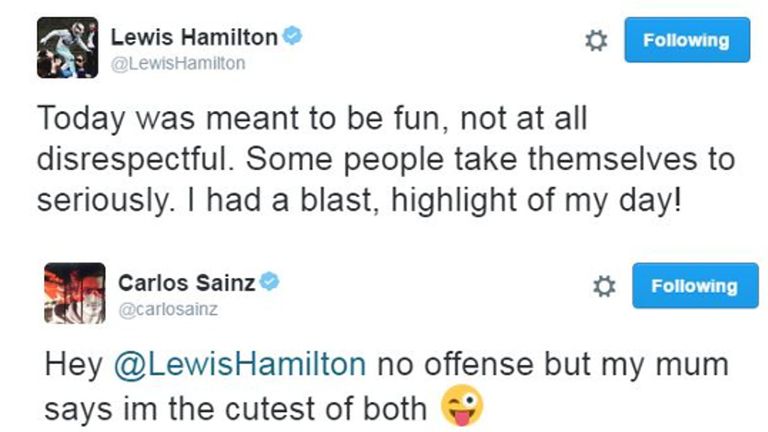 Supporters of Hamilton have also defended the three-time champion, suggesting that his Snapchats were more entertaining than the press conference itself, as well as praising his fan interaction.
And on whether questions from fans through social media would help breathe new life into the Thursday proceedings, Sky F1's Martin Brundle added: "Some will be nervous of being unprepared but if questions are good and pertinent then absolutely why not,"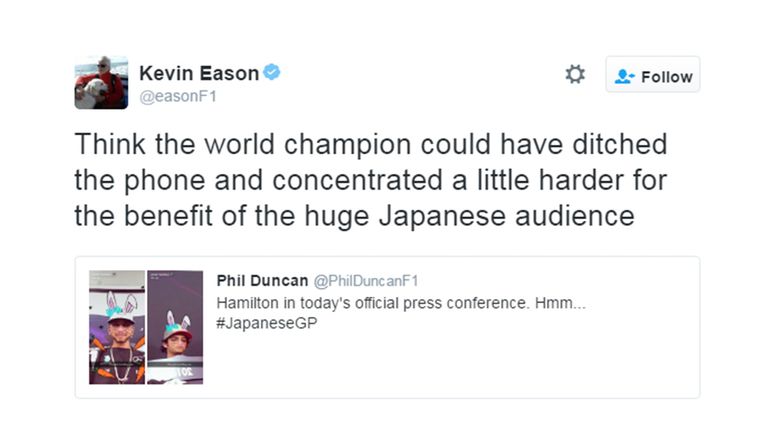 Hamilton lost ground in the Drivers' Championship after his engine blow-out from the lead in Malaysia, and Mercedes have now confirmed that the cause of the fault was a bearing failure. At Suzuka, he will revert to the engine he used at the previous race in Singapore.
Hamilton, who insisted he hasn't even thought about the Sepang race since, also dismissed fan conspiracy claims after posting a heartfelt message to his Mercedes team on Instagram.
"They [fans] can just go on my Instagram, I put all my feelings on there," he said. "If you see my post, you see how passionate I am about this team."