Lewis Hamilton is 'fragile' and in 'meltdown' after Japanese GP title blow, claim Fleet Street
Monday's papers react to Hamilton losing more ground to Rosberg, his cancelled media briefings and Snapchat antics
Last Updated: 10/10/16 10:32am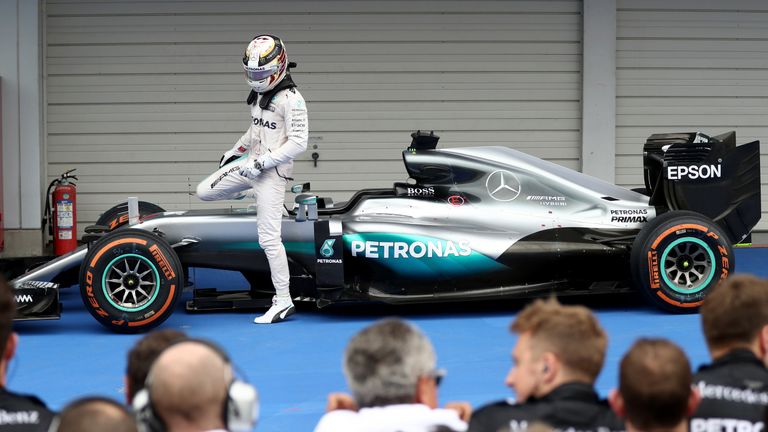 Lewis Hamilton is in 'meltdown' after his blunders both on and off the track at the Japanese GP, according to Monday's papers.
The Brit fell 33 points behind Nico Rosberg after finishing third in Suzuka following a poor start, while he cancelled two media briefings claiming he was "disrespected" by the written press.
Hamilton's disastrous and possibly decisive weekend in the title race followed his use of Snapchat during Thursday's press conference, for which he was heavily criticised by Fleet Street. And, as Kevin Eason writes in The Times, 'his overblown reaction revealed a delicate ego and a fragile mental state'.
'Executives were mouthing the word "meltdown" afterwards to describe Hamilton's mood after a tumultuous three days in which he slid from cocky prankster to sullen loser as he realised that this world championship is slipping through his fingers,' continues Eason.
'While Hamilton donned a tin hat and dug his solitary trench after declaring war on the world's press, Rosberg kept himself to himself as he has all season; head down and focus on his mantra, he says. And it works.'
The Telegraph's Daniel Johnson agrees that Mercedes fear their 'lead driver is in meltdown at one of the most critical junctures of his career' while citing that Hamilton is cracking under pressure from his team-mate.
Hamilton is without a victory in five Grands Prix while Rosberg continues to flourish, and the German can afford to cruise to a maiden title with just four races remaining.
'The extra few per cent which ensured in the last two years that Rosberg was left trailing have gone missing,' Johnson writes. 'More worrying are signs the apparent psychological fortitude he has built up can crumble so spectacularly under pressure from Rosberg.'
Nico and Lewis in 2016: A sprint to the finish
| | Nico Rosberg | Lewis Hamilton |
| --- | --- | --- |
| Points | 313 | 280 |
| Best possible finish | 413 | 380 |
| What they need for title | 2nd, 2nd, 2nd, 3rd | 1st, 1st, 1st, 1st* |
| *four wins would still not guarantee title | | |
'Hamilton hits the self-destruct button,' is the headline on Johnson's article, while The Daily Mail reports that 'Lewis needs title miracle as blunder lets Nico coast to win'. A Monday piece in The Guardian, meanwhile, focuses on Hamilton's Snapchat antics.
'It is a testament to Hamilton's apparently bottomless reserves of childishness that he somehow contrived to emerge from what should have been a relatively amusing wheeze looking utterly charmless,' writes Barry Glendenning.
'Increasingly prone to conducting himself in the manner of a man who believes he is some sort of riddle wrapped in a mystery inside an enigma, more often than not his attempts to appear brooding and inscrutable come across as the childishness of a paranoid brat.'
The reaction to Hamilton's cancelled post-qualifying press briefing was also explosive within Fleet Street, with Johnson writing in the Sunday Telegraph that 'Hamilton's bizarre behaviour left Mercedes red-faced again'.
Wolff: Lewis' form not affected
'In another sign that Hamilton has the freedom to act as he likes without fulfilling Mercedes' wishes, the world champion suggested he would not be fulfilling his written media duties much longer,' Johnson continued.
The Sunday Mirror's back page headline of the story was 'Berk in the Merc' while The Sun's respective headlines read 'Lew-sing plot' and 'Ham snaps'.
'Lewis Hamilton was all snap and no chat,' penned Jonny Fordham. 'Hamilton was livid at the unsurprisingly negative reaction to his childish Snapchat antics.
'Now the growing feeling among the paddock is that Hamilton does not just run Merc but the whole of Formula One and he has become untouchable. 
'But this is Hamilton's world. A social media bubble where his die-hard fans worship motorsport's Mr Marmite like a leader of a cult.'
Don't miss The F1 Report's review of the Japanese GP on Sky Sports F1 at 8.30pm on Wednesday evening
You can watch England's tour of Bangladesh, plus Premier League football and the British Masters on Sky Sports. Upgrade now and enjoy three months at half price!