Why did McLaren slump in Japan?
Sky Sports F1's Mark Hughes examines the reasons behind McLaren-Honda's struggle at their home race...
Last Updated: 12/10/16 9:07am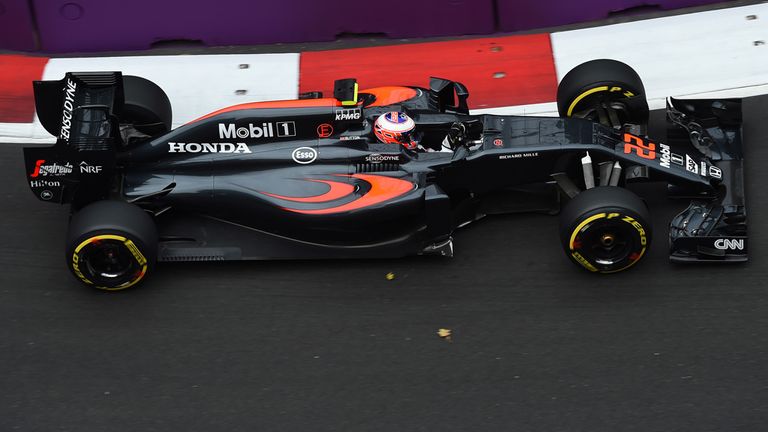 Surely the biggest under-achievers of the Japanese GP weekend was the McLaren-Honda team, a particularly unfortunate turn of events upon Honda's very own circuit.
The MP4-31 has been a vast improvement over last year's acutely under-powered machine and in nine of the previous 12 races one or both team cars have made it through to Q3. But at Suzuka they were mired just 15th and 17th quickest, Button failing even to graduate from Q1.
Because Button was so (unexpectedly) far down, it was decided to introduce new engines and associated components into his allocation for the remainder of the season (much as had been done with Alonso in Malaysia), as the grid drop to dead last wasn't so far. Things were little better in the race, Alonso unable to make his usual stellar progress in the opening laps and finishing 16th, while Button - unable on his hard tyres to even make it past the Manors for the first nine laps - was a very quiet 18th.
Although the Honda power unit is much improved this year, the big gains have been in how long its electrical power boost can be deployed. The internal combustion engine remains well down on power to the standard-setting Mercedes, to the estimated tune of around 60 horsepower. While that shortfall will certainly have cost significant lap time around Suzuka it's a less power-sensitive track than either Monza - where the McLarens were generally knocking on the door of Q3 - or Spa, where Button qualified 10th.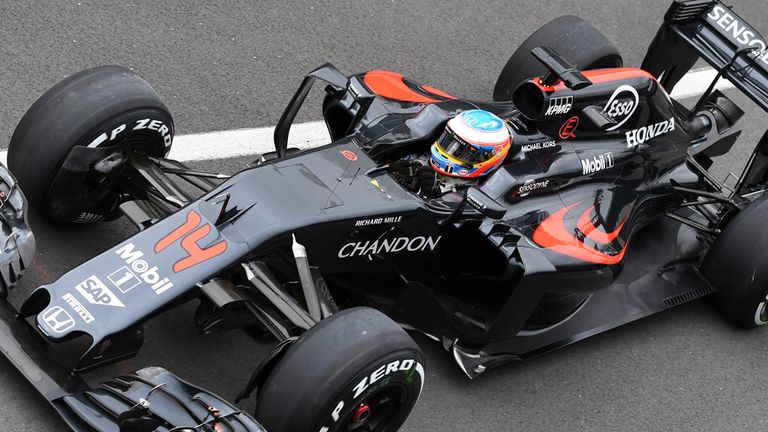 So what was the problem? Suzuka's layout highlighted the fact that the McLaren chassis is not very effective in medium-high speed corners.
"We are very strong under braking and into slow corners," pointed out Button, "but this track's all about medium-high speed and straightline speed - which are a bit trickier for us." Only the hairpin and the chicane of the track's 17 corners could be classified as 'slow' and as such there was very little opportunity for the strong points of the chassis to overcome its weaknesses.
Suzuka's layout had revealed in stark black and white what had been generally disguised at other circuits. Even Silverstone, with its succession of high speed corners, has Vale, the Village loop, Brooklands and Luffield to allow the McLaren to claw back time lost in the fast sections. Barcelona has two hairpins plus turn 10 and the chicane. Ironically, the contours of the Japanese track designed by John Hugenholtz in the 1960s specifically for Honda, could not have been more ill-suited to the Honda-powered car this year.
Although this places doubt about McLaren's earlier claims that it has the third best chassis (after Mercedes and Red Bull), the weakness seems to be a very specific one, related to the aerodynamics around the front wing within a certain speed range. In his one-off race at Bahrain, Stoffel Vandoorne noticed that trying to cure the car's understeer past a certain point of front wing flap angle just induced oversteer instead. There was a tiny - or even non-existent - sweet spot of wing angle between too little front downforce and too much.
At Suzuka a new front wing with an extreme area of slats - it really did appear to be more holes than wing surface - was probably an attempt at making the wing respond less critically to adjustment around this critical flip point between too little and too much downforce as the wing angle is increased. Clearly it was not as effective as the team would have hoped and the car remained understeery - and therefore slow - through the direction change of the Esses all weekend.
The main point is that it appears to be a very specific aero weak point rather than a generic shortfall and therefore probably not something that will necessarily carry into next year's car, especially given the big change to the aero regulations. With Honda on course to introduce two major technical changes - TJI ignition and taking the turbine and compressor out of the vee, allowing a more powerful turbo - for next year, there is still plenty of cause for optimism that the McLaren-Honda partnership will take a big competitive step, despite the blip of Suzuka.   
MH