United States GP: Lewis Hamilton trims Nico Rosberg's title lead
Rosberg still 26 points clear after Verstappen's parking helps him take second ahead of Ricciardo; Alonso keeps fifth
By Pete Gill
Last Updated: 24/10/16 5:07am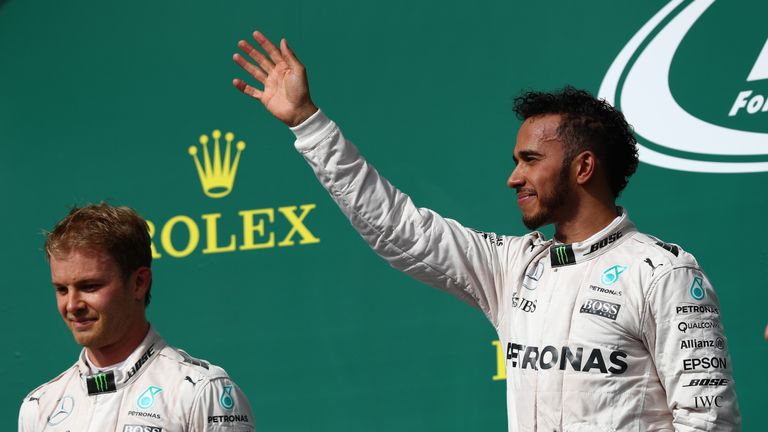 Lewis Hamilton has trimmed Nico Rosberg's lead in their battle for the world championship with a serene victory in the United States GP.
Equally impressive on and off track all weekend in Texas, Hamilton cruised to his first win since July and the 50th of his F1 career. 
But after salvaging second place, Rosberg still holds a 26-point lead in the title race - in excess of a full race victory - with just three races remaining this season.
"All I can do is do my best and continue to drive as I have this weekend," said Hamilton. "Nico has been driving fantastically well all year, so the battle will continue."
Ironically, Rosberg was able to retain second position ahead of Daniel Ricciardo by taking a 'free stop' under a Virtual Safety Car deployed when Max Verstappen's sister Red Bull broke down and the Dutchman, on orders from his team, opted to park alongside a wall.
While Ricciardo's vocal response was expletive-ridden, his response on track was less explosive and Rosberg crossed the line 10 seconds clear of the frustrated Australian to secure 18 valuable points.
At the scene of their infamous Cap Spat confrontation a year ago, the two Mercedes drivers briefly congratulated each other in the warm-down room afterwards but, with Hamilton back on form and evidently in no mood to surrender his crown without a fight, their truce may yet prove short-lived.
"It's interesting because we are not having any games anymore," a cautious Mercedes boss Toto Wolff told Sky F1.
"There is no psychological warfare like we have seen in the past years. They are both in a good mood, but I'm always skeptical. I kind of wait if this is a volcano to erupt or not."
Hamilton's 50 Formula 1 victories
Despite being overtaken for fifth on the final lap by a belligerent Fernando Alonso, Toro Rosso's Carlos Sainz claimed a career-best sixth. The charging Alonso had earlier earlier banged wheels with Felipe Massa as he passed his former team-mate, puncturing the Williams in the process, but was cleared by the stewards in a post-race investigation to keep fifth.
Alonso's argy-bargy was a rare moment of incident in a race which otherwise failed to fizzle despite the best efforts of Ferrari to provide a dose of slapstick when Kimi Raikkonen was released from his pit-stop too quickly, pulled up, and then rolled back into the pitlane, only to be told to retire.
While the former world champion stomped away, team-mate Sebastian Vettel collected a distant fourth to overtake his team-mate in the standings once again.
Hamilton still has plenty of work to do before he can do the same.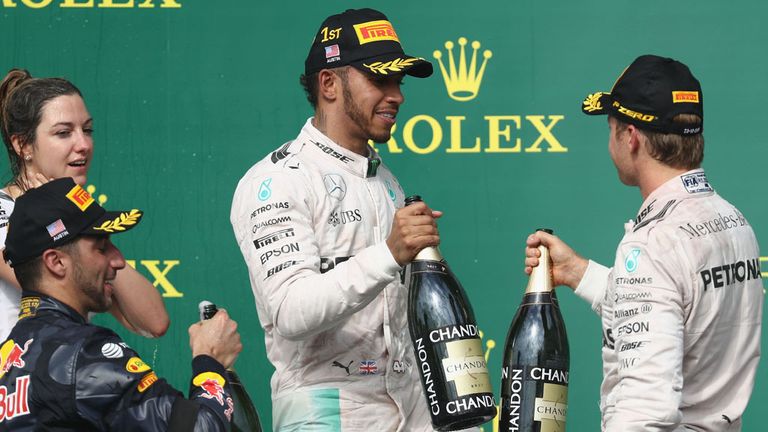 United States GP result
1. Lewis Hamilton, Mercedes, 1:38:12.618
2. Nico Rosberg, Mercedes, + 4.520
3. Daniel Ricciardo, Red Bull, + 19.692
4. Sebastian Vettel, Ferrari, + 43.134
5. Fernando Alonso, McLaren, + 93.953
6. Carlos Sainz, Toro Rosso, + 96.124
7. Felipe Massa, Williams, + 1 lap
8. Sergio Perez, Force India, + 1 lap
9. Jenson Button, McLaren, + 1 lap
10. Romain Grosjean, Haas, + 1 lap
11. Daniil Kvyat, Toro Rosso, + 1 lap
12. Kevin Magnussen, Renault, + 1 lap*
13. Jolyon Palmer, Renault, + 1 lap
14. Marcus Ericsson, Sauber, + 1 lap
15. Felipe Nasr, Sauber, + 1 lap
16. Valtteri Bottas, Williams, + 1 lap
17. Pascal Wehrlein, Manor, + 1 lap
18. Esteban Ocon, Manor, + 2 laps

*five-second time penalty
Don't miss The F1 Report's review of the United States GP on Sky Sports F1 at 8.30pm on Wednesday evening with Natalie Pinkham, Marc Priestley and Dave Richards