Formula 1 in 2017: Adrian Newey predicts mixed-up grid but questions F1's future direction
Red Bull design chief says no guarantees who will get new rules right
By Pete Gill
Last Updated: 23/12/16 12:00pm
Red Bull designer Adrian Newey has predicted a 'mixed-up grid' at the start of 2017 as the sport embarks on a dramatic overhaul of the regulations.
The 'reset' is expected to result in the sport reverting from an 'engine formula' to a 'chassis formula' - an anticipation which has already resulted in many pundits predicting Red Bull will be the team to beat courtesy of their famed technical chief.
But a modest Newey has warned that nothing can be guaranteed when F1 wipes its aerodynamic slate clean for the new year.
"It will almost certainly mean the grid will be a bit more spread out to start with," Newey predicted to Sky Sports F1.
What will be different about the 2017 cars?
"Whenever there is a regulation change, some teams read the regulations better than others. Typically the big teams, who have the bigger resource, read them better, but when we had the last big regulation change in 2009 that wasn't the case, it was Brawn and ourselves who read them correctly, and the grandees, then Ferrari and McLaren, who struggled a bit.
"Whenever you have regulation change, you have lots of ideas which you have to channel down to a direction and a philosophy for the car. Although we are one of the bigger teams we don't have the resources to look at them all avenues simultaneously.
"It's [a case of] 'this is the avenue we believe is the correct one' and we hope we are right. There is always the chance that there is an avenue or direction which someone else has taken which is superior."
But despite the expectation that the 2017 refresh will suit Red Bull after three relatively unexceptional years in Mercedes' shadow, Newey has expressed his reservations about the sport's pursuit of hybrid technology as a greener, more road-relevant formula.
F1's 2017 race and test schedule
"Is F1 a technical showcase for motor manufacturers, of their engine prowess for instance, or is it a spectacle that involves man and machine?" he asked.
"Depending on who you are, you are one way or the other. My personal view is that it should be a battle of drivers coupled with the creativeness of engineers. That means it shouldn't purely be battle of resources, which is what it has tended to become on the engineers' side.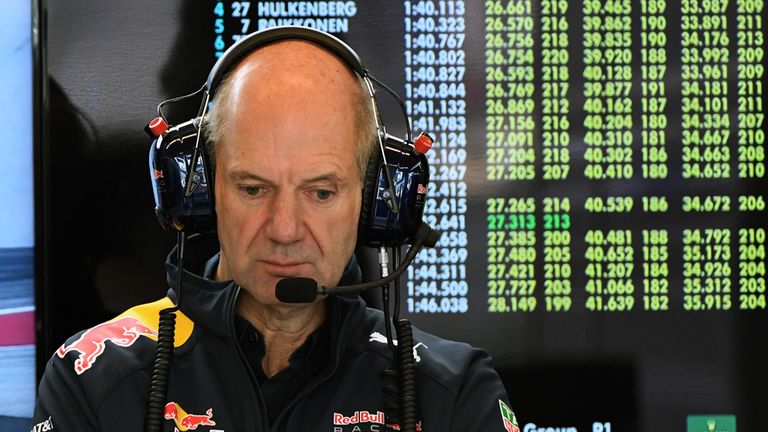 "It would be entirely possible to come up with a set of regulations that would reward creativity more than simply the number of people. A budget cap is very difficult to implement but you could come up with resource restrictions, certainly on the chassis side most of which aerodynamic driven. You could restrict research resources much more heavily than we do, perhaps scrap wind tunnels altogether, be much more restricted on the CFD runs, and if you restrict the resources there wouldn't be no point having so  many engineers because they couldn't feed it through the funnel.
"On the engine side, my personal opinion, which I'm sure will be a very controversial one, is that all this blurb which a few manufacturers would like to put out, that it improves their road car product, if that is the case then those manufacturers in the future, five years at the most, should be demonstrably ahead in the automotive sector of their rivals. Somehow l suspect that will not be the case, which tends to say it is marketing blurb."