Lewis Hamilton relishes toughest task but remains wary of failures
"If there's any time to be the best I've ever been, it's in these last three races," says Lewis ahead of critical Mexico GP: Reliability still on his mind as he admits: "If a gearbox or engine goes, that is it."
By Matt Morlidge in Mexico City
Last Updated: 03/11/16 8:38am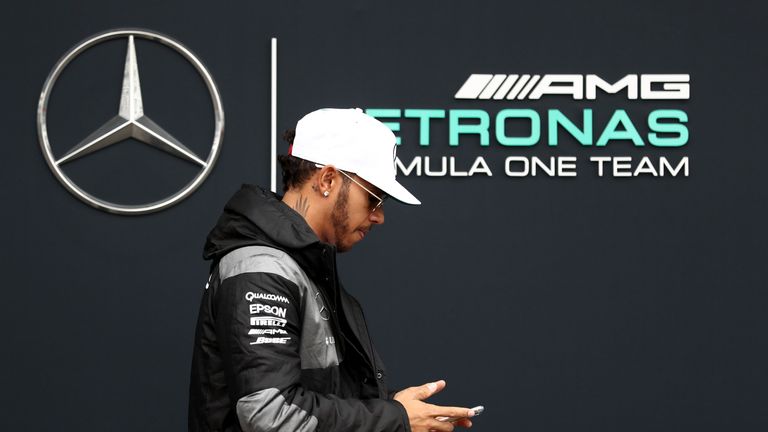 Lewis Hamilton insists he relishes the toughest challenges as he aims to hunt down Nico Rosberg, but worries reliability failures could still ruin his title charge.
Hamilton arrives for the Mexico GP 26 points behind his Mercedes team-mate, and accepts that he realistically must win all three of 2016's final races to stand a chance of sealing a fourth world championship.
And asked whether being the underdog and picking the hardest route possible in a quest for glory appealed to him, the Brit was insistent that he would never want an "easy" option.
"I don't feel I ever arrive at a grand prix, or any kind of competition, and want it to be easy," he told reporters. "I love doing things that are difficult. If I go rock climbing, I don't go for the easiest wall to climb, I always go for the hardest first. It's almost like your eyes are too big for your belly and you go for a bigger plate.
"Would I like to be in a different position right now? Of course. All I know is that I've got this challenge ahead of me and I'm ready to go, I'm ready to fight. If there's any time to be the best I've ever been, it's in these last three races."
Hamilton ended a seven-race spell without a victory in Austin last weekend, cruising to victory from pole position. After a frictious few months both on and off the track, the world champion has appeared much more relaxed in recent weeks. Would that continue as he looks for a first win in Mexico?
"I approach it the same as I generally approach every race," he added. "Maybe slightly more relaxed than I had others because I've accepted that there are things that are out of my powers, out of my control.
"All I can do is control what happens in the car and what I do. So as long as my focus is all towards that then hopefully I can get results like I did last weekend. If I don't then you move forwards.
"I don't think I'll be taking more risks than I usually do. I think I'm a relatively risky driver but I don't think I'll be taking more than others. I'll definitely be cautious of my surroundings.
"I'm going for it, that's for sure. While my hearts still beating and I've still got that drive to win, and there's still a possibility, even if it's one per cent, I'm going to be going for it."
But another failure of his W07 obviously still troubles him. Prior to the US Grand Prix he told Sky F1 that an engine concern, in the end only costing him around half a second over the whole race, was "on my mind". After sealing victory, he claimed he was "petrified" that his car was going to break down.
"Honestly, that will probably continue until we cross the flag in Abu Dhabi," a cautious Hamilton noted. "Particularly as it's a feeling I'll have more often because I'm on my eighth engine, I've experienced a lot more than the other side has had to this year.
"They [engineers] can't really ease it any more. They've tried, and everyone is working as hard as they can and that's all I can ask from them. But in Malaysia I had a new engine and Paddy told me 'you can use full power the whole race', so I had no concerns - and the thing blew up!
"I guess you just have to take everything with a pinch of salt and I'm hoping and praying that my car stays in tact through these next three races.
"I am in a position where if a gearbox or engine goes, then that is it. Right now it's about being very smart with what I have."