Fernando Alonso on Sebastian Vettel's troubles at Ferrari
Fernando says the situation at Ferrari for Vettel "is a little bit worse now" compared to his time at Maranello
By James Galloway at Interlagos
Last Updated: 14/11/16 2:06pm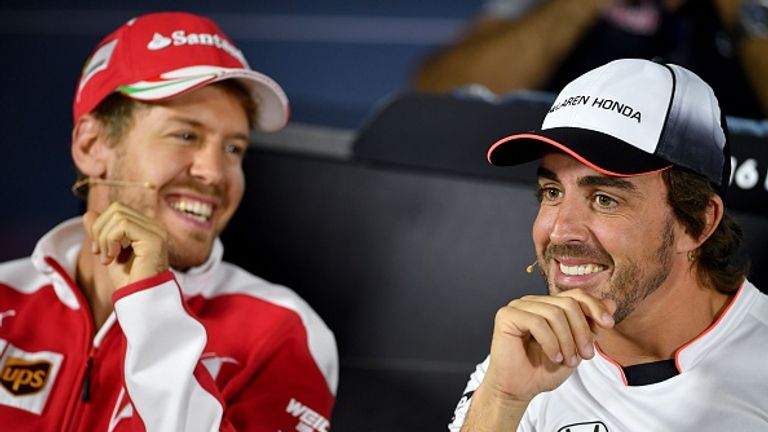 Fernando Alonso reckons Sebastian Vettel's current frustrations at Ferrari are "worse" than what he experienced during his time at the team.
Vettel's demeanour and relationship with team boss Maurizio Arrivabene have been the subject of growing scrutiny amid Ferrari's failure to win a race this season, the German's second at the team.
The Italian media have dubbed recent months as witnessing the 'Alonsofication' of Vettel, the Spaniard's Ferrari replacement.
Alonso quit the Scuderia to join McLaren at the end of 2014 with two years left on his contract, having grown tired of Ferrari's inability to win the world title.
Vettel v Alonso: Brazil 2012 revisited
But having twice missed out on the championship in the final race of the season, to Vettel, during his five years in red, Alonso reckons the current situation is harder to stomach for his old rival.
"I didn't go through those frustrations to be honest," Alonso said in an interview with Ted Kravitz, which aired during Sky Sports F1's exclusively live Brazilian GP qualifying coverage.
"I was trying to fight hard for the championship. I was leading the championship in Abu Dhabi until the last race [in 2010], I was even leading the championship here until 10 laps to the end [in 2012].
Alonso and Vettel's first two years at Ferrari compared
| | Fernando Alonso | Sebastian Vettel |
| --- | --- | --- |
| Seasons | 2010 and 2011 | 2015 and 2016 |
| Race starts | 38 | 37* |
| Wins | 6 | 3 |
| Podiums | 20 | 19 |
| DNFs | 3 | 5 |
| Pole positions | 2 | 1 |
| Championship positions | 2nd and 4th | 3rd and 4th* |
| | | *season ongoing |
"So I think the situation is a little bit worse now."
Alonso has repeatedly stood by his decision to swap Ferrari for McLaren, insisting it will pay dividends in the long term despite his current team's failure to finish on the podium since their reunion with Honda.
By contrast, Vettel won three races in his debut Ferrari campaign last year and the team are still set to finish third in this year's Constructors' Championship.
When's the Brazilian GP on Sky F1?
McLaren, currently sixth in the standings, are targeting next year's aerodynamic rules overhaul as their big chance to rejoin the leading runners and Alonso reckons even a title challenge cannot be ruled out at this stage.
"I think it's possible, why not?" he responded.
"The regulation change will give us an opportunity to catch up a little bit faster [to] Mercedes if we interpret the rules a little bit better and quicker. We are a big team, we have big resources and big talent within the team so I'm confident we can do a good job on the chassis side.
"And on the PU [power unit] side I think we'll be ok. On that I'm very confident. With the step we did last year to this year we should be confident next year should be even better.
"The learning we have in 2016 will pay off a lot next year."