Brazilian GP: Brilliant Lewis Hamilton takes the title race to the wire
But Rosberg holds 12-point lead heading to Abu Dhabi; Verstappen driver of the day for stunning third place; Sauber above Manor
By Pete Gill
Last Updated: 14/11/16 9:07am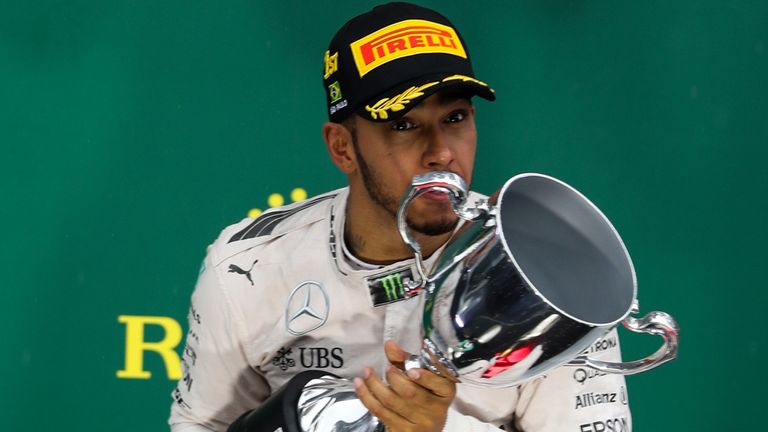 Lewis Hamilton has taken his world championship fight with Nico Rosberg to the wire by claiming his first Brazilian GP on a day of epic drama at Interlagos. 
Defying heavy rain, two race stoppages and five separate Safety Car deployments, Hamilton mastered the conditions to deliver an inch-perfect masterclass in the wet and finally break his Interlagos duck.
"This is the race I have been dreaming of winning since I was very, very young," said Hamilton. "It was a hard, hard grand prix to win and today was one of the most difficult in terms of rain and aquaplaning."
But Rosberg will still clinch the title in the season-concluding Abu Dhabi GP in two weeks' time if he finishes on the podium after a strategic mistake by Red Bull enabled the German to finish second behind Hamilton in Sao Paulo.
WATCH: What a gentleman, Lewis!
Max Verstappen had charged past the world championship leader with a bold move around the outside of Turn Three but then tumbled down the field after making two extra pit-stops when Red Bull mistakenly gambled on intermediate tyres in the hope that conditions would improve. 
After falling out of the top 10 with just 12 laps left, the Dutchman then produced a series of stunning overtakes to finish in third and deservedly claim the 'Driver of the Day' award.
"That was one of the best drives I've seen in Formula 1," said Red Bull boss Christian Horner. "His recovery was amazing." 
'Verstappen drive one of the best ever'
As chaos and crashes erupted behind him, Hamilton led every lap with a wheel-perfect performance in treacherous conditions which saw Kimi Raikkonen crash out just seconds after the race had restarted and Romain Grosjean hit the wall even before the Grand Prix had started.
Hamilton's astonishing pace superiority over Rosberg was such that, had the race run to its entirety and his leads of various lengths not been regularly wiped out by the plethora of Safety Car deployments and race stoppages, he was on course to beat his team-mate to the chequered flag by over a minute.
Between lap 31, when the race resumed following Raikkonen's crash and lap 49, when Felipe Massa hit the wall to bring his final race in Brazil to a premature end, Hamilton had streaked 23 seconds clear of the sister Silver Arrows. During this period Rosberg nearly spun, but just managed to keep his Mercedes pointing the right way after hitting a puddle exiting the final corner.  
Hamilton rues Rosberg's 'unbelievable' luck
But, heading to Abu Dhabi with a 12-point buffer and only requiring third place to clinch the title, Rosberg remains the heavy favourite to end the year as the drivers' champion.
"I can live with a second place," the German acknowledged. "It worked out fine."
Further down the field, Toro Rosso's Carlos Sainz drove doggedly for sixth behind Sergio Perez and Sebastian Vettel while Sauber's Felipe Nasr finished in ninth after a winning a race-long battle with Esteban Ocon, who eventually finished 12th. It's a result which means the Swiss outfit have climbed above Manor in the Constructors' Championship. For both teams, the financial repercussions could be enormous. 
For the all-Mercedes world championship battle between Hamilton and Rosberg, the real significance of the result in Brazil will only become clear on November 27. 
Brazilian GP race result
1. Lewis Hamilton, Mercedes, 3:01.01.335
2. Nico Rosberg, Mercedes, + 11.455
3. Max Verstappen, Red Bull, + 21.481
4. Sergio Perez, Force India, + 25.346
5. Sebastian Vettel, Ferrari, + 26.334
6. Carlos Sainz, Toro Rosso, + 29.160
7. Nico Hulkenberg, Force India, + 29.827
8. Daniel Ricciardo, Red Bull, + 30.486
9. Felipe Nasr, Sauber, + 42.620
10. Fernando Alonso, McLaren, + 44.432
11. Valtteri Bottas, Williams, + 45.292
12. Esteban Ocon, Manor, + 45.809
13. Daniil Kvyat, Toro Rosso, + 51.192
14. Kevin Magnussen, Renault, + 51.155
15. Pascal Wehrlein, Manor, + 1:00.498
16. Jenson Button, McLaren, + 1:21.994

Did not finish: Esteban Gutierrez, Felipe Massa, Jolyon Palmer, Kimi Raikkonen, Marcus Ericsson, Romain Grosjean
Don't miss the F1 Report's Brazilian GP review on Sky Sports F1 on Wednesday at 8.30pm