Lewis Hamilton vows to fight on in title race despite 'unlikely' chances
Nico Rosberg only needs to finish on the podium in Abu Dhabi to secure title; 'Desert Duel' on November 27, live on Sky Sports
By Pete Gill and James Galloway at Interlagos
Last Updated: 15/11/16 6:07am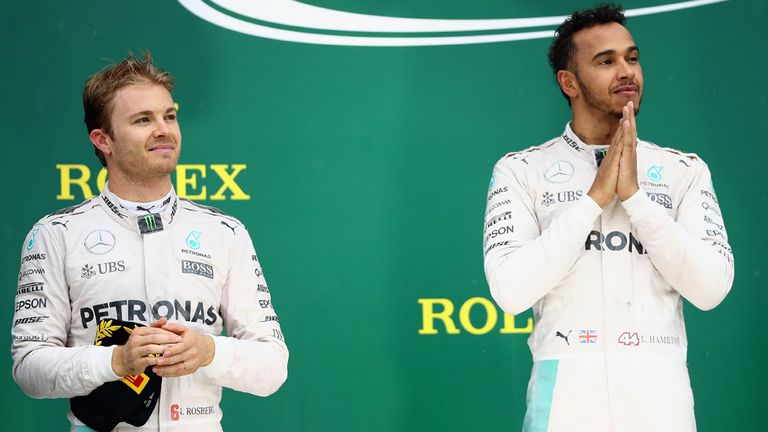 Lewis Hamilton has downplayed his chances of winning this year's Drivers' F1 World Championship despite his superb victory in the Brazilian GP.
Even if Hamilton rounds off the season with a fourth successive win, his Mercedes team-mate Rosberg will be crowned champion if he finishes on the podium at the season-concluding Abu Dhabi GP on November 27.
"I'm in an awkward position going into the last race," said Hamilton. "It doesn't really make a big difference if I go and drive like I do right now because I've already lost so much [ground] through the year.
"But I can't give up because I don't know what could happen. It's unlikely, but you never know."
Whether by deliberate design or honest assessment, Hamilton's remarks may serve to ratchet up the pressure on Rosberg ahead of what should be a straightforward coronation. Then again, much the same was expected in 2007, 2008 and 2010 when F1's final acts all produced unexpected twists in the tale. In 2014, Hamilton also secured the title in the first 'Desert Duel' after Rosberg was hit by car trouble. 
"Nico's doing all he has to do. He has finished every race and not had any problems, where I have," Hamilton added. "He's had fantastic reliability, so it's going it's going to be very hard to beat him."
Hamilton trails his team-mate by 12 points heading to Abu Dhabi, a deficit due in the main to three separate engine failures on his W07 car earlier in the season. 
"What can really happen? Nico is just cruising to finish second and unfortunately the Red Bulls are not at the moment quick enough to really challenge us," Hamilton told Sky Sports as he continued to play down his chances. "All l can do is focus on my job and hope things happen for the right reasons."
Hamilton rues Rosberg's 'unbelievable' luck
Hamilton's victory was first in Brazil, his ninth of the season and the 52nd of his F1 career.
"I am and I will be proud of myself as long as I continue to perform as I am. I'm proud of everyone who has been a part of helping us win all these races," the Englishman reflected. "What a year - to still have nine wins is amazing and it's my 31st win with the team, which is crazy."
For the majority of the field, 'crazy' was also an appropriate description of Sunday's race, featuring a succession of Safety Car deployments and two race stoppages. For Hamilton, however, it was plain sailing in the wet. 
"I was genuinely chilling up front," he told Sky F1's Martin Brundle on the podium. "When it rains it is usually good for me. There were no mistakes, no issues, no spins. It was interesting hearing about so many people having slips, but I didn't have any."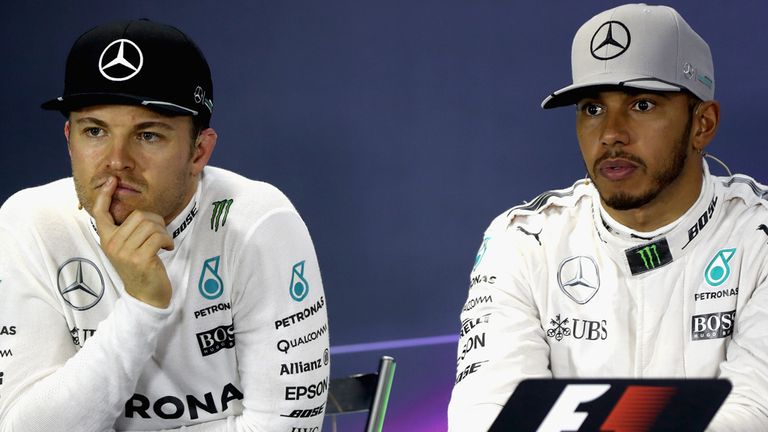 Stressing his point, Hamilton also highlighted the differing performances between the two Mercedes drivers in his press conference on Sunday night before departing Interlagos.
"I'm happy that I beat everyone today and I'm happy that with the same car I beat Nico," Hamilton noted. "Nico's driving at his best right now and today he had nothing on me."
He does, however, still have that 12-point buffer in the standings.
Don't miss the F1 Report's Brazilian GP review on Sky Sports F1 on Wednesday at 8.30pm