Nico Rosberg retires: Martin Brundle and Ted Kravitz in shock after world champion's F1 exit
Rosberg retirement sends shockwaves around sports; Sky F1 pundits discuss what the world champion could do next, who could partner Lewis Hamilton at Mercedes and more
Last Updated: 02/12/16 6:14pm
Sky F1 pundits Martin Brundle and Ted Kravitz have expressed their disbelief at Nico Rosberg's retirement from Formula 1.
Less than a week after clinching his first world championship, Rosberg announced he has driven his last race in the sport - leaving Mercedes looking for a new driver for 2017 to partner Lewis Hamilton.
Rosberg described the season finale in Abu Dhabi as a "horrendous" experience as he clinched the title ahead of Hamilton during a tense and controversial 2016 season closer.
Hamilton 'not surprised' by Rosberg decision
But despite the obvious strain the title fight had put on Rosberg, who looked drained and exhausted following his title triumph, his shock announcement has left the F1 world stunned.
"I find it absolutely extraordinary, a big surprise," said Brundle. "I don't know what's tormented him that much to want to call it a day right now. It's obviously a personal decision and it's bad for Formula 1 because we haven't got a world champion through the winter and next season.
"It's also bad for Mercedes-Benz, they can't roll out their world champion. Quite clearly now he's ticked the biggest box of all as a racing driver, a world champion, and he's called it quits."
Who will replace Rosberg at Mercedes?
Rosberg follows the likes of Alain Prost, Sir Jackie Stewart and Nigel Mansell in leaving the sport at the top. 
"My first reaction is that it's a decision that's been made in haste," added Kravitz. "As soon as we get to the new year and he thinks about what the next chapter in his life is going to be, he might be bored silly, not knowing what to do with himself and he might well regret it.
"In a season of Formula 1 where we've had shocks and turning points aplenty, this one takes the biscuit. None of us were expecting this - It's astonishing."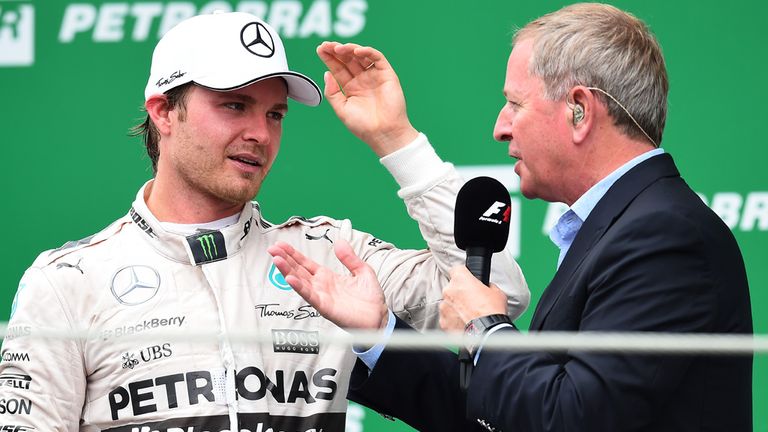 What next for Rosberg?
The Sky F1 experts found it hard to explain just what may have motivated Rosberg to make such a "life-changing" decision.
The German indicated the intensity of the world championship fight, particularly following the Japanese GP as he closed in on the championship, had a major effect on his thinking.
But does he want another racing career, or just more time with his young family?
Rosberg retires: All the reaction
"Sometimes he has come across pretty uncomfortable within the world of media and he said how he found the media quite hard," said Brundle. "But if you want to drive a racing car, why wouldn't it be a Mercedes as a reigning champion?
"They're one of the greatest teams to have ever existed in motorsport and we know they'll be competitive again next year. Why would you walk away from that to go to Le Mans, to go to IndyCar, to go to GT racing? There's no appeal at all when you've got a seat that every racing driver in the world would love to have."
"I'm not sure it was that intense through the whole year," Kravitz continued. "I guess the intensity he's referring to is the last five races. That's why I think this decision has been made in haste.
"The fact that he made that decision the day after the last race of the season makes me think his head wasn't in the most considered frame of mind for this life changing decision. I don't suppose he can go back on this now."
What will Lewis Hamilton make of it?
In the aftermath of Rosberg's title win, it seemed Hamilton was the much more likely Mercedes driver to leave the sport. Now, the Briton is the sole Silver Arrow left.
"We had this bizarre situation where we thought Hamilton had threatened to quit back in May after they came together at the Spanish GP," explained Brundle. "Where's Lewis' head at?
"I can't quite compute all of this because we'd all love to drive that car. Your dream racing car. It can't be that bad when between you you've won 19 races. I imagine Lewis is pretty gobsmacked."
Kravitz, meanwhile, questioned whether Hamilton may have indirectly been a factor in Rosberg's decision.
"Is Rosberg effectively saying here that 'it was hard enough fighting Hamilton this year, I don't fancy doing it again because I don't think I'll come off very well against him?' 
"If he is, Mercedes need to think about how they run the team." 
What will Mercedes do now?
The most dominant seat in motorsport will have plenty of takers, that's for sure.
"I would imagine the phone will be hot to Toto Wolff and Niki Lauda," said Brundle. "Fernando Alonso will be desperate to grab it, I don't know where Sebastian Vettel fits.
"They have got some youngsters around, Pascal Wehrlein and Esteban Ocon, and one or two others. But will they feel the need for a race-winning driver or a championship-winning driver? There will be so many frustrated drivers who have recently just signed up and settled down for next year who'll be thinking, 'maybe I had a chance'. I can only assume it's taken the team bosses by surprise just as it has everyone else.
"Whoever it is they'll have to fit in with Hamilton. Do they want one and a half effectively, someone who will fit in in second place to Lewis? There's not going to be a shortage of people with their hands up to sit in that car."
Kravitz also believes Mercedes have a difficult decision to make.
"Do Mercedes just want a junior driver like Pascal Wehrlein, their reserve driver? Effectively that's a one-man team with Hamilton going for a title without any competition from within his own team.
"I'm not sure that's the best thing for Mercedes or Formula 1."