Mercedes 'considering' Fernando Alonso to replace Nico Rosberg
But McLaren adamant the Spaniard will not be leaving; Pascal Wehrlein still the favourite to partner Lewis Hamilton next year
By Pete Gill
Last Updated: 09/12/16 9:35am
Mercedes have confirmed Fernando Alonso is being 'considered' as a potential replacement for Nico Rosberg - but Pascal Wehrlein remains the favourite to succeed the retired world champion.
After Rosberg's stunning bombshell, the Silver Arrows are short of time before pre-season testing begins in February to find his replacement and short of options. All of the sport's top drivers are under contract for next season leaving Mercedes' hierarchy in a difficult predicament.
But if the F1 purists had their way, there would be no hesitation inside Mercedes at trying to entice Alonso, the two-time world champion, to drive alongside Lewis Hamilton in a blockbuster partnership that would instantly adorn the 2017 season with Box Office allure.
"You have to consider Fernando," Mercedes boss Toto Wolff told Sky Sports in an exclusive interview for Sky Sports F1's Nico The Brave show.
"He is a driver I respect a lot. He combines talent, speed and experience. It's all there.
"But he is in a contract with McLaren-Honda at the moment and we just need to weigh all the other options up."
And there's the rub: Alonso is about to begin the final year of his watertight three-year deal with McLaren and Zak Brown, the new boss at Woking, reiterated to Sky Sports on Monday the team are adamant he won't be departing to fill Mercedes' vacancy.
McLaren insist Alonso is not leaving
"We have a contract with Fernando and he is very happy," Brown said. "Obviously he wants to be winning races, as do we, but I am not worried about that scenario."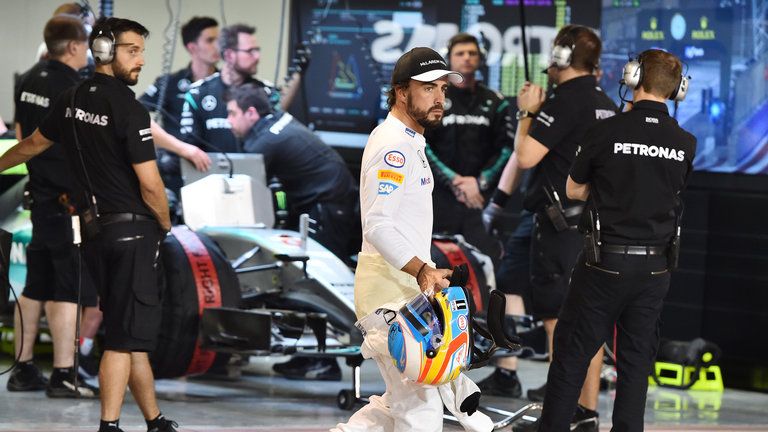 Mercedes' options have been further reduced by the reminder from Ferrari's Sebastian Vettel that he too is under contract next season while there is no realistic prospect of Red Bull releasing Max Verstappen or Daniel Ricciardo for next year even if either driver wanted to leave.
All of which leaves Wehrlein in pole position to step in alongside Hamilton. The youngster is unproven and untested at the sharp end of the grid but has a longstanding Mercedes connection, has yet to be signed by any team for next season, and his German nationality will appeal to the Mercedes group's Stuttgart-based powerbrokers.
The odds on who will be Mercedes' next driver
Wolff has previously spoken of three avenues being available to Mercedes in their search: hiring a number two driver to play second fiddle to Hamilton, appointing either Wehrlein or fellow junior Esteban Ocon, or scouring the market for a fellow A-lister to partner Hamilton.
But while options two and three remain open to Wolff to pursue, the prospect of Mercedes appointing a subordinate alongside Hamilton has been definitively ruled out.
"We will maintain the system we have," Wolff assured Sky Sports. "Both drivers will have equal status and equal opportunity to the best of our abilities. We owe it to the fans. You can't have a pecking order."