Valtteri Bottas joins Lewis Hamilton at Mercedes for 2017 season
Finn completes move to F1's world champions to replace retired Rosberg as Massa returns to Williams; Bottas expects to form "strong pair" with Hamilton in 2017
By James Galloway and Matt Morlidge
Last Updated: 16/01/17 6:25pm
Valtteri Bottas has been confirmed as Lewis Hamilton's 2017 Mercedes team-mate with the Finn joining the world champions from Williams.
The Finn was unveiled at the team's Brackley HQ on the same afternoon Williams confirmed Felipe Massa had come out of retirement to replace the departing Finn in their line-up.
The length of Bottas's contract was not disclosed, with Mercedes simply announcing him for 2017.
World champion Nico Rosberg's sudden retirement in December created the shock vacancy alongside Hamilton.
"We did the contract today and obviously I've been dreaming for a long time to drive for a team like this, a team of champions," said Bottas as he was unveiled to Mercedes' workforce.
"So I'm really proud to be part of this and proud of what you've achieved in the last few years but also in the whole history of Formula 1. It's mega to be driving a Silver Arrow myself this year.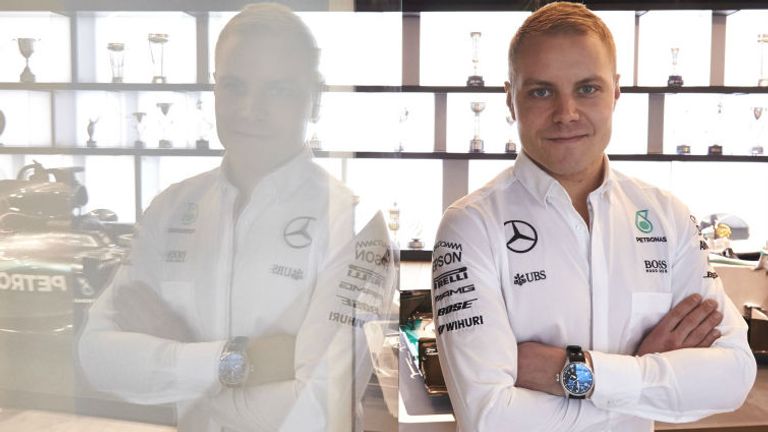 "I can't wait to start working properly. There is still enough time until testing to get everything sorted. My goal for the first race is to get all the points available that there's absolutely possible in the car.
"I'm still missing my first win, so that's the first mission."
Bottas becomes Hamilton's second team-mate at Mercedes and the 27-year-old Finn is looking forward to working alongside the triple world champion.
"We can be a strong pair together," he said. "I really respect him as a driver and a person. He's so quick, he's a great reference for me. I'm sure we are going to be close and pushing each other forward.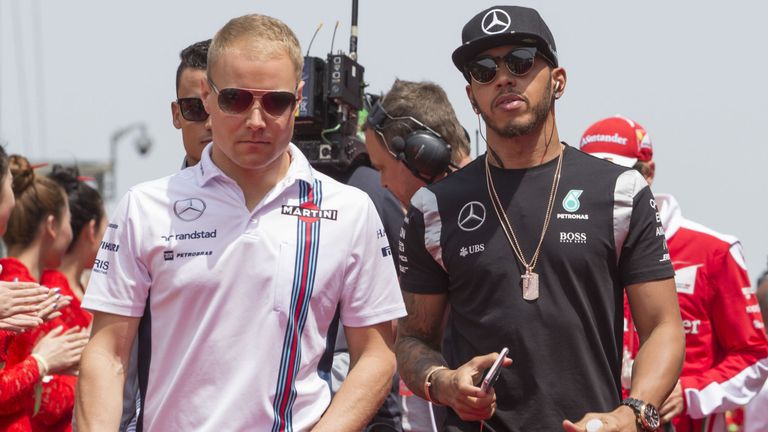 "But the main thing is I'm sure we're going to work as a team, working together to help the team as much as we can and having a good spirit."
Mercedes chief Toto Wolff has long-time links to Bottas having been part of the Finn's management but confirmed to Sky Sports News HQ he has stepped down from that role.
After four seasons of the fractious Hamilton-Rosberg partnership, Wolff expects Bottas's arrival to create a "new dynamic".
Valtteri is a no-nonsense guy: down to earth, straightforward and very focused," said Wolff. "Pretty Finnish, to be honest, and a great fit for us.
"He has an impressive track record in the junior categories and nine podiums in F1. But now it's time for the next level, to see how he can step up to challenge for race wins and for championships. We know that we are already behind the curve in terms of preparations for the new season, so we've got a busy programme to get him integrated into the team.
"One thing is for sure: as I know Valtteri, he will give it everything."
Williams had insisted they would only let Bottas go if Mercedes, their engine suppliers, came up with a deal which made financial sense for them and they could source an experienced replacement.
"With Valtteri having a unique opportunity to join the current Constructors' Champions, we have been working hard to ensure that an agreement could be made with Mercedes to give Valtteri this fantastic opportunity," said Williams deputy chief Claire Williams.
"Valtteri has been part of the Williams family since 2010 and in that time has proved a huge talent, securing nine podium finishes. I would like to take this opportunity to thank him on behalf of the whole team, and wish him a successful season as he joins Mercedes."
Valtteri Bottas' F1 stats
| | |
| --- | --- |
| Starts | 77 |
| Debut | Australian GP 2013 |
| Best grid position | 2nd (x3) |
| Best finish | 2nd (GBR and GER 2014) |
| Podiums | 9 |
| Fastest laps | 1 |
| Points versus team-mates | 411 v 309 |
| Championship best | 4th (2014) |
Without a victory in his four years in Formula 1, Bottas did prove his credentials with nine podiums at Williams. He was also never out-scored over a season by a team-mate.
Sky F1's Martin Brundle tweeted: "So happy for @ValtteriBottas to get an opportunity in a championship potential car and welcome back @MassaFelipe19 you were just teasing us!"
Bottas will debut for Mercedes when testing commences at Barcelona next month, but will be seen in Silver Arrows colours for the first time at Silverstone on February 23 when the world champions unveil their 2017 car, the W08.
Mercedes junior Pascal Wehrlein had initially been in the running to replace Rosberg but the German has now been confirmed at Sauber.
Is Bottas the right man to partner Hamilton?
Analysis from Sky F1's Ted Kravitz:
"Bottas, who has scored many podiums and has fought at the front of the field, knows the pitfalls and what to look out for. He is ready to win races and a world championship.
"For the here and now, on the face of it, Bottas is a better option for Mercedes than Pascal Wehrlein would have been. He's the perfect foil alongside Hamilton.
"He's low impact in terms of what he's doing to do, he gets on with everybody and he works hard. He already knows the Mercedes control electronics that Williams use, so he'll be able to get into a Mercedes very quickly and be able to work all the steering wheel buttons - which isn't a small task as there are, after all, 50-page documents educating drivers how to use all the buttons.
"He's be quick and he'll score points."