Pierre Gasly considers Japan move after Toro Rosso disappointment
GP2 champ looking at emulating Vandoorne's move to Japan in 2017
By William Esler and James Galloway
Last Updated: 09/12/16 3:01pm
GP2 champion Pierre Gasly admits feeling in the "right place at the wrong time" in Red Bull's driver stable as he considers racing in Japan for 2017.
The 20-year-old Frenchman became the latest champion of the junior series last month but, barring any significant reshuffling of the 2017 grid triggered by Mercedes' imminent selection of Nico Rosberg's replacement, is poised to become the fifth successive GP2 title winner to miss out on an immediate F1 promotion.
WATCH: Gasly on the F1 Report: Season Review
Gasly had appeared in line to replace Daniil Kvyat at Toro Rosso but Red Bull chose to retain the Russian for another season, leaving the Frenchman locked out of one of their F1 seats.
Carlos Sainz, Max Verstappen and Daniel Ricciardo are the other F1 drivers on Red Bull's books.
Speaking in an interview with Sky Sports, Gasly admitted: "When I had the news in Austin I was really disappointed and really sad because for us drivers we work every day towards one goal, to be in F1 and to reach it, and I really gave 100 per cent of my time and all my energy to make it.
"There was an opportunity and unfortunately it didn't happen. Sometimes it looked like I was in the right place at the wrong time, unfortunately.
"I will keep pushing for it because it's definitely clear in my mind it's what I want to do. So it was a disappointment but it gave me even more determination to win the title in Abu Dhabi."
With GP2's rules barring title winners from returning to defend their crown, Gasly, who also serves as reserve driver for the two Red Bull teams, is now weighing up whether to follow in the footsteps of champion predecessor Stoffel Vandoorne in heading for Japan.
Vandoorne combined the nine-race Super Formula series this year with reserve driver duties at McLaren and eventually landed a race seat at the Woking squad for 2017.
"I'll try to get the best out of the reserve driver role, which is a good experience, and I think it's quite important for me to race on the side," said Gasly.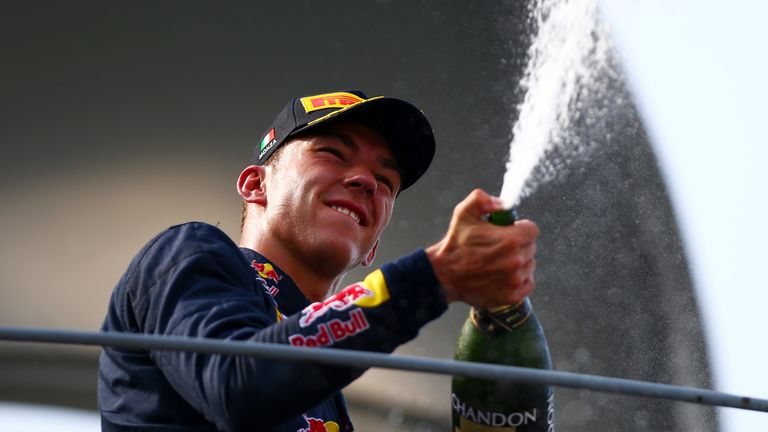 "So we are looking at different series. What Stoffel Vandoorne did in Super Formula was a good choice, so we are looking at it as well. Hopefully I will know what I'm going to do in 2017 quite soon."
Red Bull chief Christian Horner stressed after Gasly's title win in Abu Dhabi that "F1 can still very much be part of that future" and the Frenchman remains a key member of the team's development programme.
Watch the full exclusive interview with Pierre Gasly in the video above as the Frenchman also talks about the nerves of his own title-deciding Duel in the Desert with GP2 team-mate Antonio Giovinazzi and the return of his home French Grand Prix in 2018 after a decade's absence.