Every 2017 race live on Sky Sports F1
All 20 races, plus every practice session and qualifying hour, to be broadcast live on Sky Sports F1; New season underway in Australia on March 26, exclusively live on Sky F1
Last Updated: 13/01/17 5:48pm
Sky Sports F1 will show every Formula 1 Grand Prix, qualifying and practice session live in 2017.
The only place to watch every F1 race live when the eagerly-anticipated new season begins on March 26, Sky Sports will also show both of the new campaign's opening two races - the Australian GP and the Chinese GP on April 9 - and two of the final three races exclusively live.
Ten of the year's 20 races will be exclusively live on Sky Sports, including the Canadian, Mexican and Brazilian GPs.
Get Sky Sports F1 for the 2017 season 
And for the first time in UK TV history, viewers in the UK and Ireland with Sky Q can enjoy every Grand Prix in stunning ultra high-definition with picture quality four times that of normal HD TV. Customers with Sky Q can also enjoy split viewing, with different race camera angles and highlights alongside live coverage.
Sky Sports Head of Formula 1 Martin Turner said: "With UHD it's Formula 1 like you've never seen it before. It will be the hardest, fastest, loudest season in years with new rules, new cars, new engines and new, massive tyres. From the opening Grand Prix of the year to the season's home-stretch, Sky Sports F1 remains the definitive place for fans to see every twist and turn of the season."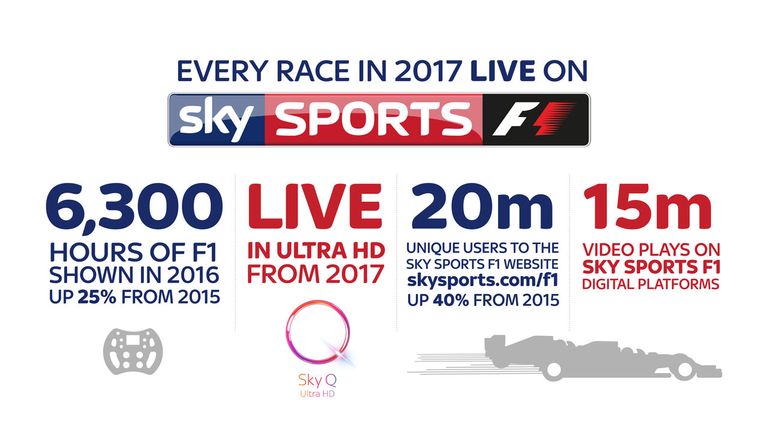 With the sport radically rewriting the regulations to introduce faster, louder and more 'aggressive' cars in 2017, the recent supremacy of world champions Mercedes is expected to face stiff opposition in 2017 from Red Bull, spearheaded by the precocious talent of Max Verstappen and team-mate Daniel Ricciardo, as well as Ferrari and, potentially, McLaren. 
F1 in 2017: All the key details
Sky Sports' dedicated F1 channel will have bespoke programming throughout the year, from live coverage of every practice and qualifying session to F1 Report, Ted's Notebook and Race Control via the red button.
Sky Sports News HQ and skysports.com will have all the latest news throughout the course of the year as constructors look to close the gap on Mercedes.
In addition to watching every session of qualifying, practice and race in the 2017 FIA Formula One World Championship, viewers can enjoy live coverage of F1 feeder series GP2 and GP3.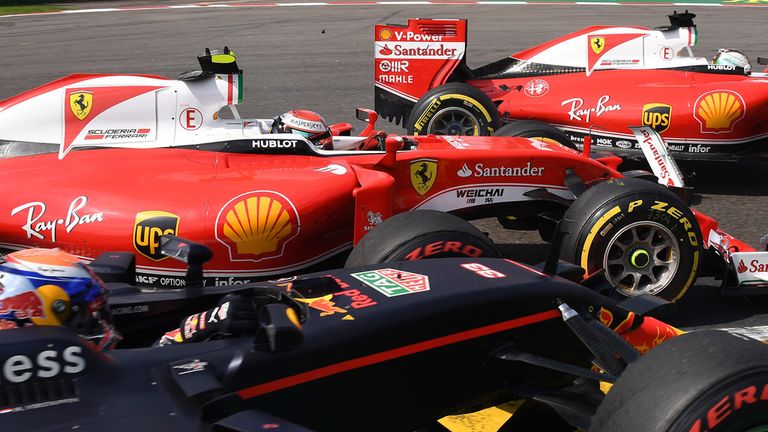 Fans with NOW TV can purchase a Sky Sports pass from just £6.99.
The 2017 Formula 1 season is part of a sensational year of sport on Sky Sports which includes more Premier League games than ever before, the British and Irish Lions tour of New Zealand, England cricket, golf's biggest tournaments, ATP tennis, Super League rugby, NFL and much more.
2017 RACE CALENDAR - All races live on Sky Sports F1
26 March: Australia - Exclusively live
9 April: China - Exclusively live
16 April: Bahrain - Live
30 April: Russia - Live
14 May: Spain - Exclusively live
28 May: Monaco - Live
11 June: Canada - Exclusively live
25 June: Azerbaijan - Live
9 July: Austria - Exclusively live
16 July: Great Britain - Live
30 July: Hungary - Exclusively live
27 August: Belgium - Live
3 September: Italy - Exclusively live
17 September: Singapore - Live
1 October: Malaysia - Live
8 October: Japan - Exclusively live
22 October: USA - Live
29 October: Mexico - Exclusively live
12 November: Brazil - Exclusively live
26 November: Abu Dhabi - Live