Williams: Felipe Massa as hungry as ever after F1 retirement U-turn
Claire Williams insists Massa eager to return after brief 'retirement'
By James Galloway
Last Updated: 18/01/17 5:53pm
Felipe Massa remains as motivated about racing in Formula 1 as ever and will deliver for Williams in 2017, deputy team boss Claire Williams has insisted.
Just two months after what was expected to be his retirement from F1 after 14 years, the 35-year-old Massa has returned to a race seat at Williams after former team-mate Valtteri Bottas joined Mercedes.
Massa had announced his plans to retire from F1 last September, although he made clear he would continue racing in other series from 2017.
And although the surprise U-turn could never have been predicted just two months ago, Williams has no doubt Massa is as hungry to compete as before.
"We are never going to put a driver in the car who we don't believe can deliver," Williams told Sky Sports News HQ.
"As everyone saw even in his last race last year [in Abu Dhabi], he delivered for this team.
"He has lost none of his motivation. I know there's a lot of talk out there 'let the guy retire, leave him alone' - he wants to come back. Little-known to me, I didn't actually realise that he didn't really want to retire and so I think Felipe is going to do a good job this year."
F1 drivers back in training for 2017
The sudden retirement of Nico Rosberg within days of winning the 2016 world title triggered the reopening of the top-end of F1's driver market.
With Mercedes quickly targeting Bottas as a replacement, Williams admits the list of fall-back options for her team was short - particularly as they had certain obligations to title sponsor Martini when their other 2017 driver was teenager Lance Stroll.
"Bless him, Felipe had announced his retirement, we had a whole fanfare around it, and then to have to phone your ex-driver up and say 'would you mind coming out of retirement?' you feel quite bad about it," said Williams.
"But I've never heard anyone so happy and excited, so it was a big relief for us."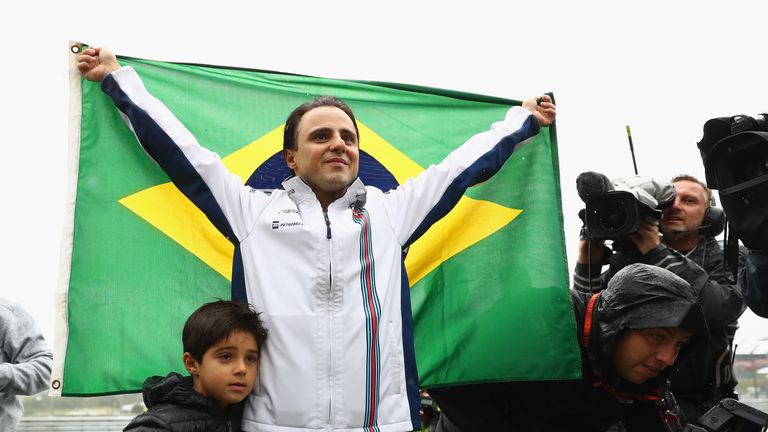 Massa admitted it felt "a little bit strange" to consider abandoning his retirement plans after what he described as a "perfect" send-off from the sport at the end of 2016. However, he says a subsequent meeting with Williams to discuss 2017 and the team's future plans made up his mind to return.
"After we had this conversation it was very difficult for me to say no to keep working for a team that I really love to be part of," Massa told SSNHQ.
"Especially in a year when everything starts from zero. Completely different rules for the cars, it will be a very difficult year from the physical point of view for the drivers - and I like that.
"I like new things starting so I'm sure my experience can help the team. I hope to have a competitive car and to grow a lot from the first to the last race. I'm really motivated."
Massa has signed a one-year contract and Williams added: "He's got a year to just have some fun and sometimes when that's the case the pressure is off.
"He can just go out there and deliver without worrying about anything else. So I'm looking forward to seeing what he can do and having that pairing with Lance I hope is going to work really well for us."