London GP: Could it ever happen under Formula 1's new owners?
By James Galloway
Last Updated: 31/01/17 5:17pm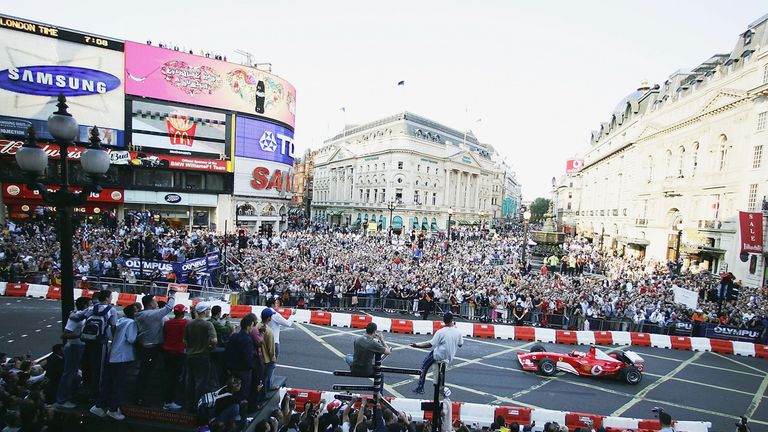 One of Formula 1's long-held dreams was being reimagined within days of Liberty Media's takeover of the sport last week - a London Grand Prix.
The new F1 owners' vision of "destination" races, featuring week-long events in major cities in the US and further afield, soon gave rise to the inevitable 'London question' in Chase Carey's first round of interviews as the sport's new chief executive.
Silverstone boosted by F1 takeover
"London is a great city, and there is no question [you think of it] when you think where are the cities you want to be in," Carey told PA. "We have Silverstone in the UK, but I recognise it is not in London."
The start of new eras is usually the time for big thinking and the notion of bringing a Formula 1 event to the UK's most populous city certainly falls into this category.
A London GP finished second in a Sky Sports online poll for the new event fans most want to see on the calendar, but could it ever happen?
Fantasy or feasible?
"We've been talking about London for 10-20 years and I know that Chase and Liberty would like to go to all the big cities," remarked British Racing Drivers' Club president Derek Warwick to Sky Sports News HQ.
"But can you imagine holding a Grand Prix around Hyde Park? Never."
The prospect of London either joining, or replacing, Silverstone on an F1 schedule of the future remains a hard prospect to envisage, despite the obvious ambition and clout of the sport's new owners.
In 2012, Santander whetted the appetite for what could be achieved by commissioning architects Populous, the design firm behind Silverstone's Wing complex and Arsenal's Emirates Stadium, to come up with a CGI design and feasibility study for a London race.
The mock-up featured a track which passed landmarks including Buckingham Palace and Trafalgar Square and generated a lot of excitement at the time - so much so that some reports would have you believe that it represented a full-blown proposal for a race.
Silverstone has made no secret of its problems turning a profit on its F1 contract, but the BRDC is now confident Liberty's arrival will help correct that financial imbalance by relaxing the restrictions over certain areas of its deal.
VOTE: Pick your dream new F1 venue
Seventy miles south, and the stumbling blocks around any race on the streets of the UK's most populous city are myriad.
Questions around infrastructure, safety, transport disruption and, most pressingly of all, finance remain as unanswered as ever. Former F1 supremo Bernie Ecclestone, who had long spoken about taking the sport to the capital, delivered a masterclass in understatement in May 2016 when ruminating about a London GP.
"There is a small technical issue - who is going to pay for it? But other than that, I can't see any dramas," he said.
However, one hurdle was eased in 2015 through the passing of the Deregulation Act, which includes a provision to make it easier for motorsport events to be held on public roads.
Then-Prime Minister David Cameron said: "We have a great tradition of motorsport in this country and today we are bringing British motor racing back to British roads, to benefit local communities. It means more races, more events, more money coming into our country and more success for this extraordinary industry."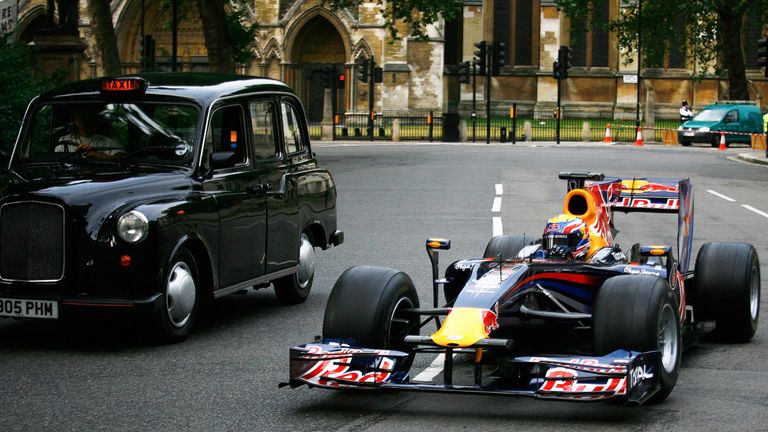 Yet bringing the centre of London, a city of 8m people and with a yearly tourist footfall of over 30m, to a partial standstill for the three days of a Grand Prix race weekend - plus the long lead-up time to construct a street circuit - requires a large leap of imagination.
With ambitions of races in New York and Las Vegas, F1's new owners are certainly thinking big. But one day bringing F1 to London remains a tough circle to square.
Will F1 use London as a shop window?
But while a full-blown London Grand Prix may remain a romantic notion, what's more feasible in the short term are events in the capital to maximise the British GP at Silverstone.
"With Silverstone, we want to help them promote the race," Carey told the Mail on Sunday. "When there is an NFL game in London, the shops in Regent Street are full of it.
"We want to do that sort of thing with the British Grand Prix and also make the event broader, with the race at the centre of a full weekend show."
A hugely-successful Regent Street demonstration of F1 cars in 2004, attended by more than 250,000 fans, certainly showcased what was possible and, as Carey points out, the NFL makes its presence felt when staging its International sequences of games each autumn.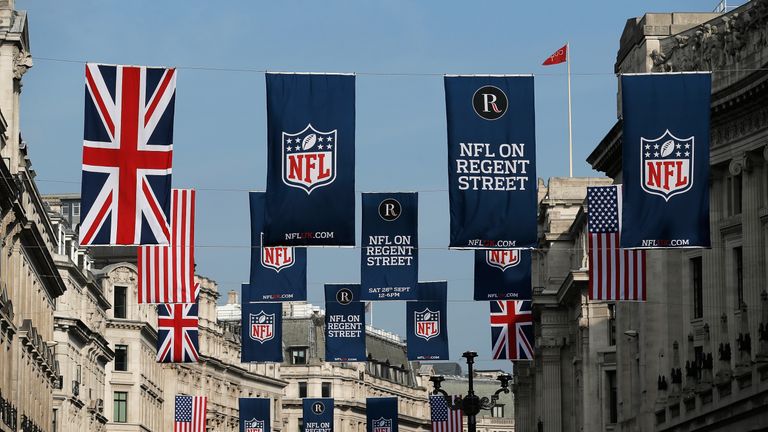 'NFL on Regent Street' is now a yearly event, with one of London's most iconic stretches of road turned into a fan park to maximise promotion around the arrival of American Football in the UK.
In addition to the likelihood of Liberty loosening the ties around areas in which Silverstone can directly maximise its own profits, London could yet have a role to play in aiding the success of Britain's established GP venue.