F1 Testing: Ferrari faster than Mercedes on second day of F1 2017
Raikkonen outpaces Hamilton on slower tyres; Bottas completes race simulation but hits the wall; McLaren suffer more Honda engine frustration
By Pete Gill at Barcelona
Last Updated: 17/03/17 12:09pm
Kimi Raikkonen topped the timesheets on Day Two of pre-season testing at Barcelona from Lewis Hamilton despite running on slower tyres.
Raikkonen's best-of-test lap time of 1:20.960, fractionally faster than Hamilton's morning benchmark, was set on soft tyres, while Hamilton had been running on supersofts.
It was also over six tenths quicker than Hamilton had managed on the same compound earlier in the day.
There is, however, no way of knowing the fuel loads on either car or their power settings.
What is clear is that both teams have made an ultra-impressive start to the winter with Valtteri Bottas, Hamilton's new team-mate, completing a full race simulation in the afternoon session despite spinning into the wall.
Max Verstappen was third quickest for Red Bull but over a second behind Raikkonen.
But there was more misery for McLaren after an enforced engine change restricted Stoffel Vandoorne to just 40 laps and the penultimate place in the timesheets.
Williams also had a poor day after a spin for debutant Lance Stroll broke a part on his FW40 which could not be repaired on site.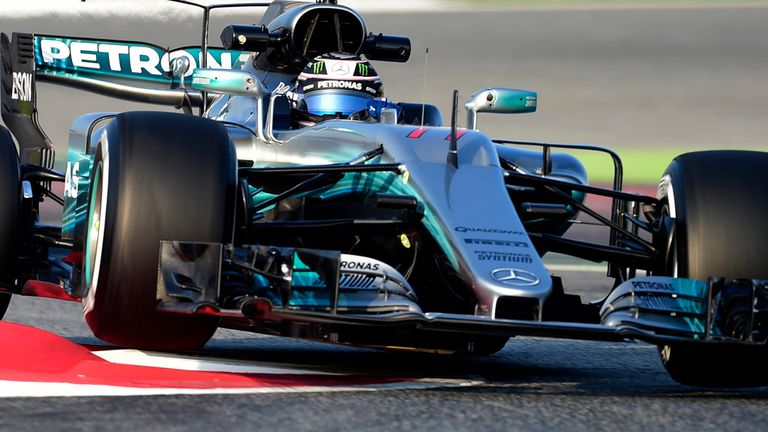 Mercedes building up their strength
In contrast to Ferrari, who ran a series of short stints throughout the day, Mercedes focused on longevity for the second day of running at the Circuit de Catalunya.
Bottas' three-stopping race simulation was in itself a formidable act and the world champions' rivals are likely to have noted the consistency of the Finn's lap times at the end of his practice run with trepidation:
1:25.27, 1:25:346, 1:25.810, 1:25.712, 1:25.358, 1:25.212; 1:25.412; PITS; 1:25.241; 1:25.020; 1:25.661; 1:25.859; 1:25.455; 1:25.212; 1:25.502; 1:25.204; 1:26.884; 1:26.907; 1:26.581; PITS
But the simulation wasn't without its drama, with Bottas spinning into mild contact with the barriers after running over the Turn Nine kerb - the same piece of track which caught out Stroll.
Red Bull flying under the radar
For the second day in succession, Red Bull's time on track was restricted by a series of niggles with their RB13 car. But Red Bull are only expected to reveal an illuminating insight into their full pace potential at next week's test when the RB13 will be beefed-up with a suite of aerodynamic improvements.
"We've tried not to put too many appendages on to the car in the early stages so we understand the flow structures properly and develop the car from there," chief designer Adrian Newey told Sky Sports F1.
Nor have the team been intimidated by anything they've seen from Mercedes so far.
"We can beat them," Daniel Ricciardo assured Sky Sports News HQ. "We expected them to be quick - we're still not sure how quick we are or how quick Ferrari are."
Ricciardo: Red Bull can beat Mercedes in 2017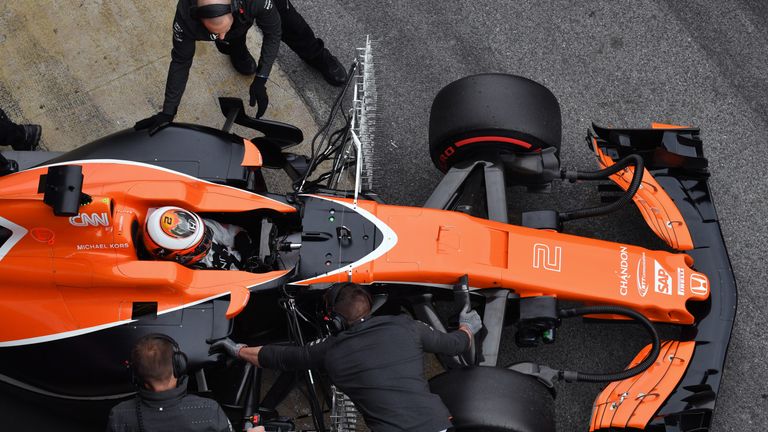 McLaren's woes continue
McLaren's winter is already displaying worrying similarities to the disastrous dawn of their reunion with Honda in 2015 winter testing.
Not only were the fallen superpowers second-slowest on Tuesday but they also completed the second-fewest number of laps.
Although the MCL32's engine was changed overnight, Honda have confirmed that the problem which kept Fernando Alonso in the garage for almost seven hours on Monday was the result of the 'shape of the 2017 oil tank' - a problem which will not be easily fixed.
Once again, the car broke down on its morning installation lap and although Vandoorne appeared sporadically throughout the day the MCL32 has yet to complete any sustained running or a stint length of more than 10 laps.
"We had a loss of engine power during the morning after a couple of laps, we are still investigating what the issues are," reported Vandoorne. "The last few days were difficult for us but hopefully overnight we can analyse what went wrong and come up with a reliable car."
Day Two Timesheet:
1) Kimi Raikkonen, Ferrari, 108 laps, soft tyres, 1:20.960
2) Lewis Hamilton, Mercedes, 66 laps, supersoft tyres, 1:20.983
3) Max Verstappen, Red Bull, 89 laps, soft tyres, 1:22.200
4) Kevin Magnussen, Haas, 100 laps, supersoft tyres, 1:22.204
5) Esteban Ocon, Force India, 86 laps, 1:22.509
6) Daniil Kvyat, Toro Rosso, 68 laps, 1:22.956
7) Valtteri Bottas, Mercedes, 102 laps, 1:22.986
8) Jolyon Palmer, Renault, 53 laps, 1:24.139;
9) Antonio Giovinazzi, Sauber, 67 laps, 1:24.617;
10) Stoffel Vandoorne, McLaren, 40 laps, 1:25.600
11) Lance Stroll, Williams, 12 laps, 1:26.040