F1 2017: Are Ferrari the favourites after pre-season testing?
Testing may be notoriously misleading but Ferrari really might be closing in on Mercedes with Red Bull just third fastest - for now...
Last Updated: 11/03/17 1:47pm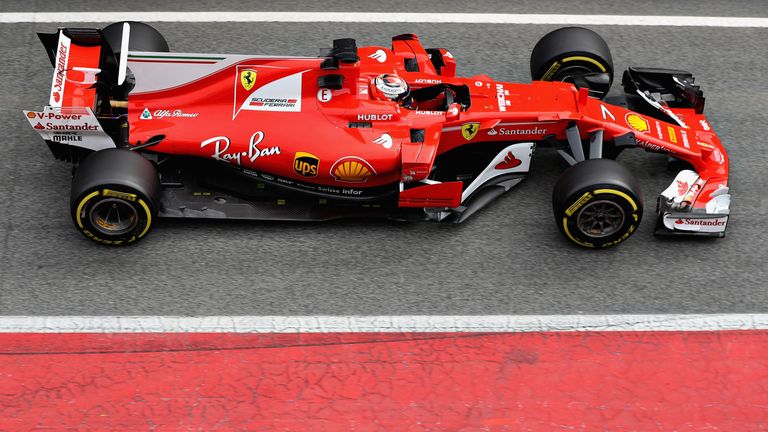 Are Ferrari really the new favourites heading into the 2017 season?
It's a question which F1 wasn't expecting to answer ahead of the new campaign. After all, while Mercedes swept to their third successive title double in 2016, the year was a near-disaster for F1's most famous marque: a winless campaign pockmarked by a series of tactical blunders, the indifferent form of star driver Sebastian Vettel, and the backfiring predictions of their expectant president Sergio Marchionne.
The backdrop to winter testing wasn't encouraging either. Just days before the action commenced, rumours surfaced in Italy that a blunder around the design of their new car meant a longer-wheelbase SF70-H was already in production.
Then winter testing began and an altogether different narrative emerged. The Ferrari was fast. Then it was reliable. Then it was very fast and very reliable. And Mercedes sounded worried.
"I think Ferrari must be the favourites," said Lewis Hamilton. "We are definitely not confident that we are in front," agreed his new Mercedes team-mate Valtteri Bottas.
But was this just talk? As one paddock sceptic put it, if Mercedes were saying Ferrari were the favourites then Mercedes must be the favourites. Such caution is well advised. There are no points won in winter testing but plenty of fun and games played.
Nevertheless, on the surface and in the detail, the evidence from Barcelona is that the Prancing Horse really might be back in the frontrunning mix.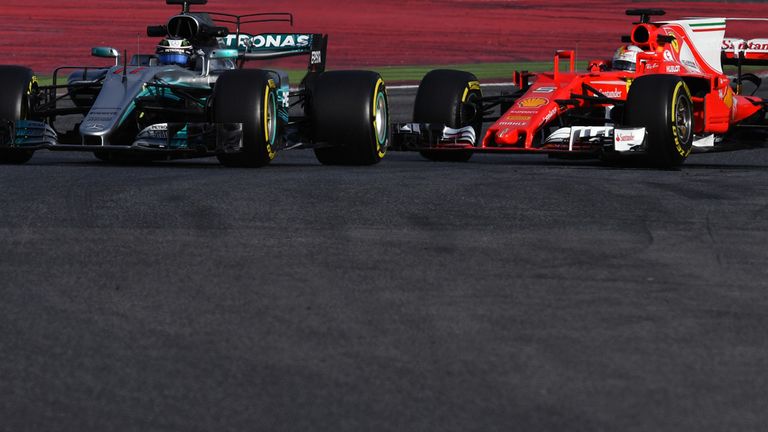 What can be read into the fastest times?
A year ago Ferrari set the fastest times at Barcelona and then endured their second winless campaign in three years - a salutatory reminder of how misleading testing can be.
Each team's lap count is considered to be a more reliable indicator of the balance of power than outright lap time and on that score Mercedes finished winter running with a slight - but by no means formidable - advantage.
Most laps completed per team
| | |
| --- | --- |
| Team | Laps |
| Mercedes | 1,096 |
| Ferrari | 956 |
| Williams | 800 |
| Sauber | 788 |
| Force India | 785 |
| Haas | 715 |
| Red Bull | 684 |
| Renault | 597 |
| Toro Rosso | 584 |
| McLaren | 425 |
Nevertheless, it was hard to ignore the speed of the SF70-H. After eight days at the Circuit de Catalunya, Ferrari topped the timesheets for all of Pirelli's four fastest compounds with Kimi Raikkonen's ultimate benchmark, set on supersoft tyres, eight tenths up on Red Bull's best and six on Mercedes.
On the penultimate day, Vettel had been three tenths faster than Bottas and Hamilton on ultrasofts but eased off in the final sector in a perceived attempt to disguise Ferrari's potential. "I think Ferrari are bluffing and they are a lot quicker than they're showing," responded Hamilton. "They're very close to us. It's difficult right now to say exactly who is quicker. But they are very close, if not faster."
Few in the paddock were convinced. Mercedes traditionally run relatively heavy in testing and Hamilton's remarks about Ferrari's ultimate pace also served as confirmation the world champions haven't shown their hand either.
But after their engine problems for week one, it's also understood Mercedes were disappointed with the performance of some of their week two car upgrades.
Perhaps the most significant laps recorded by the Ferrari were on the more durable but slower soft tyres. While no other team managed a lap on softs below the 1:20 mark prior to Max Verstappen's 1:19.852 on the final morning and Hamilton's 1:19.9 in the final minutes, Vettel set four in quick succession around 1:19.3 on the penultimate day before Raikkonen upped the ante for a 1:19.267 on Day Eight.
Pirelli estimate a performance gap between the soft and supersoft of between 0.3 and 0.5 seconds with the same again between the supersoft and ultrasoft. 'Tyre-corrected', those final days lap by Raikkonen and Vettel were probably were the fastest of the week.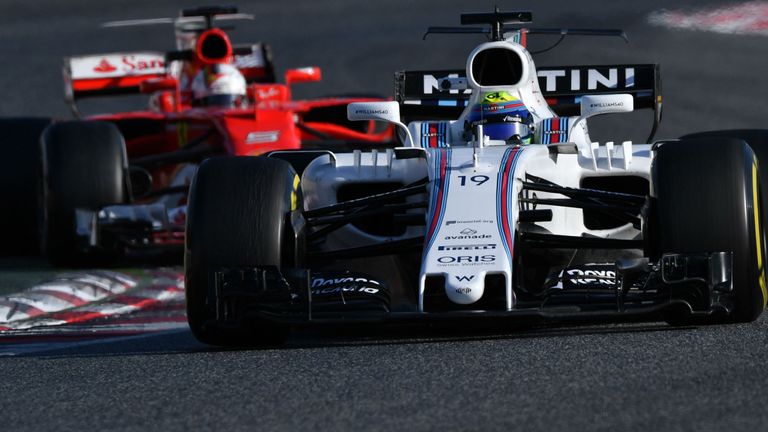 So what's the 2017 pecking order?
With a warning that all the usual caveats - unknown fuel loads, tyre life, car settings etc - have to be applied, the outline of a pecking order gradually emerged over the eight days at Barcelona:
* A closely-matched front two of Mercedes and Ferrari with Bottas around two tenths behind Hamilton.
* Red Bull as the third of the big three awaiting Renault's engine upgrade but potentially still a second clear of the rest.
* A bunched midfield with Williams and Renault seeming to lead the fight for fourth.
* McLaren as the great unknown of the grid but unable to complete more than 11 laps in succession with Honda under huge pressure to fix their unreliable and underpowered engine.
* Sauber reliable but in danger of being cut adrift and starting the season as the sole backmarker.
Fastest lap per team
| | | | | |
| --- | --- | --- | --- | --- |
| Team | Driver | Date | Tyre | Time |
| Ferrari | Kimi Raikkonen | Day Eight | Supersofts | 1:18.634 |
| Mercedes | Valtteri Bottas | Day Six | Supersofts | 1:19.310 |
| Williams | Felipe Massa | Day Six | Ultrasofts | 1:19.420 |
| Red Bull | Max Verstappen | Day Eight | Supersofts | 1:19.438 |
| Toro Rosso | Carlos Sainz | Day Eight | Ultrasofts | 1:19.837 |
| Renault | Nico Hulkenberg | Day Eight | Ultrasofts | 1:19.885 |
| Force India | Sergio Perez | Day Eight | Ultrasofts | 1:20.116 |
| Haas | Kevin Magnussen | Day Seven | Ultrasofts | 1:20.504 |
| McLaren | Stoffel Vandoorne | Day Seven | Ultrasofts | 1:21.348 |
| Sauber | Marcus Ericsson | Day Eight | Supersofts | 1:21.670 |
Inevitably, some elements of that sketch are more vivid than others and the overall picture is clouded by several difficult ambiguities: Renault may be faster on a single lap than on long runs; Lance Stroll isn't yet able to extract the level of performance from the Williams that Felipe Massa can; Force India looked in better shape at the first test than the second; The cars seem to be particularly sensitive this year, resulting in sharp peaks and troughs of performance.
On the other hand, it's abundantly clear that Sauber are lagging at the back and McLaren's woes - due to a Honda engine that Fernando Alonso said had "no reliability and no power" - are grievous. The car stopped on four separate occasions on-track during the final two days alone and the new campaign will surely start in humiliating fashion for the fallen superpowers. It's no longer by any means certain Honda will finish the year as McLaren's engine providers.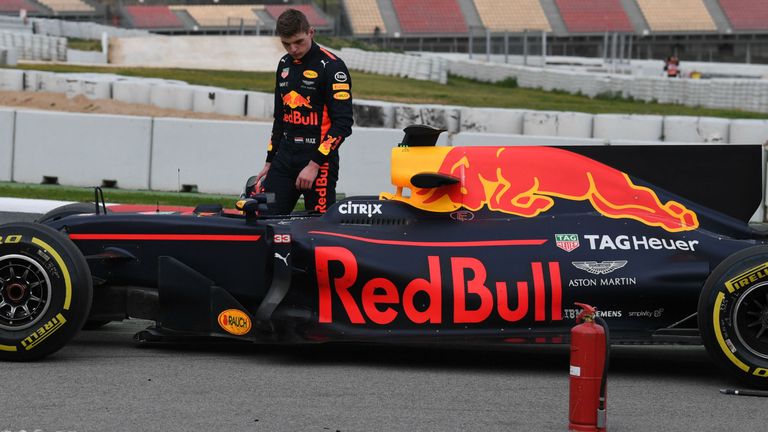 A big three with a clear third?
While Ferrari and Mercedes traded fastest laps throughout the eight days, Red Bull flew inconspicuously under the radar. How much are they holding back? "My guess is that we haven't seen the Red Bull Racing car of 2017 yet," said Mercedes team boss Toto Wolff.
But more problematically, nor have we seen the Renault engine for 2017. While the new unit introduced at Barcelona was an undoubted upgrade on its predecessor in terms of outright grunt, a fault with the MGU-K hampered each of their teams and regularly kept the recovery truck busy. A fix will be rushed through for the Australian GP but with such a tight deadline there can be no guarantees.
The probability is that Red Bull are currently behind Ferrari and Mercedes - and not only on short runs. When the 'big three' ran simultaneous race simulations on Thursday it looked tight between Vettel and Bottas but Red Bull's Ricciardo was some way behind. "We weren't quick," the Australian admitted. "Our true pace is closer but we are not quite at their level at the moment. We can get there but we are not there yet."
All the while, Ferrari and Mercedes spent the final week insisting they wouldn't start 2017 as favourites.
"It looks very positive for Ferrari," said Hamilton at the test's conclusion. "I don't think it's a bluff, I think it's true. They have a great car. Their pace has been spectacular."
"Mercedes are very fast with their long run pace," responded Vettel in kind during his only media briefing. "They're the ones to beat."
One of them certainly is and we won't have long to find out. The time of talking is almost over.
Watch the start of the 2017 F1 season live only on Sky Sports F1 - and in Ultra HD for the first time! Don't miss the Australian GP from March 24-26, with full coverage across TV and the Sky Sports Digital platforms. Get Sky F1 for the new season!