Fernando Alonso says Honda engine is McLaren's only problem ahead of F1 2017
"We have only one problem which is the power unit," says Alonso
By Pete Gill at Barcelona
Last Updated: 17/03/17 11:51am
Fernando Alonso has demanded an "immediate response" from McLaren to their disastrous winter testing, and insisted only the underperforming Honda engine is preventing the team from being potential winners in 2017.
With just two days of pre-season testing remaining, McLaren are bottom of the timesheets for both laps completed and the fastest times recorded at the Circuit de Catalunya.
"I don't think we are too far back with the chassis, we have only one problem which is the power unit," Alonso told reporters.
"There is no reliability and there is no power. We are 30kph down on the straight."
Speaking to Sky Sports News HQ, Alonso added: "I'm driving at my best. I feel I am the best driver out there, I just need an engine that can run as quick as the others on the straight."
The two-time world champion, who quit Ferrari to join McLaren ahead of their reunion with Honda two years ago, was even more outspoken with the Spanish media, reputedly telling reporters: "The team are all ready to win except Honda."
Alonso also described the fault with the MCL32's fuel tank on the first day of winter testing as an "amateur problem".
How far behind are McLaren?
With just 334 laps completed, most of which have been run at reduced power to nurse the Honda engine and with a longest stint of just 11, Alonso estimated McLaren were still at "day two" level of their programme.
"We have to improve…definitely there [must be] a big reaction from the team which l expect immediately," said Alonso.
"The chassis-side is difficult because we are not pushing the speed that the others are doing because of the lack of power. But the chassis feels good, it is responding well to changes and I am happy with the balance and how it attacks the corners. I am enjoying the car."
While denying McLaren's problems were on a par with the nadir of 2015, when the McLaren-Honda second marriage immediately hit seismic problems, the Spaniard admitted: "The frustration is probably more this year because after the change in regulations you have higher hopes that you can close the gap over winter testing.
"We are not matching our expectations. But on the other hand it is only winter testing and the season is long enough that you have time to react. But right now you cannot say we are happy or that things are going ok."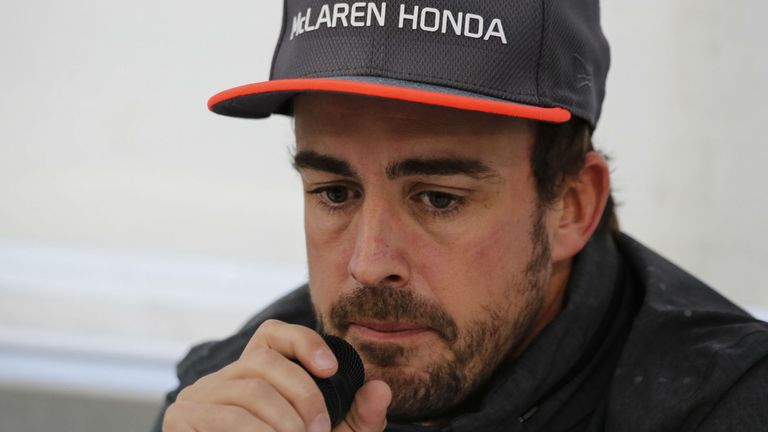 Alonso vows to bow out of F1 as a winner
Despite Alonso's scathing criticism of Honda, the 35-year-old has insisted he still believes he can win with McLaren and has no intention of walking away from F1.
"I am confident that this year we will be competitive. I don't know at which point of the year but we will be competitive and l want to win races. The team will be fully ready for Australia and to compete at a good level," he said. "The only question is how much power we will have."
Alonso has spoken previously of being prepared to leave Formula 1 if he didn't enjoy the sport's new brand of cars but insisted on Tuesday that he was enjoying driving the MCL32 despite its engine woes and had given no thought of quitting.
"This brings me more motivation to continue and to win," he told reporters. "I will not stop racing without a good result and one l deserve.
"If one day in the car l see people are doing fantastic lines, they are braking later than me, they do better starts than me, on that day l will stop and say 'it's time'. But what l am seeing now is completely the opposite. More than ever, this year, this winter, what l see on the track from myself is the best level. Now it's the time to attack."