Lewis Hamilton says he has the 'best' working relationship with Valtteri Bottas
Lewis enjoying first weeks alongside new Mercedes team-mate
Last Updated: 17/03/17 12:00pm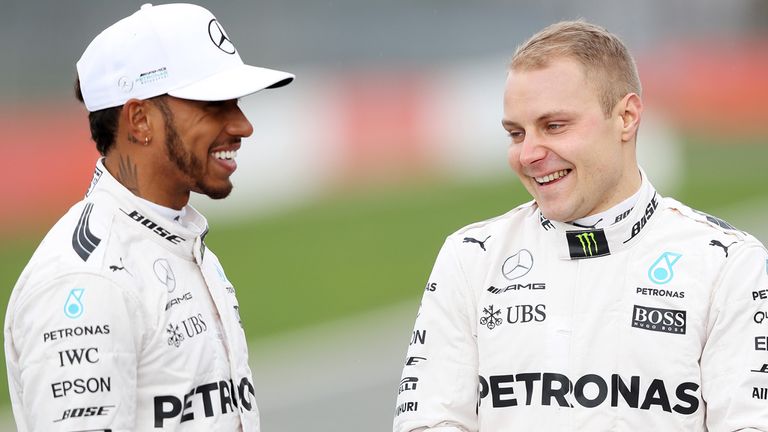 Lewis Hamilton believes his working relationship with Valtteri Bottas is already "better" than any of his past Formula 1 team-mates.
After four years alongside friend-turned-foe Nico Rosberg at Mercedes, Hamilton is joined by Bottas for 2017 with the Finn considered one of the most apolitical drivers in the sport.
F1 Testing: Final week talking points & Sky schedule
The pair spent their first week working alongside each other at a track when they shared driving duties at the first Barcelona test and Hamilton has given his fifth F1 team-mate an immediate ringing endorsement.
"What I so far like about working with Valtteri is that it is all to do with the track - what we do on the circuit - and not outside," Hamilton told the official F1 website.
"There are no games - there is complete transparency. I like that. I feel we already have a better working relationship than I ever had with any team-mate I had before.
Lewis Hamilton's F1 team-mates
| Driver | Team | Years |
| --- | --- | --- |
| Fernando Alonso | McLaren | 2007 |
| Heikki Kovalainen | McLaren | 2008-2009 |
| Jenson Button | McLaren | 2010-2012 |
| Nico Rosberg | Mercedes | 2013-2016 |
| Valtteri Bottas | Mercedes | 2017 |
"He wants to do the best thing that he can in his first year with the team - and with me being here for quite a while now, I want to deliver and make sure that I give as much information so that he will learn. And we do our talking on the track!"
Bottas expects 'big progress' at Mercedes
The first Barcelona test pointed towards Mercedes retaining their speed advantage of recent seasons despite the overhaul of aerodynamic rules for this year.
Hamilton's two-year reign as world champion was ended by the now-retired Rosberg last November and the 32-year-old has made clear both his and Mercedes' desires to end 2017 ahead.
"Well, I am fitter, I am working harder than ever before and I am super focused and driven after last year - when I also worked hard through the year but didn't get the result I wanted," said Hamilton.
"So I want change and that is what the team and I are working so hard to achieve. I am not really sure, but I don't think that any team has ever won championships across rules changes - and that is the big goal for us."
Hamilton is the bookmakers' overwhelming favourite for the drivers' title and when asked what would satisfy him in the Australia season opener on March 26, Hamilton replied: "I want pole position, fastest lap, being fastest in every session - and to win!"