McLaren dismiss talk of a crisis and vow not to walk away from Honda
Watch the exclusive interview in #AskCrofty on Sky Sports F1
By Pete Gill at Barcelona
Last Updated: 09/03/17 5:58pm
A defiant Zak Brown has vowed McLaren will not walk away from engine providers Honda and denied the team are on the verge of a crisis.
The fallen superpowers have suffered an ignominious pre-season and are set to end winter testing at Barcelona with the lowest lap count and among the slowest best times of any outfit.
In a powerful and withering rebuke of Honda which immediately sparked fresh speculation McLaren could seek a divorce from their power suppliers, Fernando Alonso told reporters on Wednesday night: "We have only one problem which is the power unit. There is no reliability and there is no power."
Alonso: Honda engine is to blame
But in an exclusive interview with Sky Sports F1's David Croft, Brown insisted McLaren were determined to stand by their struggling partners.
"We have long-term contract," said the McLaren executive director. "We have won a lot of championships with them, they have the right people, we have the right people, so we are going to work through it together."
Asked directly whether McLaren intended to honour the full term of deal they signed with Honda to bring the Japanese manufacturers back into the sport three years ago, Brown confirmed: "Yes, that is what McLaren do."
It is understood that the deal is 10 years in length and is due to expire in 2024.
WATCH THE EXCLUSIVE INTERVIEW WITH ZAK BROWN IN 'ASK CROFTY' AT 9.15PM ON SKY SPORTS F1
Brown also denied that Honda - who quit Formula 1 nine years ago before returning in an exclusive partnership with McLaren for the start of F1's hybrid era - could walk away again.
"I don't think so, they've given no indication of that," he said. "There has been no talk of anything other than getting to the front of the grid."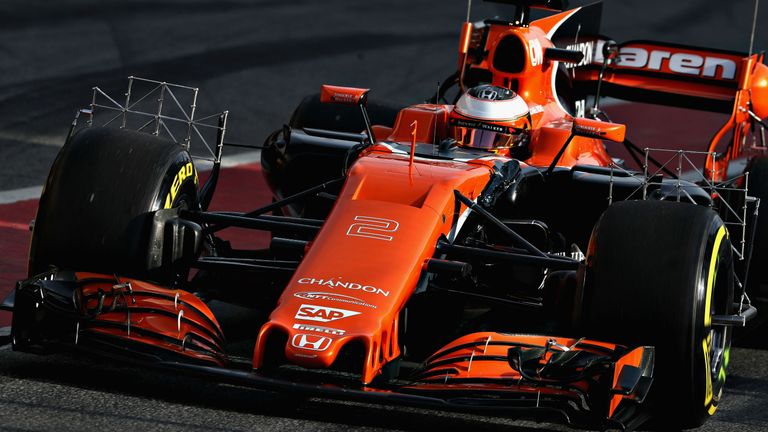 On the track, McLaren's misery showed no sign of easing on the penultimate day of running at the Circuit de Catalunya when their MCL32 car twice broke down.
A scheduled media conference with McLaren race team boss Eric Boullier and Honda's F1 chief Yusuke Hasegawa was also cancelled.
But as he broke the silence at McLaren, Brown rubbished talk that McLaren were on the verge of a crisis.
"We have problems, clearly we have problems...but 'crisis' is a bit strong," he said.
However, with McLaren poised to start the new campaign at the back of the grid, Brown conceded there was likely to be further pain when the season begins in two weeks' time in Australia.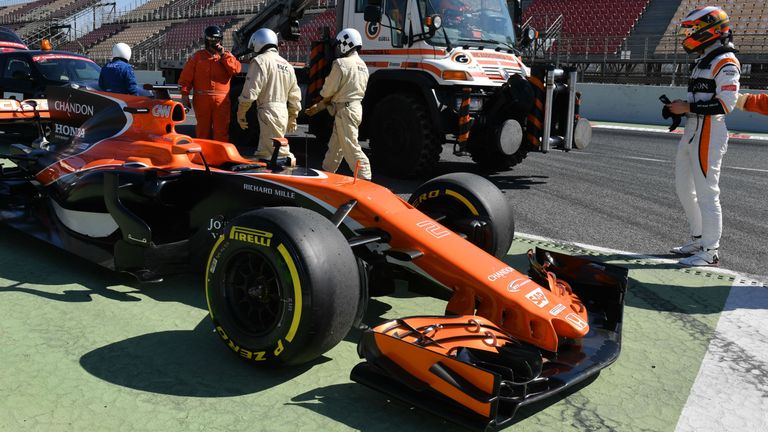 "Melbourne is going to be tough," he admitted. "I'll be surprised if we are where we need to be or where we want to be by Melbourne so it will be a tough start to the year.
"But we've been given assurances that they [Honda] will do everything they can to give us the best possible power unit. We know what the issues are and we know how to address them. We are seeing improvements every day and that's what is most important. They're on it."
Watch the start of the 2017 F1 season live only on Sky Sports F1 - and in Ultra HD for the first time! Don't miss the Australian GP from March 24-26, with full coverage across TV and the Sky Sports Digital platforms. Get Sky F1 for the new season!