F1 Testing: Ferrari outpace Mercedes, McLaren hit fresh trouble
Vettel sets outright fastest laptime of winter testing and also quickest time on soft tyres; Hamilton posts his best lap of 2017 to finish second; McLaren suffer two breakdowns
By James Galloway
Last Updated: 10/03/17 7:27am
Sebastian Vettel set the fastest time of Winter Testing on the penultimate day of action at Barcelona as Ferrari showed further promise to head Mercedes on the timesheet.
Vettel unleashed a series of fast laps on Pirelli's three quickest tyre compounds before the lunch break, including the winter's best times on the ultrasoft and soft tyres.
The Ferrari driver's fastest effort was 1:19.024, the quickest time around the Circuit de Catalunya for eight years.
Lewis Hamilton finished 0.328s back for Mercedes despite posting his personal best laps of the winter. Red Bull stayed on the soft tyres and finished only sixth.
Meanwhile, the day after Fernando Alonso publicly savaged the new Honda engine, beleaguered McLaren suffered two electrical-related breakdowns which limited Stoffel Vandoorne to 48 laps.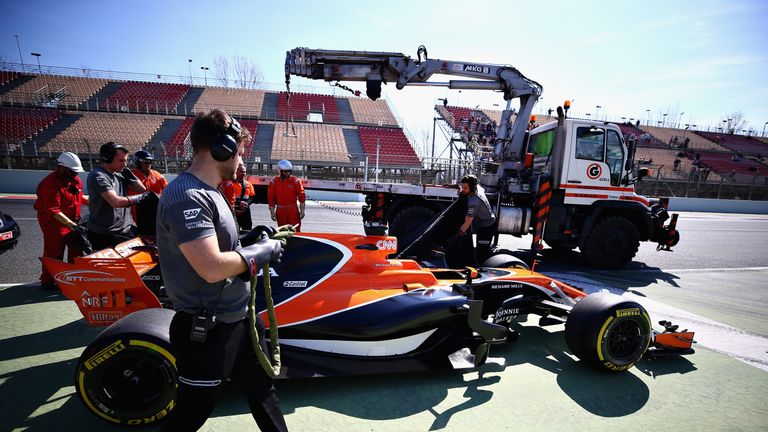 Ferrari play down leading pace
The Scuderia have now topped the winter timesheets as many times - three - as reigning champions Mercedes but have again warned against reading too much into headline lap times.
"Mercedes are still very fast if you look at their long-run pace," said Vettel. "They are the ones to beat. Historically, look at how slow they go in testing before ramping it up."
Fastest lap per team
| | | | | |
| --- | --- | --- | --- | --- |
| Team | Driver | Date | Tyre | Time |
| Ferrari | Sebastian Vettel | Day Seven | Ultrasofts | 1:19.024 |
| Mercedes | Valtteri Bottas | Day Six | Supersofts | 1:19.310 |
| Williams | Felipe Massa | Day Six | Ultrasofts | 1:19.420 |
| Red Bull | Daniel Ricciardo | Day Five | Ultrasofts | 1:19.900 |
| Force India | Esteban Ocon | Day Seven | Ultrasofts | 1:20.161 |
| Toro Rosso | Daniil Kvyat | Day Seven | Supersofts | 1:20.416 |
| Haas | Kevin Magnussen | Day Seven | Supersofts | 1:20.863 |
| Renault | Nico Hulkenberg | Day Six | Supersofts | 1:21.213 |
| McLaren | Stoffel Vandoorne | Day Seven | Ultrasofts | 1:21.348 |
| Sauber | Marcus Ericsson | Day Three | Supersofts | 1:21.824 |
Vettel's 1:19.024 on ultrasofts was nearly 0.3s quicker than Valtteri Bottas's previous benchmark on supersofts from Day Two. The German also backed off several times on his fastest laps in the circuit's final sector, suggesting a lap in the 1:18s had been easily achievable.
And despite Vettel's protestations, Hamilton suggested: "I think Ferrari are bluffing and that they are a lot quicker than they are showing. They're very close to us."
After team-mate Kimi Raikkonen crashed on Day Two, Vettel re-established Ferrari's winter groove and completed a day-high of 156 laps to add to his 168 tours from Day One.
McLaren struggles continue
On a day when five teams posted their quickest times of winter, McLaren finally broke out of the 1:22s, but that achievement was overshadowed by the sight of the MCL32 twice grinding to an unscheduled halt.
Electrical trouble stopped the MCL32 in quick succession on out laps, first at the end of the pits and then on track, before Vandoorne was able to return for a series of short stints in the afternoon.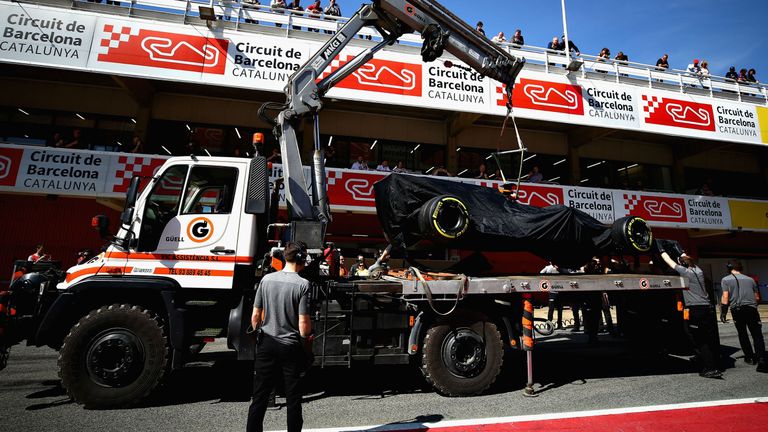 Alonso's heavy criticism of Honda's redesigned engine prompted fresh speculation over the long-term future of the partnership, but team chief Zak Brown has rubbished talk of a 'crisis', telling Sky F1 that the two sides will work through their problems and return to competitiveness.
Vandoorne's quickest lap did at least move McLaren off the bottom of the combined timesheet for testing, although the MCL32 has still completed the fewest laps of any car in the field.
But Honda are not the only engine provider with reliability concerns heading into the final day of running before Melbourne.
Renault have suffered intermittent problems with their power unit across all three teams that run their engine over the past fortnight and on Thursday Toro Rosso's Daniil Kvyat and the French manufacturer's own Jolyon Palmer both stopped on track.
Martin Brundle's Testing verdict
Standing trackside for his first close-up look at F1's new generation of faster cars, Sky F1's Martin Brundle said they appeared more "positive" and were allowing drivers to carry "a little bit of extra speed everywhere".
He believes Mercedes remain the team to beat, but Ferrari and Red Bull may have closed the gap from the end of 2016.
"Talking to a few people in the paddock it seems that Mercedes might have the edge," Brundle told Sky Sports News HQ.
"But Ferrari and Red Bull are quite close behind them, so that bodes well. Williams are pretty strong as well, and the midfield is very strong. My concern was maybe Mercedes might run and hide, but at the moment at least it looks like they're in touch.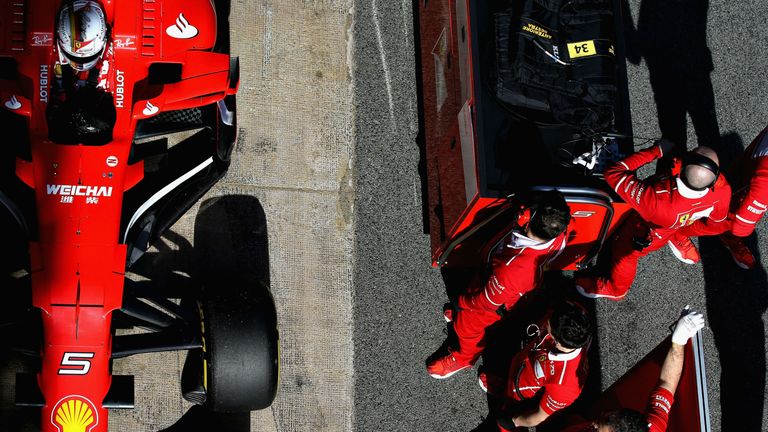 "We're in for some close racing - I hope there's some organic overtaking. I'm getting mixed messages about what they're like to follow, how easy it is to follow and catch another car. And it seems like that might be a little car specific, with the front wing setup and the sidepods, particularly the way they use the shark fin on the back."
Day Three, Test Two Timesheet
1) Sebastian Vettel, Ferrari, 156 laps, ultrasoft tyres, 1:19.024
2) Lewis Hamilton, Mercedes, 52 laps, ultrasoft tyres, 1:19.352
3) Esteban Ocon, Force India, 137 laps, ultrasoft tyres, 1:20.161
4) Daniil Kvyat, Toro Rosso, 94 laps; supersoft tyres, 1:20.416
5) Kevin Magnussen, Haas, 119 laps, ultrasoft tyres, 1:20.504
6) Daniel Ricciardo, Red Bull, 128 laps, soft tyres, 1:20.824
7) Stoffel Vandoorne, McLaren, 48 laps, ultrasoft tyres, 1:21.348
8) Valtteri Bottas, Mercedes, 95 laps, soft tyres, 1:21.819
9) Pascal Wehrlein, Sauber, 44 laps, ultrasoft tyres, 1:22.347
10) Jolyon Palmer, Renault, 53 laps, soft tyres, 1:22.418
11) Marcus Ericsson, Sauber, 88 laps, soft tyres, 1:23.330
12) Felipe Massa, Williams, 80 laps, medium tyres, 1:24.443
13) Lance Stroll, Williams, 85 laps, medium tyres, 1:24.863
Watch the start of the 2017 F1 season live only on Sky Sports F1 - and in Ultra HD for the first time! Don't miss the Australian GP from March 24-26, with full coverage across TV and the Sky Sports Digital platforms. Get Sky F1 for the new season!