Bernie Ecclestone doesn't feel let down by Liberty but wanted to stay as F1 boss for longer
Sky Sports News HQ hold exclusive interview with former F1 supremo
By James Galloway and Sky Sports News HQ's Craig Slater
Last Updated: 18/03/17 7:33am
Bernie Ecclestone has said he does not feel let down by F1's new owners but would have liked to have stayed on as chief executive for another year.
In his first television interview since being replaced in January as F1's chief executive in the wake of Liberty Media's buyout of the sport, Ecclestone told Sky Sports News HQ he understood the American firm's decisions.
"They bought the car, they wanted to drive it," he said.
In a wide-ranging exclusive interview with Craig Slater, Ecclestone also revealed:
He has no hard feelings towards Liberty and new F1 chief Chase Carey
He intends to attend half of this season's 20 grands prix
He has been asked by Carey to speak to the president of Brazil to try and help secure the future of the country's race
When Liberty first announced their intention to buy F1's commercial rights from CVC Capital Partners last September, Ecclestone said he had been asked to stay on by the American media firm for a further three seasons.
However, after completing their takeover in late January, Liberty revealed a new management structure with Carey taking on Ecclestone's former chief executive role and Ross Brawn and Sean Bratches joining as managing directors to oversee sporting and commercial matters respectively.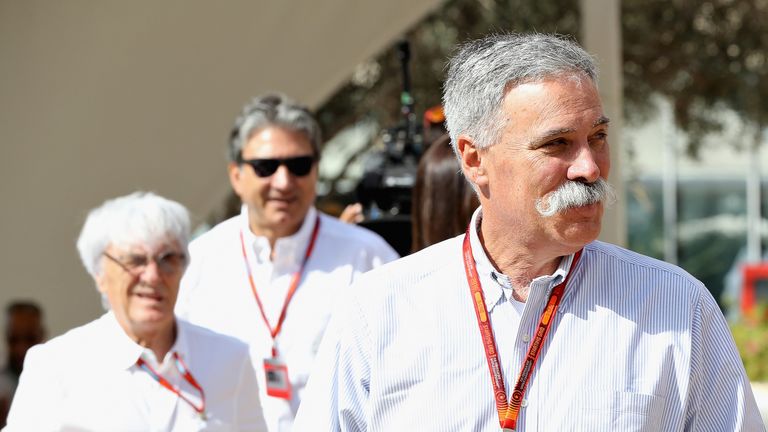 In recognition of his four-decade reign as F1's commercial supremo, Ecclestone was made chairman emeritus with Carey telling Sky Sports News HQ the 86-year-old's "advice will be invaluable" as the new owners get up to speed in the sport.
Asked if he felt let down, Ecclestone said: "Not at all. I know the way the world operates."
But asked if he would have made the same change as Liberty, Ecclestone replied: "Probably not. I would have asked them to work with me for a bit, wait for a year and afterwards say 'has it worked, not worked?' 'Not worked? Sorry, you'll have to leave,' or whatever.
"But different people operate companies differently, obviously. I think this is very much the way American companies operate. Let's be absolutely sensible about it: they bought the car, they wanted to drive it."
However, Ecclestone did reject suggestions that the F1 business had stagnated in recent years.
"I think people have got muddled up a bit," he added. "These people have thought and said, and Chase has said, that I hadn't done a very good job in the last three years. I thought I had, CVC thought I had, and I managed to produce $1.5 billion-a-year income, which made their shares worth a lot of money.
"Maybe if I'd have done a lousy job people could have bought the shares cheaper."
Although no longer in day-to-day control of F1, Ecclestone revealed he still planned to travel to a significant number of grands prix in 2017.
"I've been asked and invited to go to most of them, so I'll have to try and sort it out," he said. "Probably at least half of them."
Ahead of a planned visit to Brazil this weekend, where Ecclestone owns a ranch, the Briton said he had been asked by Carey to speak to the country's president to try and help secure the future of the Brazilian GP at Interlagos.
But asked if he was yet clear on what his chairman emeritus role entailed, Ecclestone added: "I don't know what it is. No idea. I'd like some rules and regulations perhaps so I know what I'm supposed to do, or not supposed to do."
Watch the start of the 2017 F1 season live only on Sky Sports F1 - and in Ultra HD for the first time! Don't miss the Australian GP from March 24-26, with full coverage across TV and the Sky Sports Digital platforms. Get Sky F1 for the new season!
Sky Customers can now upgrade to Sky Sports and get 12 months for just £18 per month. Upgrade now!