Lewis Hamilton expecting 'real race' with Ferrari at Australian GP
Mercedes driver starts F1 2017 in style with Melbourne pole, but admits Ferrari "very close" behind; Hamilton pays tribute to team
By James Galloway
Last Updated: 30/03/17 11:25am
Lewis Hamilton believes F1 2017 is poised to deliver a "real race" at the front of the field after Ferrari ran Mercedes close for pole position at the Australian GP.
For the fifth time in the last six seasons, Hamilton will start the season-opener from the head of the grid in Melbourne after an impressive final lap delivered the 62nd pole of his career.
Hamilton edges out Vettel in Melbourne
But it was the performance of rejuvenated Ferrari which has whetted the appetite of the F1 public ahead of Sunday's race - live only on Sky Sports F1 at 6am - after Sebastian Vettel returned the Scuderia to the front row for the first time since 2015.
Hamilton has long welcomed the prospect of a challenge to Mercedes' supremacy and, joined by rival Vettel on the front row for the first time in 37 races, he is looking forward to a battle on Sunday.
"It's going to be close," Hamilton told Sky F1. "Obviously already the Ferraris are very, very close with us.
"I don't know if people watching realise, it's [the difference is] like a blink of an eye. Your reaction time is two tenths, two-and-a-half tenths, of a second and that's the gap between us.
"So we'll keep pushing and people are going to see a real race, which I think is what we wanted."
Although Mercedes have held a near-monopoly on pole positions over the last three years - their record in F1's hybrid turbo engine era now stands at 57 poles in 60 races - Hamilton says it was "crazy" their superiority has been maintained into F1's new era of aero rules.
"I feel very blessed and very fortunate to arrive once more with this incredible team and be able to perform as we have this weekend," he said.
Record-chasing Lewis Hamilton
| | |
| --- | --- |
| Most Australian GP poles | |
| 1. Ayrton Senna | 6 |
| = Lewis Hamilton | 6 |
| 3. Nigel Mansell, Mika Hakkinen, Michael Schumacher, Sebastian Vettel | 3 |
| Most F1 career poles | |
| 1. Michael Schumacher | 68 |
| 2. Ayrton Senna | 65 |
| 3. Lewis Hamilton | 62 |
"It's crazy. Whilst you've seen we've had that pace and super competiveness in the past years, it's still always an unknown when you come into a new season and we don't know if we've all done the job we hope that we would do.
"So that makes me just extremely proud of everyone because I bet they [the factory staff] are sitting at home right now just knowing all those times where they are doing those late-night shifts and they kind of wanted to give up and maybe take a nap, but they stayed up and kept pushing.
"This is the result that we get because of that."
Hamilton, who said he was "100 per cent confident" of the world champions' ability to keep developing their W08 car through the season, added that he was also feeling optimistic about his start procedure ahead of Sunday's race.
The Briton's start to last season was hindered by a series of poor getaways at the lights - including from pole in Melbourne, when he ended the first lap in sixth place.
"Positioning is everything," he said, while predicting "overtaking is going to be worse" at Albert Park compared to 2016.
"Trust me, we've done a lot to be better prepared this year than it was last year."

Brundle predicts close fight
Sky F1's Martin Brundle is also expecting a tight race between Mercedes and Ferrari.
"It was a good lap from Lewis, another pole position. He's really racking them up," Brundle said.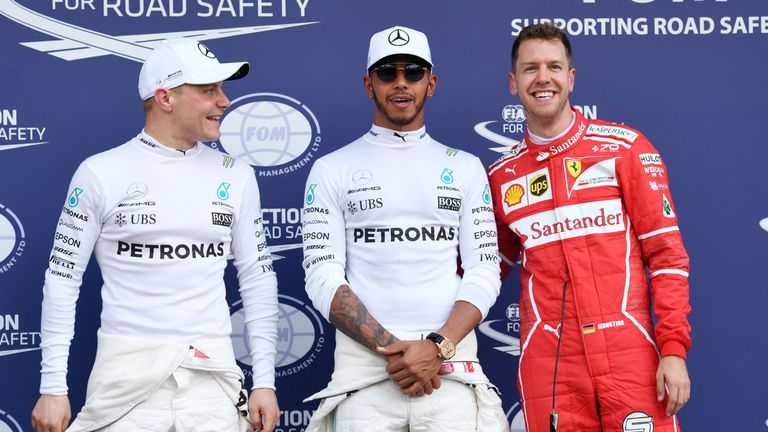 "But I'm very pleased to see Ferrari keeping Mercedes very honest indeed. Vettel is ruing a couple of small mistakes and I think he would have felt he could get pole.
"We have got quite a close race there. We have got new rules tomorrow for how the drivers get off the line with the clutch. I think that is going to make some very variable starts which will have another impact.
"It's very clear Ferrari are fast enough to challenge Mercedes."
Watch the 2017 F1 season on Sky Sports F1 - and in Ultra HD for the first time! Get Sky F1 for the new season!