Australian GP: Sebastian Vettel beats Lewis Hamilton to victory
Vettel wins after staying out longer for his only pit-stop; Ferrari ahead of Mercedes for first time in F1's new hybrid era
By Pete Gill
Last Updated: 30/03/17 11:23am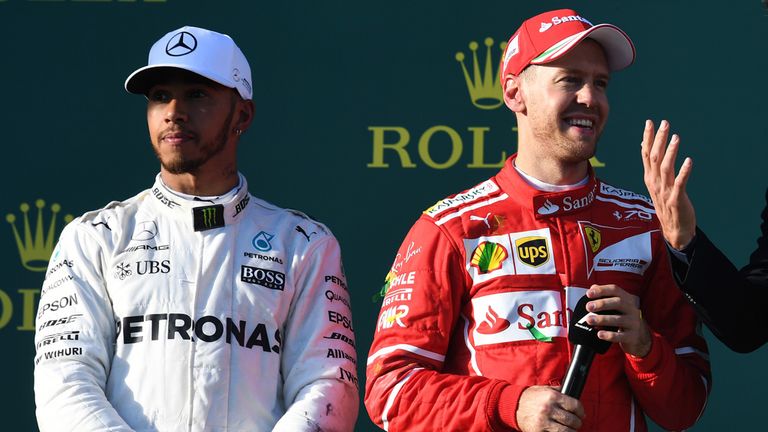 F1 2017 is alive and kicking after Ferrari's Sebastian Vettel beat pre-race favourite Lewis Hamilton to victory in the season-opening Australian GP.
Vettel drove a perfectly-judged race to claim the Scuderia's first victory since 2015 as the all-round excellence of the new Ferrari car and an inspired strategy combined to deliver what was ultimately a comfortable victory.
"It's a great relief for everyone," said Vettel. "This is just the beginning."
Did strategy cost Mercedes the win?
Hamilton, a frequent voice of frustration throughout the grand prix, crossed the line almost 10 seconds behind Vettel with Valtteri Bottas third on his Mercedes debut.
"They were quicker today, no doubt," said Bottas. "It's going to be a big challenge."
In 19 of the last 27 seasons, the winner of the first race of the campaign has proceeded to win the championship.
The race was effectively decided at one-third distance by the divergent strategies of Mercedes and Ferrari for their lead drivers and Hamilton's failure to clear the Red Bull of Max Verstappen.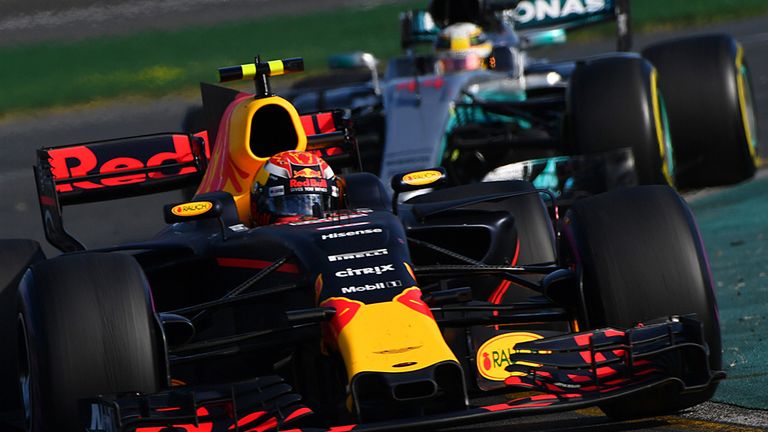 While Vettel ran long on his first stint, Hamilton was told it was "race critical" to pass Verstappen immediately after his early stop for fresh tyres but was unable to do so.
Replays showed Mercedes boss Toto Wolff punching his desk in the team's garage in frustration as Vettel, pitting five laps after his Mercedes rival, emerged in front of the boxed-up Hamilton.
"We were worried about the undercut possibility," Wolff told Sky F1. "We knew we would come out behind Max and Kimi and that's what happened. Ferrari played it very well."
By the time Verstappen himself then pitted, Vettel was already five seconds clear of Hamilton and, after briefly considering the 'Plan B' of a switch to a two-stop strategy, Mercedes opted to follow Vettel home in tacit acknowledgment they had no answers to the speed of Vettel and the SF70-H.
Nor had Red Bull. While Verstappen salvaged fifth on a troubled weekend for the former world champions, home favourite Daniel Ricciardo followed his spin in qualifying with a break-down on his first lap out of the pits before the race. Having joined the fray a lap down, Ricciardo's misery was brought to a merciful end when the engine of his RB13 expired with 20 laps remaining.
Elsewhere, Williams' Felipe Massa took sixth despite trailing Vettel by almost a minute and a half, while both Force Indias and Toro Rossos secured points-scoring results despite being lapped.
Driver reaction from the Australian GP
For Fernando Alonso, there was further agony when the Spaniard, refusing to yield to the deficiencies of his McLaren-Honda package, was robbed of a place in the top 10 with just a handful of laps remaining.
Perhaps now is not the moment to remind that Alonso left Ferrari, opening up a vacancy for Vettel, little more than two years ago after losing faith in the Prancing Horse.
With Kimi Raikkonen, an otherwise anonymous presence in Melbourne, finishing a distant fourth, Ferrari ended the first race of 2017 holding the lead of the Constructors' Championship for the first time in F1's evolving hybrid era.
Hamilton said at the season's launch he wanted a fight for the championship. He certainly has that.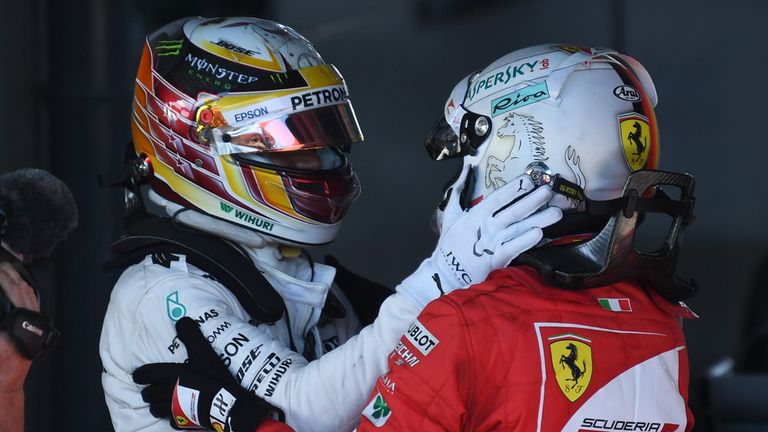 Australian Grand Prix race result
1. Sebastian Vettel, Ferrari, 1:24:11.670
2. Lewis Hamilton, Mercedes, +9.975s
3. Valtteri Bottas, Mercedes, +11.250s
4. Kimi Raikkonen, Ferrari, +22.393s
5. Max Verstappen, Red Bull, +28.827s
6. Felipe Massa, Williams, + 83.386s
7. Sergio Perez, Force India, +1 lap
8. Carlos Sainz, Toro Rosso, + 1 lap
9. Daniil Kvyat, Toro Rosso, + 1 lap
10. Esteban Ocon, Force India, +1 lap
11. Nico Hulkenberg, Renault, + 1 lap
12. Antonio Giovinazzi, Sauber, +2 laps
13. Stoffel Vandoorne, McLaren, +2 laps
14. Fernando Alonso, McLaren, DNF
15. Kevin Magnussen, Haas, DNF
16. Lance Stroll, Williams, DNF
17. Daniel Ricciardo, Red Bull, DNF
18. Marcus Ericsson, Sauber, DNF
19. Jolyon Palmer, Renault, DNF
20. Romain Grosjean, Haas, DNF
Watch the 2017 F1 season on Sky Sports F1 - and in Ultra HD for the first time! Get Sky F1 for the new season!