Chinese GP Practice: Heavy cloud restricts Friday running in Shanghai
Just 20 minutes of track action on Friday as low cloud grounds medical helicopter; Hamilton and Vettel don't complete timed laps
By James Galloway
Last Updated: 07/04/17 11:29am
The opening day of the Chinese GP has been heavily disrupted by persistent thick cloud, meaning F1 drivers completed scant running in Friday practice.
F1 teams will head into the weekend without any significant track time behind them after Friday's two practice sessions were both curtailed due to safety reasons.
On a dank and overcast day in Shanghai, the medical helicopter at the circuit was grounded due to the fact it would be unable to land at the nearest hospital, some 38km away in downtown Shanghai, if there was a medical emergency.
With more bad weather forecast for Sunday's race day, Lewis Hamilton has led calls for the rest of the weekend's schedule to be shaken up to ensure all track sessions take place.
After an initial delay in the morning, some drivers did complete around 20 minutes of running on intermediate tyres in Practice One before the red flag was thrown again.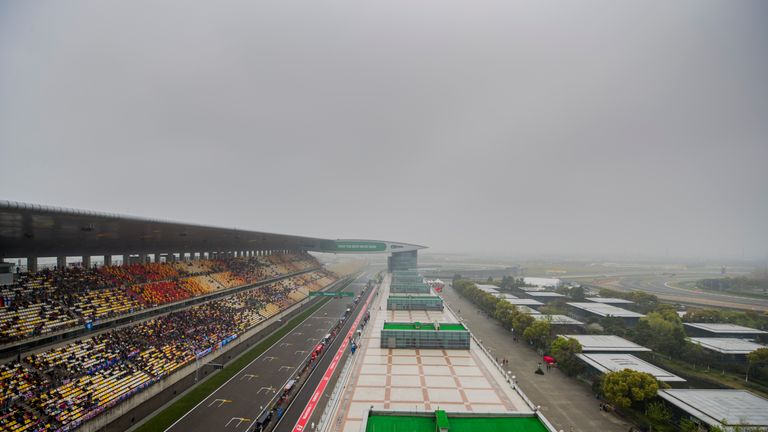 No running was completed in Practice Two as conditions failed to improve.
In the brief track running that did take place in P1, Max Verstappen set the pace for Red Bull ahead of Williams pair Felipe Massa and Lance Stroll.
Hamilton and Melbourne winner Sebastian Vettel were among those not to register timed laps. In fact, the only other time Hamilton ventured out of the pit lane was on foot when he headed to the vast main grandstand during Practice Two to hand out signed baseball caps to fans.
In P1, Renault's Nico Hulkenberg spun into the gravel at Turn Two and, although the German driver did not make contact with the barrier, his race engineer bluntly informed him over the radio: "You ain't getting out of there mate".
McLaren are expecting a particularly challenging weekend if conditions remain dry with the team's troubled Honda engine unlikely to fare well on Shanghai's long straights.
Speaking to Sky F1 during the P1 red-flag delay, McLaren executive director Zak Brown said they had a plan to combat the expected problems, but acknowledged a wet weekend would present their best chance of a satisfactory result.

Will the race have to be rescheduled?
Poor weather is forecast to remain a feature throughout the race weekend, creating the possibility of more disruption to the GP schedule if the medical helicopter cannot fly.
That could theoretically lead to the prospect of the race being rescheduled, but Sky F1's David Croft explained the logistical problems any change will cause with the Bahrain GP immediately following next week.
"I had a little chat to a logistics man," said Croft. "We have a grand prix in Bahrain in seven days' time. It's already a bit of a rush to get things to Bahrain. I don't think we could go racing on Monday without creating a huge amount of chaos for those who have to set the garages up and get the cars ready.
"Everything gets packed away after the race on Sunday and there are three pallets of air freight per team. One pallet has to leave the track by midnight on Sunday. That then goes straight to Bahrain and gets there in time to get to the track by Tuesday morning. Everything they need to set up the garages goes by midnight on Sunday. Everything then follows and gets there by Wednesday morning.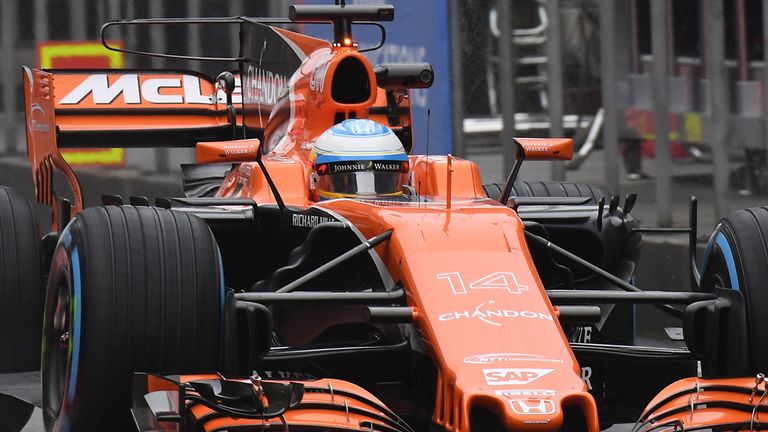 "An advance team goes straight to Bahrain to set up the garage and then the rest of the crew get there first thing on Wednesday and it is all hands on deck for every single team. It's kind of cutting it fine but it can be done.
"If you then race on Monday, everything is pushed back by 24 hours and chances are not everything will be set up and ready by Thursday for practice on Friday.
"I suppose they could bring the race forwards [if there was a gap in the weather] or potentially cancel Friday practice in Bahrain - but then you are cancelling a day's track action when promoters in Bahrain would want people to come."
Chinese GP Practice Timesheet
1. Max Verstappen, Red Bull, 1:50.491
2. Felipe Massa, Williams, + 1.595
3. Lance Stroll, Williams, + 2.016
4. Carlos Sainz, Toro Rosso, + 2.349
5. Romain Grosjean, Haas, + 2.548
6. Daniil Kvyat, Toro Rosso, + 2.823
7. Fernando Alonso, McLaren, + 3.029
8. Daniel Ricciardo, Red Bull, + 3.547
9. Valtteri Bottas, Mercedes, + 4.173
10. Kevin Magnussen, Haas, + 4.613
11. Nico Hulkenberg, Renault, + 5.117
12. Stoffel Vandoorne, McLaren, + 6.954
13. Marcus Ericsson, Sauber, + 24.647
14. Antonio Giovinazzi, Sauber, + 24.790
15. Jolyon Palmer, Renault, No time
16. Sebastian Vettel, Ferrari, No time
17. Kimi Raikkonen, Ferrari, No time
18. Esteban Ocon, Force India, No time
19. Sergio Perez, Force India, No time
20. Lewis Hamilton, Mercedes, No time
All times set in Practice One; No running took place in Practice Two
Watch the Chinese GP live only on Sky Sports F1 and in incredible Ultra HD! The race begins at 7am on Sunday. Check out all the ways to watch F1 on Sky Sports for subscribers and non-subscribers - including a NOW TV day pass for £6.99!
Sky customers can now upgrade to Sky Sports and get 12 months for just £18 per month. Upgrade now!