Honda adding customer Sauber deal would aid McLaren - F1 Report
Debating Honda's next potential steps in F1 on this week's F1 Report
By James Galloway
Last Updated: 06/04/17 2:23pm
A Honda tie-up with Sauber would prove beneficial for McLaren but there remains uncertainty over the Woking team's long-term relationship with their engine suppliers, according to this week's F1 Report guests.
Long-running speculation Honda could sign their first customer engine deal since returning to F1 reignited with reports Sauber, currently powered by Ferrari, are closing on a supply of the Japanese firm's power units for 2018.
F1's other engine providers all supply three teams and The Sun's F1 reporter Ben Hunt, who revealed last week a Sauber-Honda tie-up is imminent, reckons Honda's stuttering engine project would benefit from a first customer team in addition to works partners McLaren.
What to look out for at the Chinese GP
"It would be good news for Sauber and it would be good news for McLaren, if they were to stay with Honda," said Hunt on the latest F1 Report show.
"The fact is Honda have got one team to power these engines and test them, you're only getting two cars, so if you double that pool you're going to do more fact finding and it's going to be more beneficial for your long-term engine project."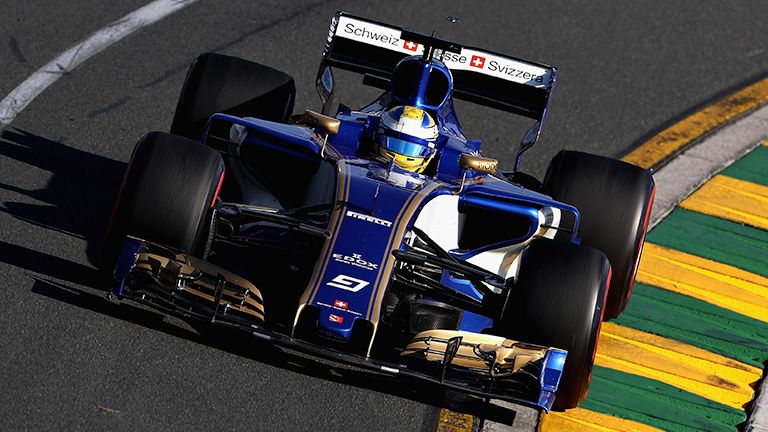 Honda have repeatedly reiterated their commitment to both McLaren and F1 despite their latest round of performance troubles, but Hunt does not believe it is completely out of the question the two parties will part ways prematurely.
"I think there's wriggle room for McLaren to get out of their current contract," suggested Hunt. "They would be desperate to go back to Mercedes power.
"Those engines are available with Manor disappearing at the start of the year, so potentially McLaren could get out of that contract and Sauber pick up the reins. They would then become partners."
Meanwhile, Sauber head into this weekend's Chinese GP without new signing Pascal Wehrlein once again with the German driver not yet fit enough to race since sustaining a neck injury in a crash at January's Race of Champions.
Ferrari third driver Antonio Giovinazzi returns to the C36 after an impressive debut in Australia and, appearing on the F1 Report, Sky F1's Marc Priestley suggested Wehrlein may be concerned if his Italian stand-in performs well again.
"A Formula 1 drive is such a prized thing to have," said Priestley. "To let a young kid in it, for Australia it may be fine, but to then sit out the next one as well, you gradually might feel you're losing hold of your prized Formula 1 race seat."
Hunt added: "We know these new cars are more physical to drive, but surely the only way you get up to match fitness is by taking part in practice sessions and getting used to driving in the car?"
Sauber are targeting Bahrain or Russia for Wehrlein's return and Priestley noted that if Giovinazzi remains in the car for F1 2017's third round then he would then be automatically barred from being Ferrari's designated young driver in 2017's two in-season tests.
Two of the four in-season test days must be given over to drivers who have raced in fewer than three grands prix, meaning a further Sauber appearance in Bahrain for Giovinazzi would leave Ferrari needing to draft in an additional young driver to fulfil that requirement. The first in-season test takes place on April 18-19 following the Bahrain GP.
However, the Scuderia could still call upon Giovinazzi instead of using Sebastian Vettel or Kimi Raikkonen on the other two days if they wanted to assess the Italian at close quarters on track.
Watch the Chinese GP live only on Sky Sports F1 and in incredible Ultra HD! The race begins at 7am on Sunday. Check out all the ways to watch F1 on Sky Sports for subscribers and non-subscribers - including a NOW TV day pass for £6.99!
Sky customers can now upgrade to Sky Sports and get 12 months for just £18 per month. Upgrade now!