London GP could take place after law change allows motor racing on public roads
'London provides a magnificent backdrop,' says Transport Minister
By
Last Updated: 12/04/17 4:19pm
The prospect of a grand prix taking place on the streets of London has moved a step closer following a law change allowing motorsports to take place on public roads.
After consultations lasting years, ministers last week passed legislation to allow races on England's public roads.
Formula 1's new owners Liberty Media have a vision of 'destination' races, featuring week-long events at cities in the US and around the world.
Transport Minister Andrew Jones believes London provides the perfect backdrop to showcase the sport.
He told Sky Sports News HQ: "People who put on motorsport events are pretty adept at creating good backdrops and good television and London provides a magnificent backdrop.
"But it isn't just London. We have to think about things much more broadly."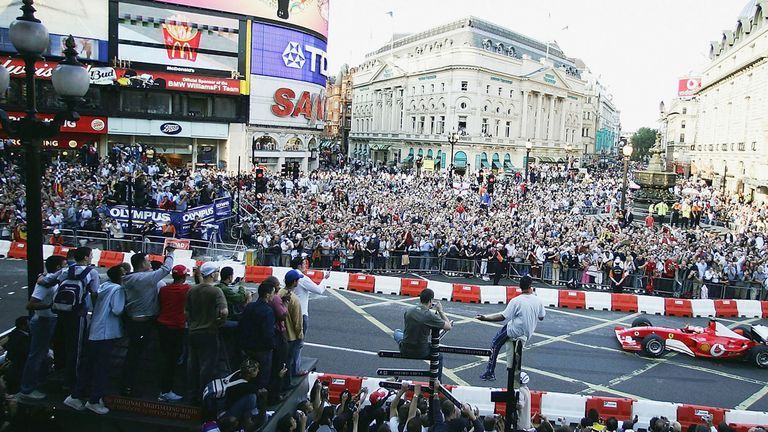 London Mayor Sadiq Khan will have the final say on any grand prix in the capital and would need to take into account noise pollution and emissions from any event.
New F1 CEO Chase Carey told SSNHQ in January that Liberty Media were committed to keeping a British race, but did not guarantee it would remain at Silverstone - the current host of the British GP.
Only four circuits in the United Kingdom have staged a grand prix since the world championship began in 1950 at Silverstone.
Aintree staged the British GP five times between 1955 and 1962, before Brands Hatch hosted the race on alternate years with Silverstone between 1963 and 1986.
Donnington Park also held the European GP in 1993 alongside the British GP at Silverstone.
Currently, Monaco, Baku and Singapore are the only full street circuits on the F1 calendar.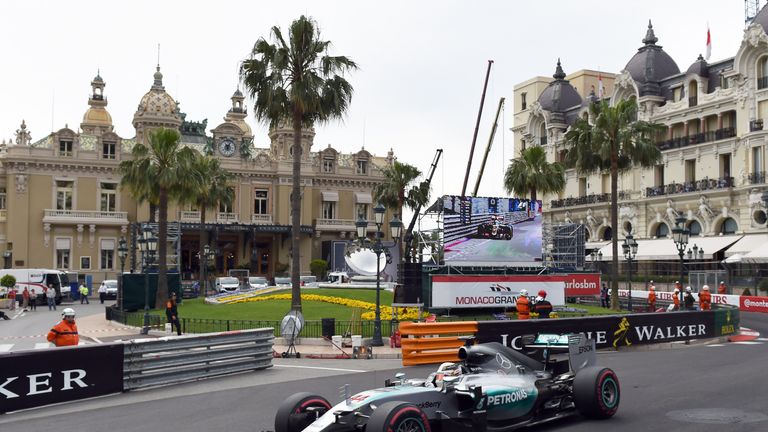 A long-held ambition
The prospect of London either joining, or replacing, Silverstone on an F1 schedule of the future has long been mooted.
In 2012, Santander whetted the appetite for what could be achieved by commissioning architects Populous, the design firm behind Silverstone's Wing complex and Arsenal's Emirates Stadium, to come up with a CGI design and feasibility study for a London race.
The mock-up featured a track which passed landmarks including Buckingham Palace and Trafalgar Square.
However, stumbling blocks around any race on the streets of the UK's most populous city remain.
Questions around infrastructure, safety and transport disruption all remain on the agenda, with the streets of central London needing to be closed for potentially five days over a race weekend.
"[Closing down London] would be a huge implication. If you close roads you need to consider the implications for the economy and communities who use them all the time," Jones added.
"But we have seen what can happen with big events when the roads are closed."
British Racing Drivers' Club (BRDC) president Derek Warwick remains sceptical of a race taking place in the capital.
He told SSNHQ earlier this year: "London? We've been talking about London for 10-20 years and I know that Chase and Liberty would like to go to all the big cities, but can you imagine holding a Grand Prix around Hyde Park? Never."
The issue of finance will also be crucial. Former F1 supremo Bernie Ecclestone delivered a masterclass in understatement in May 2016 when ruminating about a London GP.
"There is a small technical issue - who is going to pay for it? But other than that, I can't see any dramas," he said.
But while Government funding remains unlikely, if a London race made commercial sense, F1's bosses would be up for it and there is no longer a legal obstacle.
Watch the Bahrain GP live on Sky Sports F1 and in incredible Ultra HD! The race begins at 4pm on Sunday. Check out all the ways to watch F1 on Sky Sports for subscribers and non-subscribers - including a NOW TV day pass for £6.99!
Sky customers can now upgrade to Sky Sports and get 12 months for just £18 per month. Upgrade now!