Lewis Hamilton relishing 'closest F1 title race' of his career
"It's going to be one of the closest, if not the closest, fights I've experienced," says Shanghai victor
By Pete Gill
Last Updated: 10/04/17 1:21pm
Lewis Hamilton is braced for the "closest fight" of his F1 career after drawing level on points with Sebastian Vettel following his victory in the Chinese GP.
Avenging his defeat to his Ferrari rival in the season-opening Australian GP, Hamilton completed the third 'Grand Slam' of his F1 career as he secured what was ultimately a comfortable victory at Shanghai.
But the story of the race could have been very different but for an unfortunate strategy decision from Ferrari when they called in Vettel under the Virtual Safety Car on the second lap only for the call to backfire - relegating the German to sixth - when the full Safety Car was deployed moments later.
"We were matching times," said Hamilton after Vettel fought back to second place with outstanding moves past team-mate Kimi Raikkonen and the Red Bull of Daniel Ricciardo. "If there wasn't a Safety Car it would've been much closer.
"It's going to be one of the closest, if not the closest, fights I've experienced."
Nor has Vettel's confidence for the rest of the season been undimmed by his defeat in China.
"In terms of pace we had a kind of match with Lewis, sometimes I was quicker, sometimes he was," the Ferrari driver told reporters.
"It is, as I said, very, very close," reiterated Hamilton. "There were times when Sebastian put laps in and it was hard to even match the time. The last ten or 12 laps he was doing a 35.6 and I was doing a 35.8 and it was very hard to get to where he was. Then there was other times in the race when I was quicker."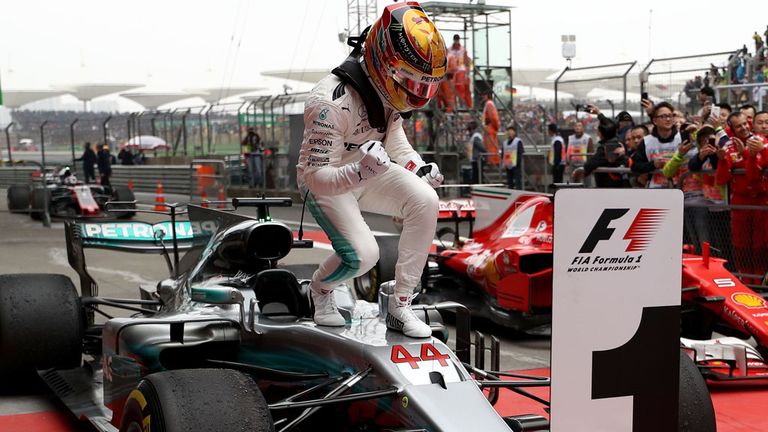 Hamilton shows his class as Bottas falters
After edging out Vettel for pole position, Hamilton delivered a masterclass of front running to claim his 54th Formula 1 victory.
"Lewis on his day is in a different league. On a difficult day and difficult conditions there's nobody else I'd rather have in the car," eulogised Mercedes team boss Toto Wolff.
In contrast, team-mate Valtteri Bottas owned up to what he described as a "stupid mistake" after the Finn spun when warming up his tyres behind the Safety Car.
"Valtteri threw it away," accepted Wolff.
But of greater concern to Mercedes, who have dominated the Chinese GP event in recent seasons, was further evidence that Ferrari are currently able to match their race-day pace.
"It looks like we are very close on pace with Ferrari. I expect it to ping-pong through the season," agreed Wolff. "One race we will be ahead, another they will."
Maurizio Arrivabene, Wolff's counterpart at Ferrari, added: "We had bad luck with the Safety Car but in a race like this sometimes you are lucky sometimes you are not. The most important thing is that with our car we are finally able to fight with Mercedes."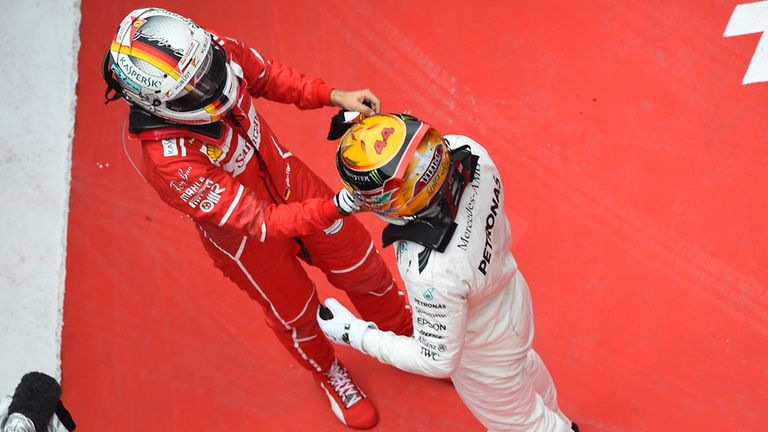 Lewis denies Seb 'bromance'
Hamilton and Vettel, winners of six of the last seven Drivers' Championships, have never previously gone head-to-head in an F1 title race.
But the gloves are yet to come off in their rivalry with the pair heaping praise on each other and, so far at least, preferring to trade back-slaps, handshakes and thumbs-up rather than blows.
"There's no bromance but we have a hugely respectful competitiveness," insisted Hamilton. "I'm really looking forward to more battles with him."
The pair embraced again immediately after the race but Hamilton later revealed that he had warned Vettel in Australia he was out for revenge in China.
"The following hours after Melbourne, I had a burning pain of losing," Hamilton explained to Sky F1. "I told Seb I was coming back to get him in the next one. I said to him on the podium 'I told you'."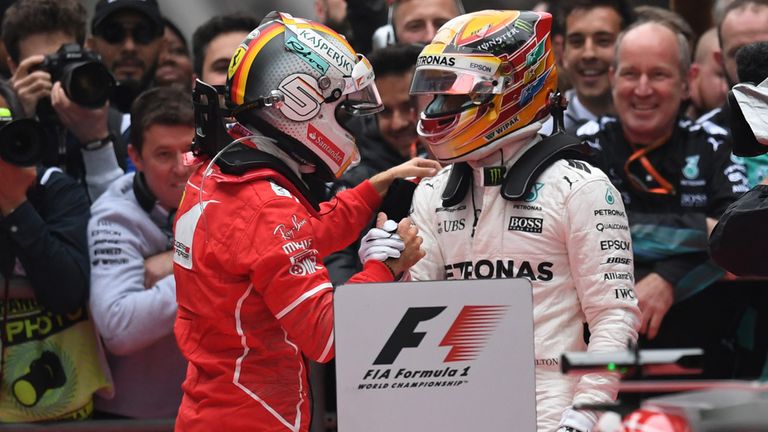 Watch the Bahrain GP live on Sky Sports F1 and in incredible Ultra HD! The race begins at 4pm on Sunday. Check out all the ways to watch F1 on Sky Sports for subscribers and non-subscribers - including a NOW TV day pass for £6.99!