Who's fastest in F1 2017: Mercedes or Ferrari, Vettel or Hamilton?
Lewis Hamilton may have won the Chinese GP but the lap charts suggest Sebastian Vettel was right to claim Ferrari were fastest...
By Pete Gill
Last Updated: 10/04/17 11:00pm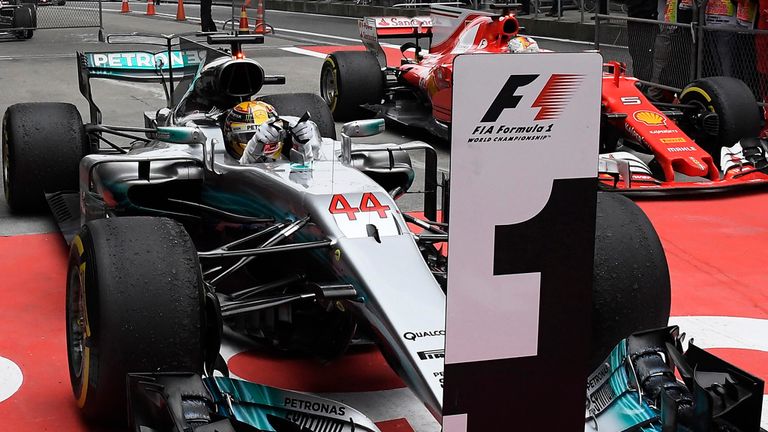 Even after the curtain had fallen and the chequered flag had been unfurled, the Chinese GP still had a twist in its tale.
"I think we were a bit unlucky," said Sebastian Vettel over Ferrari team radio. "It felt like we were the quickest, man. We couldn't prove that today but next time we will."
Vettel later steered clear of repeating his assertion to reporters, merely saying "I just go with the fact that who wins the race deserves to win", but his assertion will not have been missed by Mercedes.
Ferrari's pace is quickly turning F1 2017 into a classic and the small print of their performance in Shanghai, a circuit where Mercedes traditionally excel, will have the world champions worried heading to Bahrain.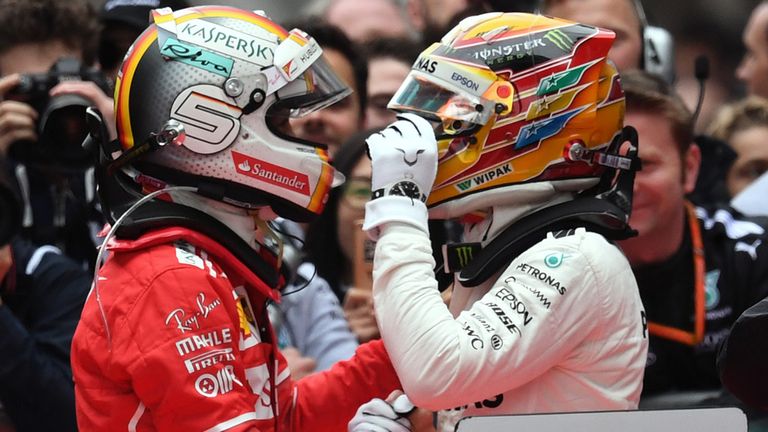 Was Vettel or Hamilton fastest in China?
After their tyre strategies diverged as early as the second lap in China, Vettel and Hamilton only ran together over the final 20 laps. And with the gap between their cars holding steady at around 10 seconds, there was little prospect of the race lead changing hands.
But both drivers were pushing hard: Hamilton and Vettel each set their fastest laps of the race during that period and, in another telling giveaway, neither Valtteri Bottas nor Kimi Raikkonen, their respective team-mates, could match their pace despite also setting their own personal bests during the same stage of the race.
Chinese Grand Prix Fastest Laps
| | | | |
| --- | --- | --- | --- |
| Driver | Team | Lap | Time |
| Lewis Hamilton | Mercedes | 44 | 1:35.378 |
| Sebastian Vettel | Ferrari | 40 | 1:35.423 |
| Valtteri Bottas | Mercedes | 41 | 1:35.849 |
| Kimi Raikkonen | Ferrari | 42 | 1:36.003 |
For both Hamilton and Vettel, the final stint wasn't about setting the fastest lap of the race, however. It was a test of each other's mettle.
"I kept pushing because you never know, maybe Lewis is doing a mistake, or has an issue with the car so I wanted to keep the pressure on," said Vettel.
"When Sebastian got behind, then we had a real race on our hands," said Hamilton.
"In terms of pace, we had a kind of match with Lewis," added the German. "Sometimes I was quicker, sometimes he was."
But who exactly was quicker in that final stint?
How Hamilton and Vettel's final stints compared
| | | |
| --- | --- | --- |
| Lap | Hamilton (20-lap stint) | Vettel (22-lap stint) |
| 34 | - | Pitted |
| 35 | - | 1:55.529 |
| 36 | Pitted | 1:36.792 |
| 37 | 1:57.651 | 1:36.393 |
| 38 | 1:37.123 | 1:36.872 |
| 39 | 1:36.673 | 1:37.021 |
| 40 | 1:36.727 | 1:35.423 |
| 41 | 1:35.798 | 1:35.614 |
| 42 | 1:36.081 | 1:35.739 |
| 43 | 1:35.705 | 1:35.670 |
| 44 | 1:35.378 | 1:36.051 |
| 45 | 1:35.583 | 1:35.599 |
| 46 | 1:35.521 | 1:35.978 |
| 47 | 1:36.036 | 1:35.728 |
| 48 | 1:36.049 | 1:35.647 |
| 49 | 1:35.892 | 1:35.632 |
| 50 | 1:35.819 | 1:35.711 |
| 51 | 1:35.894 | 1:35.727 |
| 52 | 1:35.957 | 1:35.672 |
| 53 | 1:36.643 | 1:35.707 |
| 54 | 1:35.657 | 1:35.974 |
| 55 | 1:36.139 | 1:36.287 |
| 56 | 1:36.747 | 1:36.144 |
Excluding laps 36 and 37, when Hamilton lost time entering and exiting for his second stop, the numbers point to a very closely-fought contest but one in which the Ferrari was slightly ahead.
Hamilton's outright pace was a smidgen better than Vettel's: a 1:35.378 compared to a 1:35.423. But it was Vettel who had the more consistent pace: while the Ferrari was in the 1:35s 14 times over the last 17 laps, Hamilton could only better 1:36 on 10 occasions.
Most saliently of all, Vettel trimmed Hamilton's lead by 3.2 seconds over the final 19 laps. It's a reduction slightly inflated by Hamilton's very slow final lap, but even excluding that final tour from the equation still finds the Ferrari 2.5 seconds faster than the Mercedes through that final stint despite running on tyres which were two lap older.
"There were times when Sebastian put laps in and it was hard to even match the time," said Hamilton. "The last 10 or 12 laps he was doing a 35.6 and I was doing a 35.8 and it was very hard to get to where he was. Then there was other times in the race when I was quicker."
What we don't know, of course, and what Hamilton certainly wouldn't tell, is how much the Mercedes was holding back. But the fact Hamilton set a 1:35.657 - faster than the personal best of every other driver in the race bar Vettel - on lap 54 of 56 is suggestive.
Nor does it appear Vettel had enough superior pace to overtake Hamilton. While 2.5 seconds is a considerable gain, it took almost 20 laps to eek out. Vettel's earlier lap time improvement of approximately 1.2 seconds once freed up from behind Daniel Ricciardo and Raikkonen indicates that, unless Hamilton made a mistake, he wouldn't have had sufficient speed advantage to pass Hamilton even if he had caught the Mercedes.
But the numbers do bear out the working theory that, while the Mercedes' outright pace is faster than Ferrari's, which could be particularly critical in a year when reduced overtaking puts an even greater premium on track position, the W08 is 'peaky'.
Conversely, although the SF70-H cannot quite match the Mercedes over a single lap, it appears to be more consistent and kinder on its tyres.
No wonder, then, Ferrari left China defeated but far from dejected. F1 2017 is close. Perhaps not close enough to justify Hamilton's expectation that 2017 will "be one of the closest, if not the closest, fights I have ever experienced" - 2008 and the final corner at Interlagos, anyone? - but it's already close enough at the front to have the potential of a classic.
But where were Raikkonen and Bottas?
In qualifying trim, Mercedes appear to possess a small but significant advantage of around two tenths of a second over Ferrari - or, to be more specific, Lewis Hamilton does.
One clear feature of the two opening races this year has been the superiority of Vettel and Hamilton over their respective team-mates.
Bottas' self-described "amateur mistake" when spinning off behind the Safety Car resulted in him finishing almost a minute behind Hamilton in China, while Raikkonen was over 40 seconds adrift of Vettel. The Finn was also three tenths behind Vettel in Shanghai qualifying and half a second shy in Melbourne. Little wonder Ferrari are seemingly already anxious about his 2017 form.
Bottas' newcomer status will buy him a certain amount of leeway at Mercedes but the unusual nature of Toto Wolff's criticism of his driver - "Valtteri threw it away", the Mercedes chief told Sky F1 - was arguably a telling insight into the pressure Mercedes are feeling. In such a close fight, every weakness is significant and while Hamilton took pole in both China and Australia, Bottas is yet to qualify ahead of Vettel.
The gap was reduced to a thousandth of a second in Shanghai and whether or not the Finn can continue that improvement over the rest of 2017 will be an important part of the narrative to follow.
Likewise, although Vettel is a clearer number one at Ferrari than Hamilton is at Mercedes, meaning there is more chance of Bottas taking points off Hamilton than there is of Raikkonen finishing in front of Vettel, Ferrari's constructors' title prospects will be in grave jeopardy if, as in China, Raikkonen regularly loses out to the Red Bulls.
Nor is it a leap of the imagination to foresee Vettel relying, at some stage, on Raikkonen beating Hamilton to improve his own prospects of a fifth drivers' title.
Watch the Bahrain GP live on Sky Sports F1 and in incredible Ultra HD! The race begins at 4pm on Sunday. Check out all the ways to watch F1 on Sky Sports for subscribers and non-subscribers - including a NOW TV day pass for £6.99!