Russian GP: Valtteri Bottas fights off Sebastian Vettel for first F1 victory
Finn holds on for victory ahead of championship leader; Hamilton only fourth; Alonso doesn't even make the race start
By Pete Gill
Last Updated: 01/05/17 7:01am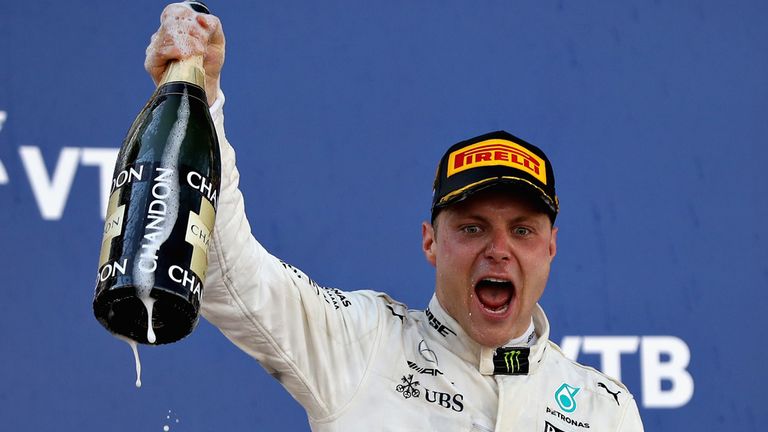 Mercedes' Valtteri Bottas claimed his maiden F1 win after fighting off Sebastian Vettel for victory in the Russian GP.
Bottas, starting from third, took the lead off the line when he swept past both Vettel and Kimi Raikkonen, and then withstood a late charge from Vettel to secure a richly-deserved win.
"It took quite a while, more than 80 races for me, but it was definitely worth the wait," said Bottas after becoming only the fifth Finn to win in F1.
"It feels a bit surreal. Hopefully it's the first of many. It was definitely one of my best races personally ever."
Despite his late-race disappointment, Vettel has moved 13 points clear in the Drivers' Championship after Lewis Hamilton, off the pace all weekend, finished a distant fourth.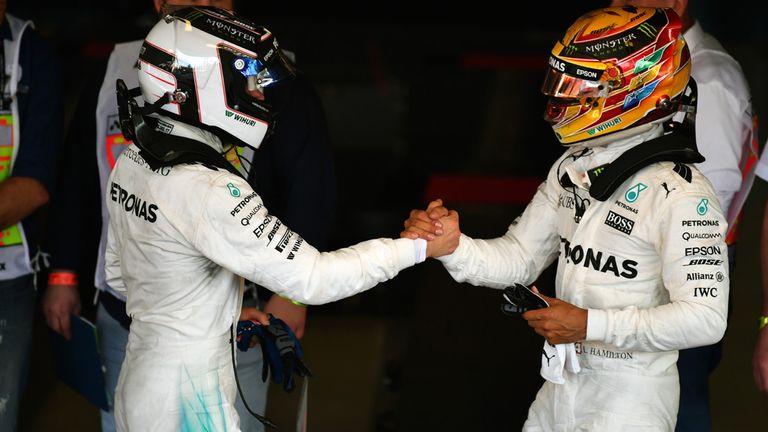 Mercedes plan to analyse why Hamilton could not get his car hooked up around the Sochi Autodrom, a circuit he has won at twice before, during any stage of the race weekend.
"I can't explain it right now, but we'll do some work over this week to understand it," Hamilton told reporters after not claiming a podium for a race he finished for the first time since last June's European GP.
"I have some feelings for how it felt in the race in qualifying, I have some ideas, but lots of work will be done to figure it out."
Bottas' victory has also quelled talk of the championship battle being limited to a two-driver battle: the Mercedes newcomer is now within ten points of his illustrious team-mate in the nascent standings.
Latest Drivers' Championship standings
| | | |
| --- | --- | --- |
| Driver | Team | Points |
| Sebastian Vettel | Ferrari | 86 |
| Lewis Hamilton | Mercedes | 73 |
| Valtteri Bottas | Mercedes | 63 |
| Kimi Raikkonen | Ferrari | 49 |
| Max Verstappen | Red Bull | 35 |
After Vettel ran for seven laps longer than Bottas before making his only stop of the race, the Finn, in only his fourth race for Mercedes, flat-spotted his tyres with over 10 laps still to run.
But a seemingly-nerveless Bottas didn't make a mistake thereafter, even when a hard-charging Vettel closed to within less than a second of the Mercedes.
"He won it off the start, and kept his head - just - to take a brilliant and well-deserved victory under the most extreme pressure," enthused Sky F1's Martin Brundle.
Questions will be asked of Ferrari's strategy and whether the Scuderia should have pitted Vettel sooner. But the race will also be discussed for its lack of overtaking, with barely a position changing on track after a first-lap rollercoaster which saw Bottas claim a critical lead and Romain Grosjean go airborne in a collision with Renault's Jolyon Palmer.
Max Verstappen salvaged fifth for Red Bull but the problems continue for the world champions, eagerly awaiting the introduction of their 'b-spec' car at next month's Spanish GP, after Daniel Ricciardo was forced out of the race with a brake failure. Verstappen himself had only made it to the grid after pre-race drama when a water leak was detected on his car.
The opening stages of the race produced a big turn two crash between Renault's Jolyon Palmer and the Haas of Romain Grosjean, which forced both drivers out of the race on the spot. Stewards investigated the clash after the race but ruled neither had been predominantly at fault so applied no penalties.
The last word, however, goes to Fernando Alonso after the Spaniard was denied a say in the race when the Honda engine in his McLaren broke on the formation lap.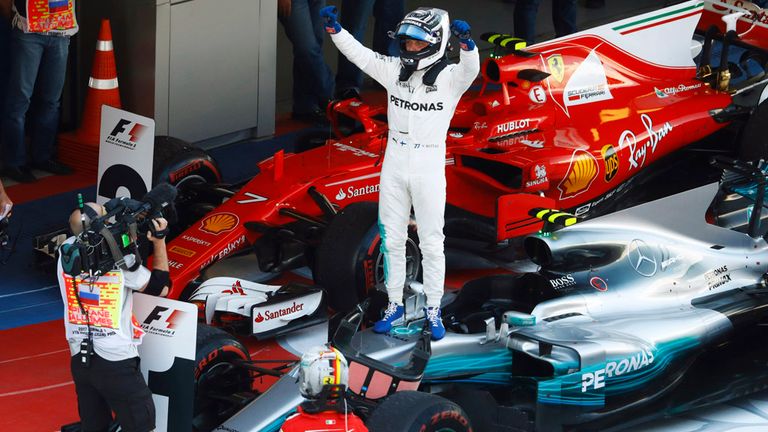 Russian GP race result
1. Valtteri Bottas, Mercedes
2. Sebastian Vettel, Ferrari
3. Kimi Raikkonen, Ferrari
4. Lewis Hamilton, Mercedes
5. Max Verstappen, Red Bull
6. Sergio Perez, Force India
7. Esteban Ocon, Force India
8. Nico Hulkenberg, Renault
9. Felipe Massa, Williams
10. Carlos Sainz, Toro Rosso
11. Lance Stroll, Williams
12. Daniil Kvyat, Toro Rosso
13. Kevin Magnussen, Haas
14. Stoffel Vandoorne, McLaren
15. Marcus Ericsson, Sauber
16. Pascal Wehrlein, Sauber
DNF: Daniel Ricciardo, Red Bull
DNF: Jolyon Palmer, Renault
DNF: Romain Grosjean, Haas
DNF: Fernando Alonso, McLaren
Don't miss all the reaction from Sochi and tune in for the F1 Report: Russian GP Review on Sky Sports F1 on Wednesday night at 8.30pm