Lewis Hamilton v Valtteri Bottas not a 'stressful' pair, say Mercedes
Wolff likens Hamilton v Bottas v Vettel to 'respectful' Federer v Nadal; Race underway at 4pm on Sunday
By James Galloway in Bahrain
Last Updated: 16/04/17 6:21pm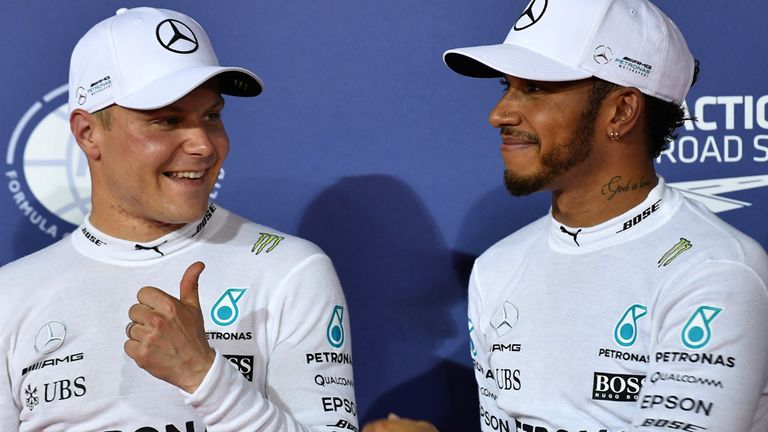 Toto Wolff says Lewis Hamilton's new partnership with Valtteri Bottas does not contain the same "baggage" as his pairing with Nico Rosberg.
The new Mercedes team-mates qualified on the front row for the first time together at the Bahrain GP.
And, after they filled the top three places on the grid for the third time in 2017, Wolff suggested the respect being shown between Hamilton, Bottas and Ferrari's Sebastian Vettel was similar to that evident between tennis greats Roger Federer and Rafael Nadal.
For the first time since joining Hamilton at Mercedes, Bottas outqualified the triple world champion to claim the first pole of his F1 career. Despite winning the last three world title doubles, Mercedes had to navigate numerous flashpoints between childhood friends turned rivals Hamilton and Rosberg, but Wolff does not see the same tension between his new-look pairing.
"The Nico and Lewis situation was very special because they go back a long time and there was a lot of baggage," the Mercedes executive director said.
"Some of it we known, some of it we'll never know, and it got quite tense and quite controversial at times. I don't feel that same stress in the relationship between the two of them.
"Between Vettel, Valtteri and Lewis I feel a little bit of a Federer-Nadal situation, there is a lot of respect for the competitor. I hope it can last."
Despite his run of six consecutive poles coming to an end, Hamilton warmly congratulated Bottas in parc ferme on the Finn's maiden F1 qualifying success and Wolff says the respect between them is genuine.
"As a driver you never want to lose and you never want to lose against your team-mate, but equally I see there is a lot of respect for each other," he added. "Not only in the car but also when they engage with each other.
"With Sebastian in the mix there, it's very sportsmanlike. They don't like to be beaten by the other guy but there is respect for the other person."
Reminded about the fact Hamilton and then-Williams driver Bottas actually collided at the first corner in Bahrain last year, Wolff said: "I'd rather have them starting P1 and P2 and giving me the jitters throughout the race because in the end it's what we want to see.
"If you've got two drivers separated by a couple of thousandths of a second you can expect close racing."
The Austrian also commended Bottas for the way the Finn had bounced back from the disappointment of losing a potential podium finish with a spin behind the Safety Car in China last Sunday
"Whether it's a Finnish mindset or a Bottas mindset, he's very good at moving on from things," said Wolff.
"He doesn't spend too much time cheering about stuff or being upset about the situation. It's something that a racing driver needs to have and that has certainly helped him to overcome the situation in Shanghai."
Watch the Bahrain GP live on Sky Sports F1 and in incredible Ultra HD! The race begins at 4pm on Sunday. Check out all the ways to watch F1 on Sky Sports for subscribers and non-subscribers - including a NOW TV day pass for £6.99!