Bahrain GP: Mercedes predict close battle with Ferrari on race day
"Hopefully it will be very close," says Lewis Hamilton after being beaten to pole position by Valtteri Bottas; Race underway at 4pm on Sunday on Sky Sports
Last Updated: 16/04/17 6:21pm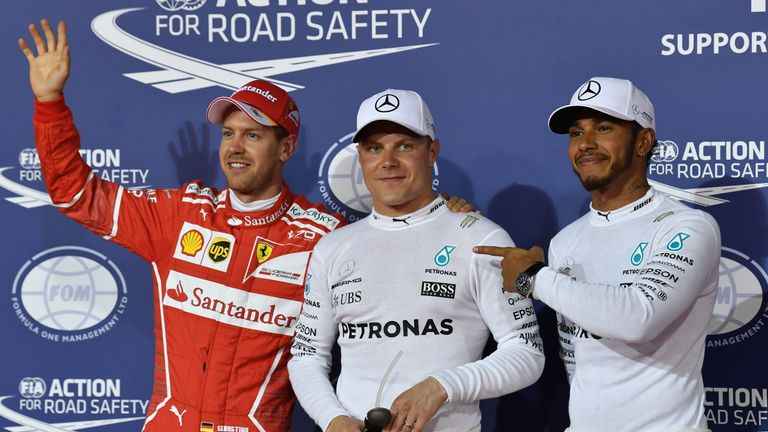 Lewis Hamilton doesn't expect Mercedes to be able to maintain their qualifying superiority over Ferrari on race day in Bahrain.
Mercedes duo Valtteri Bottas and Hamilton were almost half a second clear of Sebastian Vettel in qualifying in the desert - the biggest margin of the year with the world champions securing pole for all three 2017 races so far.
But Hamilton warned: "I think the Ferraris are very quick on race trim so hopefully it will be very close.
"Today we obviously had a bit of a margin to the Ferraris, but generally in race trim they seem a bit quicker."
Demoted off the front row for the first time in 2017, Vettel added: "For tomorrow the most important thing is that the car felt good today and I think we should be closer."
The Sky F1 punditry team are also expecting a tight battle at the front because of the Ferrari car's apparent ability to nurse its tyres further into a race than the W08.
"I think tomorrow will be swayed towards Ferrari," said Pat Symonds. "Mercedes are concerned about rear tyres. Ferrari will be a lot closer tomorrow. They haven't got this amazing qualifying mode [which Mercedes bring out]. Tyre management is Ferrari's strong point and I'm hoping for a close race."
And Mercedes boss Toto Wolff spotted a detail in the Ferrari's qualifying performance that would seemingly suggest the SF70-H is set up for race day.
"The Ferrari drivers suffered understeer which can be an indication they are protecting the rear tyres for tomorrow," said Wolff. "And it is tomorrow when the points are won.
"There weren't five tenths between us in Friday evening's session. We have a bunch of clever guys who will now come up with our best strategy for tomorrow. The race is going to be more exciting than those five tenths may make it look like."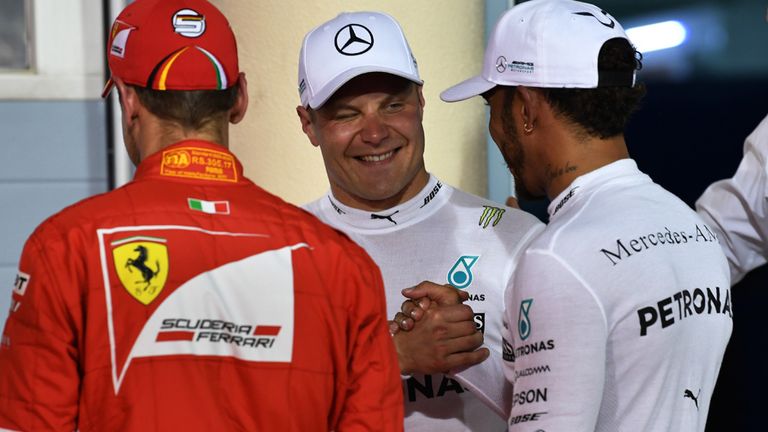 Hamilton heaps praise on Bottas
Bottas became the fifth Finn and the 98th driver in F1 history to claim pole position when he narrowly edged out Hamilton in a dramatic finale to the qualifying hour.
But Hamilton insisted afterwards he wasn't downcast by his defeat, ending his run of six consecutive poles, opting instead to warmly congratulate Bottas on his achievement.
Bottas' predecessor also congratulated Mercedes' new signing on the result.
Congrats @ValtteriBottas 1st pole! Great lap. Happy for all you guys at merc that Valtteri is going well

— Nico Rosberg (@nico_rosberg) April 15, 2017
"I'm honestly not disappointed," added Hamilton. "When I finished the lap I thought 'damn that time got away from me' but generally I'm really happy for Valtteri. It's his first pole position and it's always good to see good things happen to good people.
"He did the better job today and I've just got to do better moving forwards. It wasn't a terrible job, it was only a quarter of a tenth. We're still one two which is great for the team and hopefully I can give him a good battle tomorrow."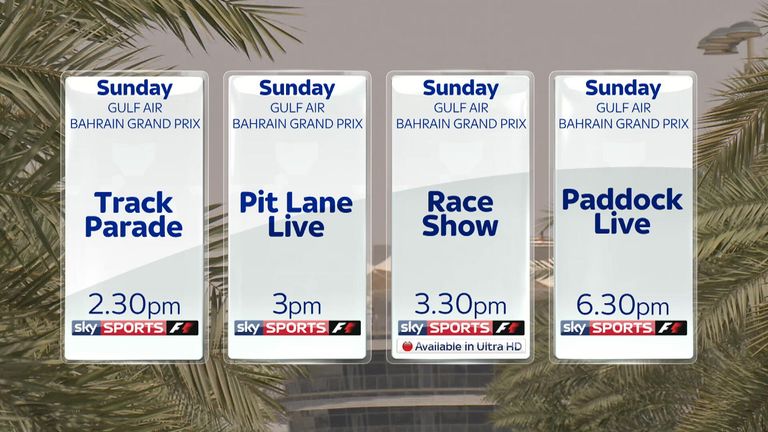 Watch the Bahrain GP live on Sky Sports F1 and in incredible Ultra HD! The race begins at 4pm on Sunday. Check out all the ways to watch F1 on Sky Sports for subscribers and non-subscribers - including a NOW TV day pass for £6.99!