Billy Monger appeal exceeds fundraising target within 24 hours
Fundraising page surges past target within one day of launching; Monger was brought out of his induced coma on Thursday
Last Updated: 20/04/17 3:59pm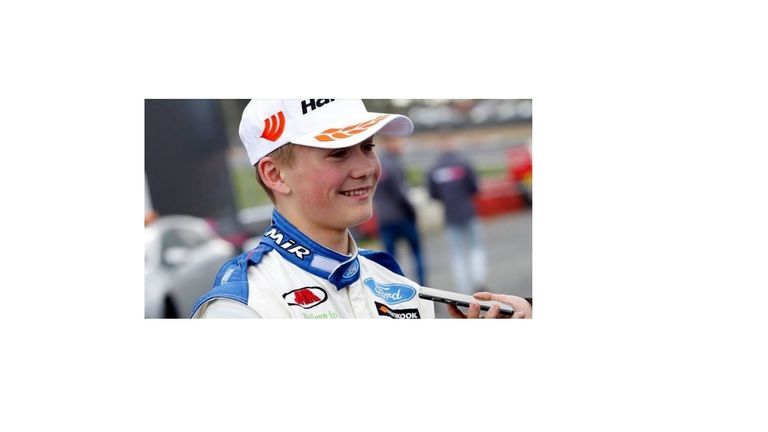 An appeal to help fund the treatment of British Formula 4 racing driver Billy Monger has raised more than double its original target within 24 hours of launching.
Seventeen-year-old Monger had both his lower legs amputated after being involved in an accident during a race at Donington Park last Sunday.
He was woken up from his induced coma at Queen's Medical Centre in Nottingham on Thursday and has since gone back into surgery.
Steven Hunter, the team principal for the JHR Developments team Monger was driving for, told Sky News: "He's come out of his coma today and opened his eyes.
"We've had a thumbs-up and he's given a little bit of a fist pump to his mechanic Jamie. So today has been a really good day for what is obviously a horrific incident."
In conjunction with his family, a fundraising page has been set up to raise money for "the care, treatments and therapies required by Billy in the immediate future and going forward, helping him to return to a full and active life".
Launched with a target of raising £260,000, the page had raised in excess of £500,000 by 3pm on Thursday.
"The involvement from the F1 guys, and the F1 paddock as a whole, has been fantastic," said Hunter
"Not only the monetary side of things, but also the capabilities to make people aware of this horrific incident and to try to help Billy along with his recovery.
"The original figure we put on it was to just try and get the prosthetics. Obviously we've exceeded that, so we can make sure he's got some good prosthetics to be able to learn to walk on again.
"The extra money will be spent on trying to get him to the point of walking. There's a lot of painstaking effort to be put in to try and get to the stage where he's up and back to the Billy that we know."
The motorsport world has united in support of Monger and his family.
Lewis Hamilton tweeted: "I have only just seen the news of this tragic incident. Thoughts and prayers are with you and your family, @BillyMonger."
Jenson Button, who donated £15,000, said: "This guy needs our help so if you can please donate, I will be doing as much as I can to help this dude out."
Renault's Jolyon Palmer tweeted: "Shocked and saddened to hear about @BillyMonger injuries. Let's all get behind him now."