Red Bull ready big upgrade for Spanish GP to get into F1 2017 fight
Daniel Ricciardo admits podium chances before summer depend on success of Adrian Newey's RB13 aero upgrade for Barcelona
By James Galloway
Last Updated: 09/08/17 10:54am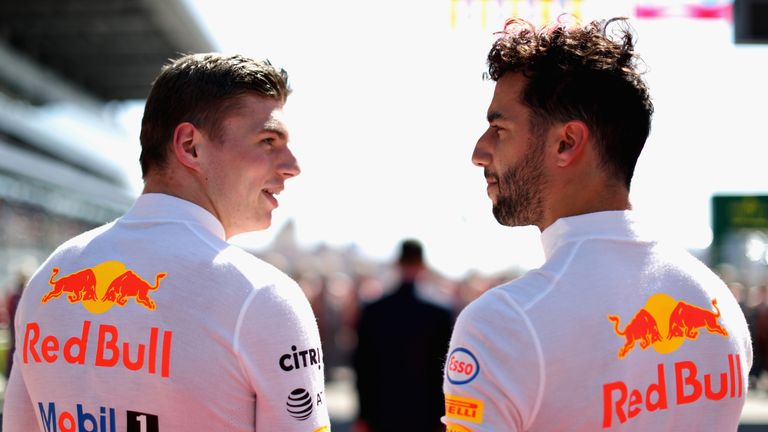 Red Bull's hopes of challenging Mercedes and Ferrari before the August summer break are set to rest on the success of their Spanish GP upgrade, according to Daniel Ricciardo.
For the second time in as many seasons, Red Bull are aiming to use the start of the European season at Barcelona as a springboard for a big step forward in performance as they ready what has expected to be one of the biggest upgrade packages of the field.
Ferrari's Vettel not ruling out Red Bull
Red Bull boss Christian Horner told Sky F1 at the Russian GP that design boss Adrian Newey was "working night and day on it" after a disappointing start to the season in which the former champions have consistently trailed their two biggest rivals.
Asked if their whole season hinged on the new package, Ricciardo said: "I won't go as far as saying the whole season, but let's say the first half - now to summer. It would probably dictate if we're going to be on the podium or not in those next handful of races.
"It's just a prediction from my side... sure, the team said numbers look better on CFD and all that, but it's like always, until we put the car on the track you never really know and you can't really trust everything.
"It's our best hope for short-term for getting close to the podium."
Where are Red Bull falling short?
Red Bull, rather than Ferrari, had been tipped to be the team most likely to threaten Mercedes' F1 superiority this year after the sport introduced aerodynamic rule changes.
But with only one podium finish from the opening four flyaway rounds, Red Bull are bidding to close an average qualifying deficit of 1.3 seconds in order to join what stands as a two-team fight at the front.
Red Bull's qualifying deficit compared
| | | |
| --- | --- | --- |
| | 2016 gap to pole | 2017 gap to pole |
| Australia | 1.752s | 1.297s |
| China | 0.515s | 1.355s |
| Bahrain | 1.361s | 0.776s |
| Russia | 1.708s | 1.711s |
| Spain | 0.680s | ? |
| Monaco | Pole | ? |
And although the bulk of focus in the past has been on the team's Renault engine, Ricciardo admits the RB13 itself is also not yet competitive enough.
"For sure in the last years we've felt the chassis is a lot closer to where it needs to be and it's more power unit [performance] we're looking for, but I feel this year so far we're definitely trying to find a chunk from both ends," he admitted.
"I feel it's now more like 50-50."
Renault upgrade delayed
But it appears Red Bull will have to wait a little longer for Renault's first big power unit upgrade of the year.
The update had been expected in time for June's Canadian GP but the French manufacturer has now indicated it is likely to be raced slightly later than that while they take time to ensure the reliability of the revised package.
"We want to do that before the summer break," Renault managing director Cyril Abiteboul told Autosport.
"We want to keep it in sync with the power unit integration, and we want to do that with power unit number three if possible.
"The thing we need to get under control is engine reliability, I've said that on many occasions. We know there is some fragility in the system that we need to cope with. It is true on the track and it is true on the dyno."
Don't miss the Spanish GP exclusively live on Sky Sports F1 on May 14 - lights out for the race is at 1pm. Check out all the ways to watch F1 on Sky Sports for subscribers and non-subscribers - including a NOW TV day pass for £6.99!